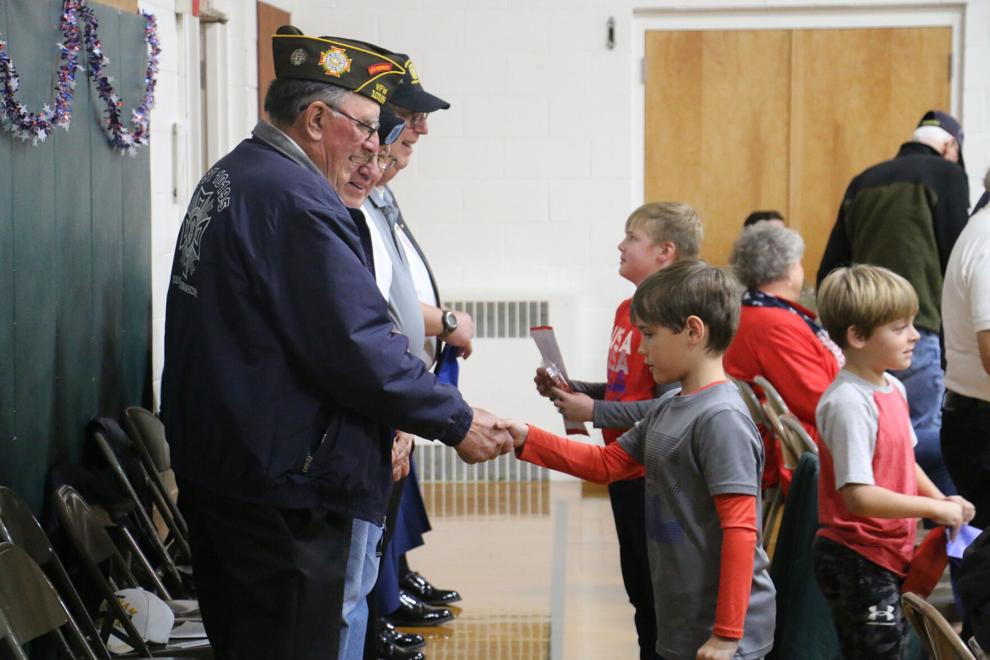 "Freedom has never come free," Rosendale-Brandon Superintendent Wayne Weber said to a packed Brandon School gymnasium, thanking local veterans for their service.
That was the message Thursday when the Brandon community came together to honor those who served in America's armed forces during a Veterans Day program, which brought together current and former service members, students as well as local and state officials.
The program featured multiple speakers and music performed by Brandon Elementary students. A skydiver was slated to drop down ahead of the program, but had to cancel due to rain and wind.
Local veteran Jim Otto has been the brains behind Brandon's Veteran's Day program for more than 25 years, and served as the master of ceremony Thursday. Ripon College's ROTC Red Hawk Company served as the color guard during the event.
Fond du Lac County Executive Allen Buechel was the first speaker, and acknowledged the sacrifice made by the men and women in the armed forces.
"Thank you for everything you've done for protecting our freedom and providing the kind of life that we enjoy," Buechel said. "Without you, this would not be possible because there were those who were willing to take all that away from us and it was the veterans who actually stood their ground and changed that outcome."
Likewise, Laconia junior Bella Geisthardt spoke about what "American freedom" really means, noting the country's first veterans helped secure freedom from the British to gain independence.
"They understood freedoms were essential in creating a country that would serve its people rather than its king," she said.
Ensuring those freedoms, enshrined in the U.S. Constitution, live on takes sacrifice.
The program's military representative, Chief Warrant Officer 3 Nathan Grundy shared some of his sacrifices with those in attendance, from evading giant spiders to contracting malaria.
However, Grundy said his time in the military helped give him purpose, while enabling him to see the world.
After telling the students in attendance several stories, he asked them to thank local veterans and ask to hear their stories because every veteran has a story to tell.
Second grade teacher Lynn Alsum's students shared poems about what it means to be a veteran, along with letters the class wrote to veterans. After the readings, her students distributed gifts to all of the veterans in attendance.
Keynote speaker Joan Ballweg described the history of Veterans Day, which originated as Armistice Day, following World War I. She also told the story of her father, who was a World War II veteran.
In addition, Ballweg asked the veterans in attendance to stand, so the audience could give them a round of applause.
"Today, Veterans Day, we're all together to celebrate those who've kept America safe and, through their sacrifices, provided us freedom and security," she said. "We are brought together to celebrate those who have put their lives on the line for America's sake."