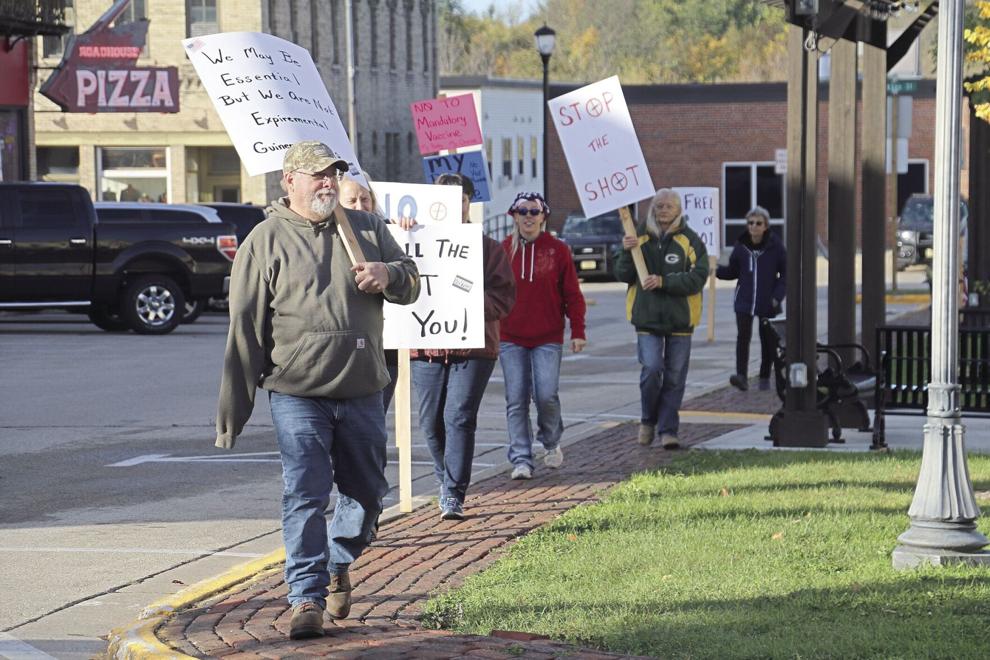 A vaccination policy from a local employer drew about 20 protesters to Ripon's Rotary Square last week Thursday.
Several individuals in the crowd said they were either current or former J.M. Smuckers Co. employees, while others described themselves as concerned community members.
Individuals who said they either worked for or used to work for the company declined to be named.
Those in attendance felt it was wrong for a private company to mandate that employees receive a vaccine.
"My body, my choice; it should not be forced on anyone," said one woman, who claimed to work for the company, already had COVID-19 and didn't want to get vaccinated. "... Been there, done that. It's a choice. That's why we live in America."
Another individual, a middle-aged male, said he used to work for the company, but quit because of its vaccination policy.
J.M. Smucker Co. Corporate Communications Manager Frank Cirillo said in a written statement that the company's vaccination policy includes medical and religious exemptions.
Smuckers' roughly 2,600 U.S. salaried employees are required to get vaccinated for COVID-19 by Dec. 15 "with accommodations considered for legally protected medical or religious exemptions," Cirillo noted.
"While not currently a condition of employment for hourly manufacturing and distribution employees, we do expect all U.S. employees to be vaccinated against COVID-19," he said. "In the weeks ahead, we will maintain our commitment to promoting vaccination through employee education, access to on-site vaccination at locations across our footprint and a monetary incentive for those who comply by Dec. 1."
The company's Ripon plant is a manufacturing facility that employs about 117 people, according to the Smuckers website. It's unclear how many local employees would have to get vaccinated as a "condition of employment."
Cirillo said J.M. Smucker Co's decision to institute a vaccination policy was because of the Delta variant's impact on all aspects of life and to adhere to guidance from President Joe Biden's Executive Order on Ensuring Adequate COVID Safety Protocols for Federal Contractors.
"We believe it's time to take more aggressive action to stem the devastating impacts of the pandemic on our communities," Cirillo said. "A vaccinated workplace is critical to both ensuring the health of our employees and our ability to continue supplying safe, quality food for people and pets."
Even so, some individuals in attendance at last week Thursday's "rally for freedom" felt that any kind of COVID-19 vaccine mandate was wrong.
"The heavy hand of those that want the mandate right now is grossly unfair," said Ripon resident Timothy Bachleitner, who doesn't work for Smuckers. "... This is just the tip of the iceberg."
Bachleitner also raised concerns about legal protections for pharmaceutical companies surrounding the COVID-19 vaccine's "emergency use authorization."
Likewise, local resident William Clark noted he wasn't against the COVID-19 vaccine itself, but rather he was against mandating anyone take the vaccine.
"You can get the vaccine if you want, the vaccine may be safe, but it shouldn't be forced on people," he said, noting he was waiting to get the vaccine until more research was done on potential long-term side effects.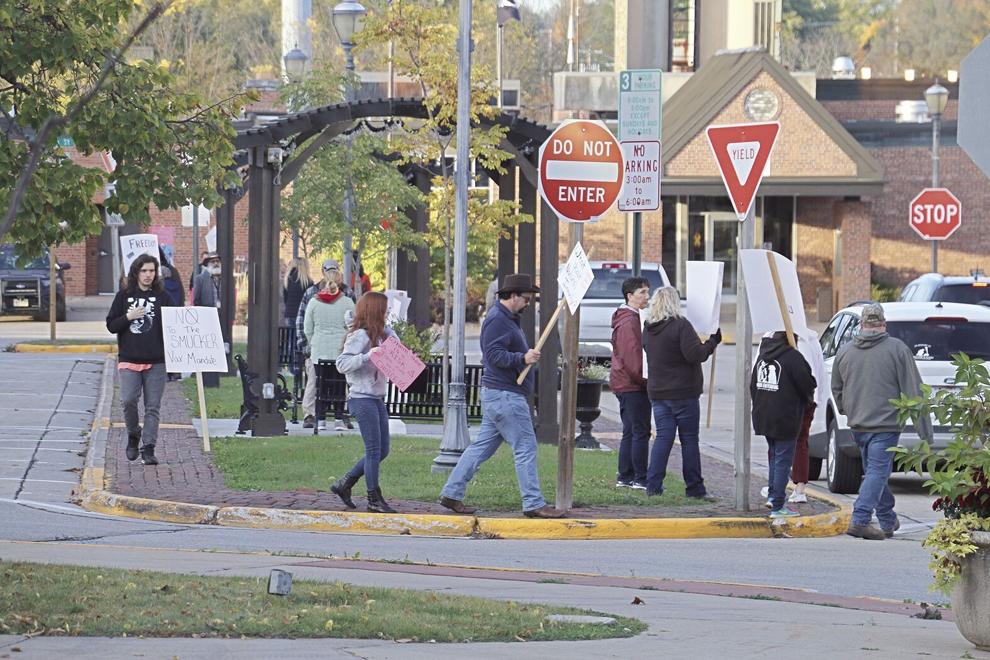 Town of Ripon resident Scott Zemlicka also attended last week's protest in Rotary Square. He hopes J.M. Smucker Co. offers exemptions for individuals who have medical or religious reasons for not getting vaccinated, as well as those with strong personal beliefs surrounding the vaccine.
"I know the Department of Corrections offers [employees the choice to either] get the vaccine or do regular testing," he said. "I think that's acceptable. Pain in the ass, but acceptable."
In August, the U.S. Food and Drug Administration (FDA) issued full approval to Pfizer/BioNTech's Covid-19 vaccine, while Moderna has requested full approval for its vaccine and Johnson & Johnson anticipates applying for full approval later this year. Moderna and Johnson & Johnson have both been approved by the FDA for emergency use.
According to local public health officials in Fond du Lac and Green Lake counties, vaccines being used in the United States have been thoroughly tested, are safe and have been highly effective at preventing hospitalization and death.
"Vaccination is the single best way for community members to protect themselves and their loved ones from COVID-19 infection," SSM Health Ripon Community Hospital President DeAnn Thurmer said last month. "The vaccines currently available are safe, highly effective, free and widely available."
Green Lake County Health Officer Rachel Prellwitz said in August that there was "a lot of misinformation regarding COVID-19 vaccines and its safety circulating widely" in the community.
In a recent Q&A with the Commonwealth, she noted getting vaccinated helps prevent the spread of COVID-19, which helps prevent new variants of the SARS-COV-2 virus from emerging.
"People who are vaccinated are less likely to become infected with COVID-19," Prellwitz said. "However, even if someone who is fully vaccinated does develop a COVID-19 infection they generally have much more mild illness and are more likely to be able to care for themselves at home instead of requiring hospitalization."