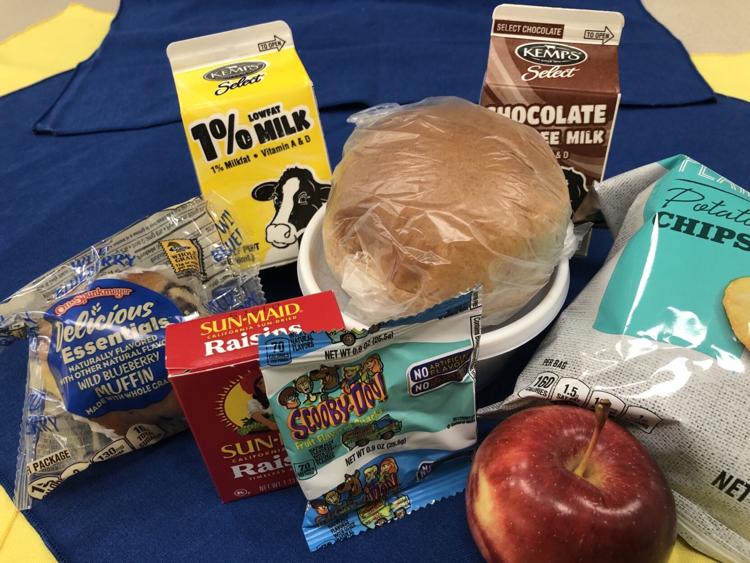 Ripon children between kindergarten and fifth grade coming home from school today (Thursday) brought some treats home with them.
That's because A'viands and the Ripon Area School District partnered to send students home with "Backpack Meals," containing breakfast and lunch for a Friday with no school.
According to A'viands Food Service Director Briony Storz, backpack meals are planned to continue for the remainder of the school year for weeks when elementary schools take Fridays off.
In fact, the Ripon Area School District announced yesterday (Wednesday) that its free breakfast and lunch program, which has served hundreds of thousands of free meals to area youth since March, will continue through June 30, 2021.
Those meals aren't just for students enrolled in the district, but rather they are available to anyone under the age of 18.
Storz noted the free meal program has proven to be an important tool for feeding children from households battling food insecurity.
"This is one of those little things that we can do to help all students get the consistency and normalcy of a good meal," Storz said. "It's our way of helping make sure we're reaching all those kids, because we don't know what home life is like."
For example, she noted if a family has five kids and only three are in school, it's hard to know what the children at home are doing for meals.
"People have had some economic strains lately due to the variety of factors, so to have the flexibility to let us help with food service, hopefully it'll help especially with the holidays coming up," Storz said. "I think a kid would rather have a toy under the tree versus a hot lunch. We can provide that gift of a hot lunch."
Beyond battling food insecurity, the program also helps students focus in the classroom as teachers have communicated to Storz that "a kid with a full tummy can focus on education and learning versus focusing on being hungry."
Since March, Storz described food service in the school district as "a crazy wild ride" as A'viands has scrambled to meet varying social distancing guidelines and shifting communications from state and federal governments.
"There are some things that never change, such as our food safety and health practices really haven't changed throughout this," she said. "On the social distancing side, we're working a little further apart from our coworkers so that has changed a little bit, but the community has really supported the programs."
Additionally, A'viands works to be flexible to meet the needs of families.
For example, Storz noted if a parent misses a pick-up time or if a classroom is forced to quarantine then A'viands will scramble to make sure children can be fed.
"The staff have amazing hearts, and I think that's why they do what they do because they do see those impacts," she said. "I've got an amazing team and I couldn't do this without them; they're the ones that really make those relationships."
Because of the coronavirus pandemic, some of those relationships have gone to the wayside with less in-person interaction.
Even so, Storz noted the meal program has given food service providers an opportunity to continue building connections with the community.
"That's been the best part of having the kids back on site, is to be able to see their energy and their kindness," she said.
For more information, visit the Ripon Area School District's website or email Storz at storzb@ripon.k12.wi.us.