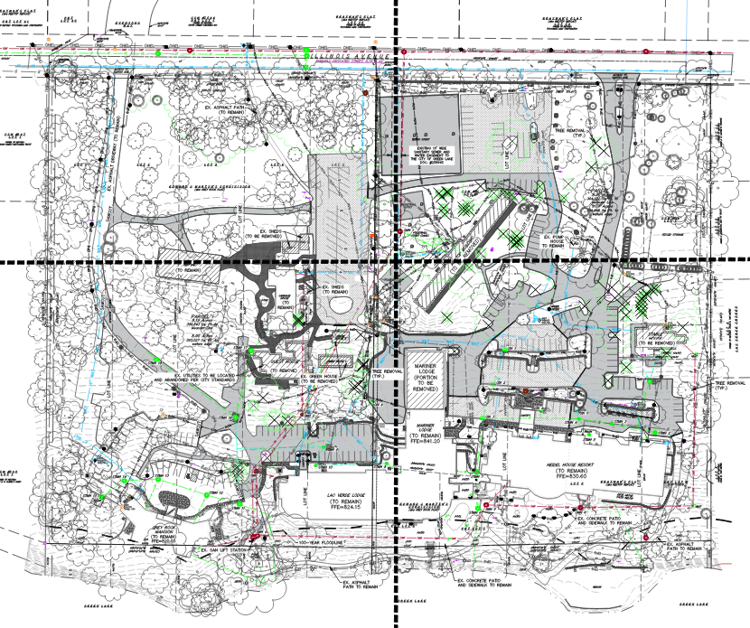 The Green Lake Plan Commission approved a revised site plan for the Heidel House property Tuesday, which included details about erosion control, grading and landscaping.
Many of the changes were made to increase parking as well as maintain much of the site grading and look.
To better illustrate the changes, architect Bill Hoch of BlowFisH Architects gave a presentation to the Plan Commission regarding the site plan.
He noted the main driveway was relocated to be more centered with the roadside entrance.
Additionally, Hoch said parking spaces have been added where the Stable House and Hilltop Building once stood.
Hoch added that developers are working to utilize as much of the existing parking space as possible.
"The majority of it has been saved," he said, noting most  of the trees and landscaping on the site also will be saved.
Under the previous plan, Hoch noted parking structures were on "two different levels." But now, he said parking is on four different levels, which allows the developers to keep the land grading "more in their current state."
"Overall, this site plan maintains a lot more of the existing site look than the last one," Hoch said.
Beyond the site plan, he noted demolition of the Stable House is completed, DNR permits have been completed and state approval of architectural and structural drawings is complete.
Additionally, building inspector John Lust reviewed developers' lighting plan, finding it was in compliance with existing city ordinances.
The sale of the historic resort closed Wednesday, Sept. 30, ushering in a new era in the property's history.
Under the deal between the property's Madison-based owner Fiore Companies, Green Lake Hotel Development Group LLC and Lighthouse Development Group, Green Lake Hotel Group will essentially own the property while two subsidiaries of Lighthouse will develop and run the property.
The revamped Heidel House  is on track to open in May, boasting a 114-room hotel, with 5,884 square feet of restaurant and bar space and more than 200-regulation parking spaces.
The two main restaurants on the property will be the Boathouse Pub and the Sunroom Cafe, as well as an additional bar in the lobby.
Beyond the restaurants, developers anticipate spending roughly $15 million to revitalize the resort property.
Hoch didn't anticipate needing additional Plan Commission approval for the development. However, if additional changes are made to the site plan he said the developers will be back.