With the number of positive COVID-19 cases going up in Fond du Lac County and Wisconsin and no signs of it stopping, Ripon College is clamping down on what it's allowing and not allowing.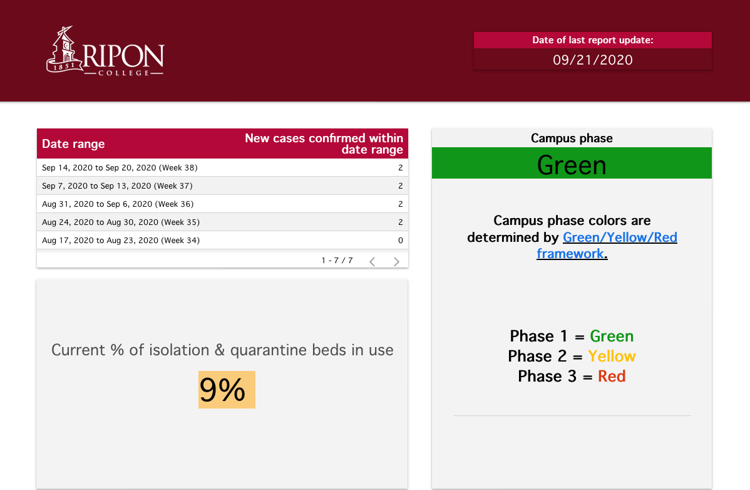 In a letter to the Ripon College community Wednesday afternoon, Ripon College President Zach Messitte announced some "changes of procedure" which will go in effect at the end of the day tomorrow.
This comes despite Messitte applauding the Ripon students for how they have handled themselves.
"As we complete the sixth week of the semester, I want to thank you for the incredible effort we have made together as an institution to "Reunite Ripon" in the face of a challenging public health situation," he said. "We have — collectively — been able to return to in-person learning with relative success and only a limited number of positive cases on campus."
According to the Ripon College COVID-19 Dashboard, which is updated Mondays and may be assessed by visiting www.ripon.edu/coronavirus-information/, there has been eight positive cases since school started Aug. 17. Those numbers includes students who have isolated on campus and at home.
The dashboard also stated that only 9% of isolation and quarantine beds are in use as of Monday.
As noted in the letter released to the Ripon College community yesterday, the following are the changes of procedures put in place:
No unauthorized visitors to campus without express permission from College staff. This includes family members, friends from outside of the college and community memberships at the Willmore Center.
With the exception of scheduled in-person classes, faculty, staff and students are strongly encouraged to hold all gatherings, practices or meetings outdoors or consider canceling the events. All indoor activities (except classes) will remain capped at 10 participants. Physical distancing and masking requirements must be followed indoors and outside.
Unless necessary (i.e. teaching in-person) to be on campus, faculty and staff should elect to work as much as possible from home.
Students are discouraged from leaving campus during the rest of the semester unless for an emergency or at a currently employed off-campus job.
Get a flu shot as soon as possible. Students are asked to get a flu shot as soon as possible. They have access to free flu shots in the health center. Faculty/staff also are encouraged to get vaccinated at their own healthcare provider.
SAGE, Ripon College's food service, has reinvented "Rally on the Run," so that meals to go will be available from any station.
"These new rules are designed to be able to further minimize health risks for all of us in the coming weeks so that we can remain on campus," Messitte said in the letter. "My thanks to each of you for having taken the extra care to help keep our campus community safe the past six weeks. It is time for us to redouble our efforts as we move into the second half of the fall semester."
Ripon College adjusted its calendar prior to the school year so that students can finish the semester before Thanksgiving and not have to come back to the campus until 2021.