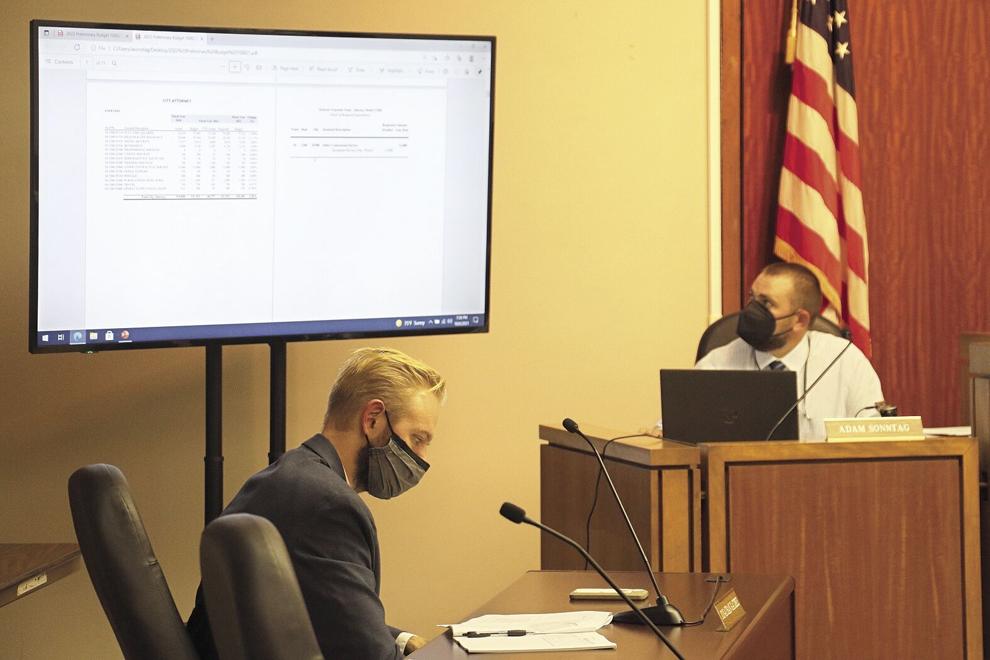 City of Ripon residents can hope to expect their portion of city property taxes to remain the same as the city is working to keep the mill rate frozen in the 2022 preliminary budget.
The Ripon Common Council participated in a budget workshop last week Wednesday in which City Administrator Adam Sonntag unveiled the 2022 preliminary budget for the city of Ripon.
Sonntag said the 2022 budget aimed to simplify the budgeting process and format, begin addressing long-term planning needs and use Tax Increment Financing (TIF) Districts to relieve pressure from the general fund.
The city is working to find a balance between lower tax rates with the need for investment into city operations and needs, while keeping tax levy limits and expenditure restraint in mind, Sonntag noted.
This year's tax levy is anticipated to be slightly higher than last year's, despite a $200,000 reduction for transferring the dispatch center as the city plans to offset that savings by servicing debt.
In addition, the city was able to raise the levy by $16,001 — or 0.491% — from net new construction, and by $11,129 from un-levied funds from previous budgets, Sonntag said.
Last year's tax levy was about $3.51 million, while this year's proposed tax levy is roughly $3.53 million. Both have a mill rate of $8.73, meaning property owners would pay $873 in property taxes for each $100,000 of property value.
However, assessed property values are not in for this year, meaning things could change as the process continues, but the goal is to keep taxes the same, Sonntag noted.
"We will not have a full understanding of what the mill rate will be until our assessed value is complete in November," he said.
The city is scheduled to make principal and interest payments on its debts in 2022, totaling $791,000, Sonntag noted.
He said the city traditionally has been levied $264,275 for tax levy supported debt and can increase the tax levy for debt without penalty.
This year, the city will use a larger allocation of its tax levy to cover general obligation debt as principal and interest payments are increasing by $68,553.
In future budgets, Sonntag noted the city needs to get control of the general obligation (G.O) debt by formulating a long-term strategy and plan.
"Although within our statutory limit, the perpetual borrowing for roads and capital will make it difficult to address larger projects and priorities," he said in the budget presentation. "The city is still not levying 100% of our G.O. debt on the tax levy, which eats into operations and capital purchases."
Beyond debt, Sonntag said the total revenue the city anticipates receiving from the state of Wisconsin in 2022 will increase.
General State Shared Revenues declined by 1.38% from 2021, after also declining from 2020 to 2021.
However, the city will receive about 5% more in transportation aid as the state increased transportation aid in its biennial budget, Sonntag noted.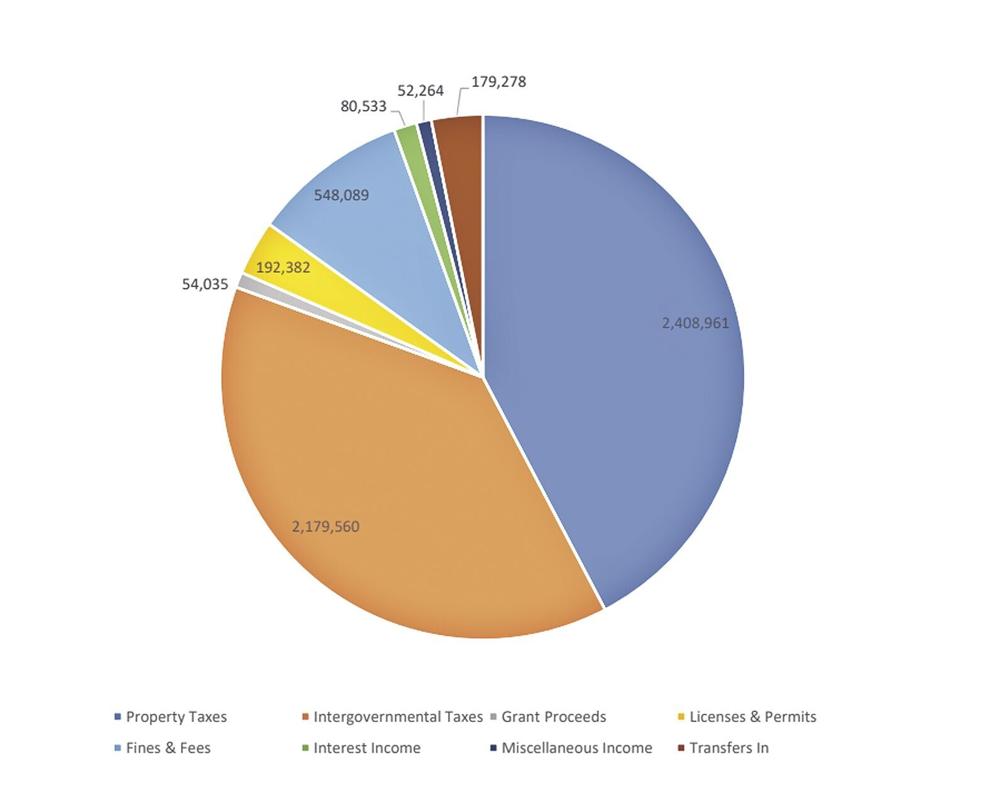 "The more you spend on transportation-related expenses, the higher likelihood your number goes up," he said. "The reason it went up this year is because the state put more money in the state budget for general transportation aid for municipalities."
The city administrator added that the city also will receive video service provider aid from the state to offset declines in cable provider fees for Ripon Channel.
He said the city's general fund is budgeted to qualify for the state's expenditure restraint program, which provides additional state aid to qualifying municipalities that limit growth in spending.
Sonntag explained that the city has budgeted for 1.32% growth in expenditures, which is below the state's 3.3% limit.
He noted total general fund revenue will increase by $34,268 to $5.451 million, while the city's property tax allocation decreased by $44,214.
The city administrator described general fund revenue as overall very flat over time, noting 83% comes from local property taxes and shared revenue from the state.
"There's some increase in the revenues for grant funds and miscellaneous revenue," he said. "Those are directly related to applications that are out there for grants next year through the DNR and others."
At the same time, total 2022 general fund expenditures increased by $70,953 from 2021 to $5.44 million, Sonntag noted.
He said the police department and public works department are the city's largest expenditures at 37% and 38%, respectively.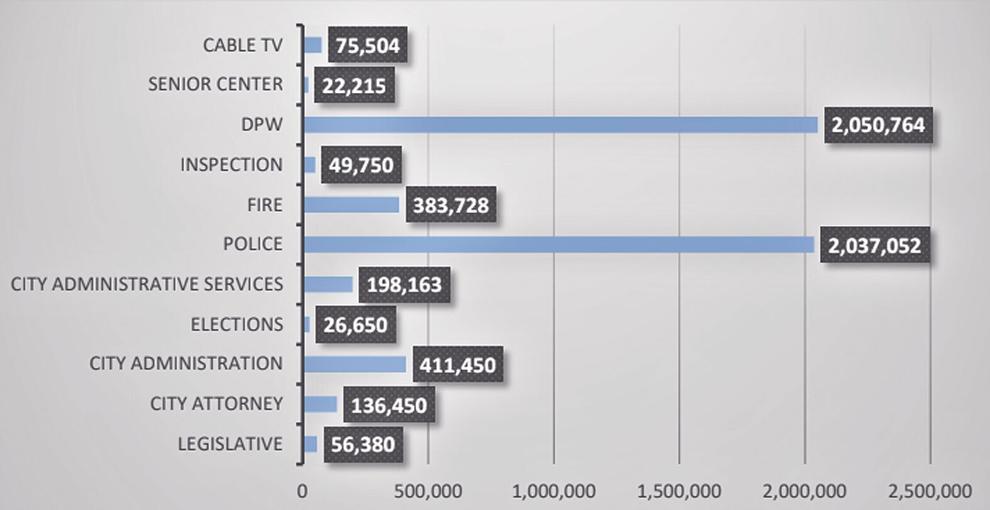 The city has budgeted for a new squad car, code enforcement software, parking management software and other upgrades for the police department, according to Sonntag.
For public works, the budget includes $40,000 for sidewalk replacement, $15,000 for crack-filling, replacements of two F-150 trucks, free dump tickets and more.
Beyond police and public works, the 2022 budget includes a 2% wage increase for general employees and 3% for union employees.
The budget also includes a 10% increase in health insurance premiums, with a proposed change to employee contribution based on their plan and coverage, Sonntag said.
He added that the city needs to offer competitive wages and benefits in order to attract quality employees amid the ongoing labor shortage and aging workforce.
The city will not add any new positions in 2022, while increasing hours for the senior center director and for Ripon Channel.
In terms of capital projects in 2022, the city plans to limit borrowing to $575,000 and pursue additional revenue through grants and donations, Sonntag noted.
Projects slated for 2022 include the Murray Park Senior Center and Trailhead, City Hall HVAC Controls, South Douglas Street reconstruction and St. Wenceslaus Street reconstruction.
Overall, Sonntag said the city needs to focus on increasing net new construction to increase its tax levy limit, develop a debt management plan and explore alternative revenue sources such as a wheel tax in the next two to three years.
"We currently have flexibility within our debt limit and within our debt levy to make changes to address some things, but balancing that versus the tax rate is something that you all have to decide on," Sonntag said to the Common Council. "If we don't get control over some of these things, those alternative revenue sources that I think have been discussed in the past will need to be explored in the next couple of years."
He added that the city needs to develop long-term project planning for big capital projects such as upgrading the City Hall and the city shop, while also planning for infrastructure investments.
"We need to continue to invest in our infrastructure creatively, apply for grants, use our TIF districts and have a more solid plan for that," Sonntag said. "I think we're investing in resources and management tools to better understand what we need to do with that."