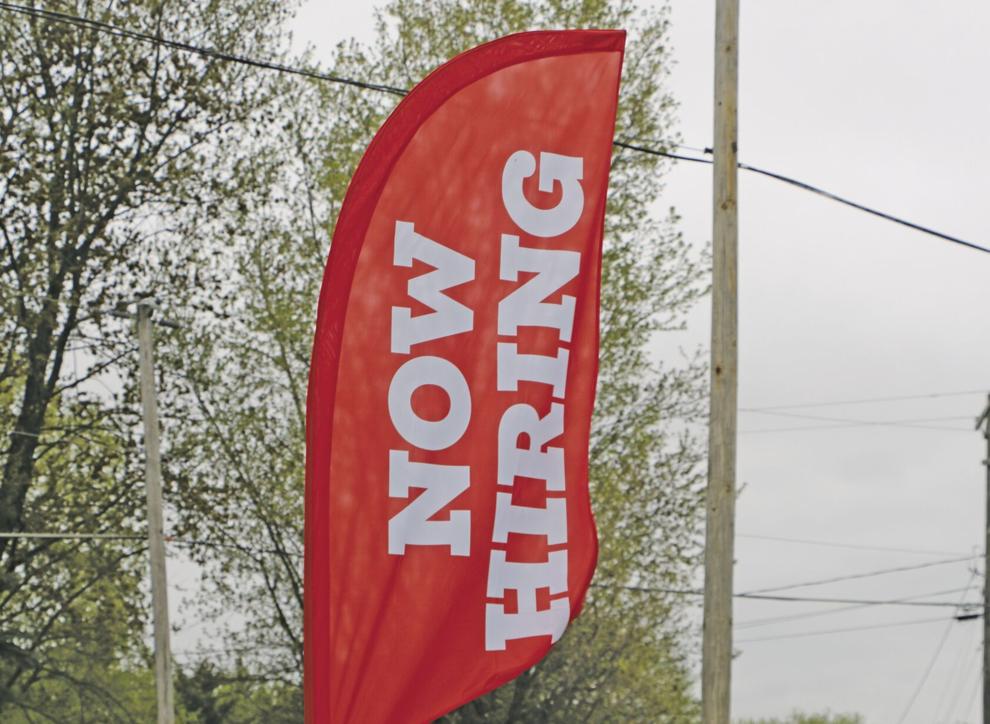 Many businesses in the Ripon area are looking for employees and a common complaint among employers is that individuals are choosing not to work because of enhanced unemployment benefits.
That complaint may not be entirely accurate to the situation as the state has been facing a labor shortage for several years.
Long before the COVID-19 pandemic — when Wisconsin's unemployment rate was nearing record lows — many businesses expressed frustration at not being able to find enough workers, according to a 2018 study published by the University of Wisconsin-Extension.
Wisconsin's March labor force participation rate was only down 0.7% from January 2020, according to data from the Federal Reserve Bank of St. Louis.
Labor force participation is a measure of the active workforce calculated by dividing the share of those either currently employed or seeking work by the total working-age population.
As of March 2021, 65.7% of Wisconsinites were either employed or looking for employment. For comparison, the data shows that in January 2020 — before the COVID-19 pandemic shuttered businesses — 66.4% of working-age residents were employed or looking for work.
Both are down significantly from peak labor force participation registered in 1997, when 74.5% of working-age adults in Wisconsin either had jobs or were looking for employment, according to the Federal Reserve Bank of St. Louis.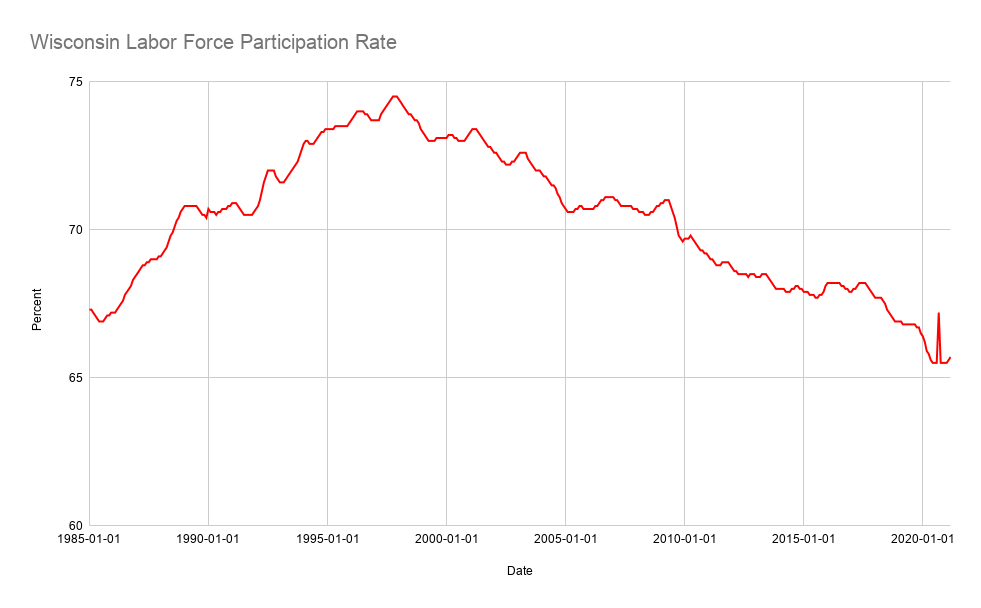 Labor participation in Wisconsin has been on a downward trend for the last few decades but remains above national participation rates.
Ripon College Economics and Business Management Department Chair Soren Hauge described the idea that people would rather collect unemployment benefits than work as a "false dichotomy."
"In situations where unemployment benefits are relatively generous, there's some evidence that there is a minor effect on people's accepting offers of available employment because they are looking for better jobs," he said.
In the short run, Hauge says it's tempting to want individuals to take the first jobs available to cut unemployment, but long-term people should be "somewhat selective" about finding work because the first-available job may not be the one that makes the best use of someone's skills.
Hauge added that the additional unemployment benefits during the pandemic have not made a major difference in the rates of individuals taking new jobs.
"There are countries around the world that have such generous unemployment compensation and other kinds of benefits, mostly in Western Europe, that are fairly clearly documented by economic research as having contributed to higher rates of unemployment," he said. "The U.S. is generally a long way from that."
Hauge says long-term trends have led to low-labor participation, such as an aging population, the additional training needed for the jobs of the future and low wages.
The number of Wisconsinites in their "prime working age" — between 25- to 54-years-old — has decreased significantly over the last decade, according to the UW-Extension study.
The study says the population shifts help explain the drop in Wisconsin's labor force participation rate as the baby boomer generation begins reaching retirement age.
From 2000 to 2018, the 55- to 64-year-old age group has increased the most among the working-age population, while the 25- to 54-year-old group and the 16- to 19-year-old group have decreased, according to UW-Extension.
"If you have a relatively larger number of people who are not of retirement age, but are close to it, more of those people will tend to leave the workforce as they retire early or experience disabilities," Hauge said.
As the baby boom generation aged, the economy shifted to require more education from workers in fields like professional and technical services, which forced younger workers to stay in school longer, according to the UW-Extension study.
That increased level of education has contributed to the decline in labor force participation in the form of young people putting off work to gain education and older individuals leaving the workforce to return to school, Hauge said.
Some may view individuals leaving the labor force to return to school in a negative light, but "there is overwhelming evidence that lifetime earnings increase with higher levels of educational attainment," the UW-Extension study noted.
Hauge says there are things employers can do to encourage those who have left the workforce to return, especially for older workers.
Businesses can adapt to the changing need of older workers and the role employment plays in their lives, which could include offering more flexible work schedules and offering retraining programs to adapt to technological change, he noted.
"Employers probably have a lot of experience already in figuring out how to make employment conditions better for an increasingly mature workforce," Hauge said. "There's still a relatively large number of people who are in the last years of their labor force participation and may have greater needs for flexibility."
He added that employer flexibility also is important for businesses hiring young adults who may still be in school.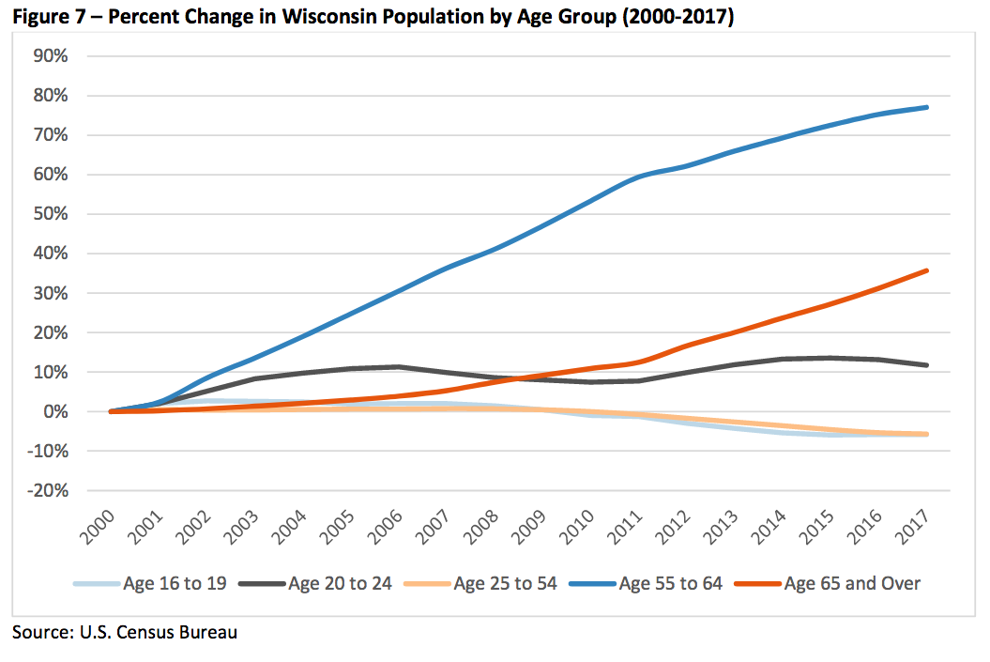 For many, there's no alternative to working, but there's a portion of the labor force that faces other challenges such as taking care of children or elderly parents, or overcoming a disability, who would be more incentivized to work for higher wages, Hauge noted.
"The higher the pay rates, the more of those people will find it gives them a strong enough reason to find work and keep it," he said.
Beyond those long-term trends, the COVID-19 pandemic "enormously disrupted" the economy and the workforce, Hauge said.
Wisconsin's pandemic job loss wasn't as bad as in many other states, but businesses that depend on face-to-face interaction — such as entertainment, recreation, accommodation and food service — were especially hard-hit, according to a Wisconsin Policy Forum Study published late last month.
"People who had been accustomed to working in those areas who had contacts in those kinds of businesses and were hoping to return from temporary layoffs may still not have been able to do that," Hauge said. "They may hesitate to look for work in other areas because they believe their best opportunities, in the long run, will be returning to work in sectors, which haven't completely rebounded yet."
Some types of businesses may return to the type of day-to-day operations they had pre-pandemic, but there's a segment of the economy that will be forever changed, Hauge said.
He pointed to the increase of employees working from home and the uptick in e-commerce.
"The economy will never be quite the same as it was; and whenever it's not quite the same, there are adjustments that are a little bit hard to make, quickly, that lead to more people being out of work," Hauge said. "It's simply harder for people — both employers and as prospective workers."
He said it could take months, if not years for some people to find jobs in the new economy.
Wisconsin, in general, has "substantial weaknesses" in helping people seek further education and keeping wages at a level that attracts individuals into the labor force, Hauge added.
"We've reduced investment in our public education system substantially over the last few decades and haven't rebuilt it despite some recent efforts to do that — at the K-12 level and the level of technical colleges, two-year colleges, four-year colleges and universities," he said. "We're not spending the money that we used to as a share of our overall state income and it's showing."