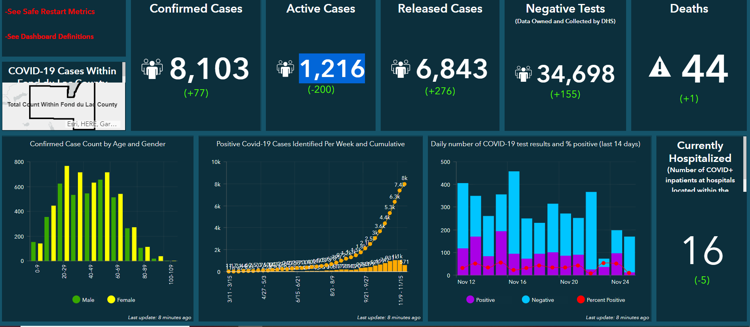 COVID-19 cases continue to fluctuate in Fond du Lac and Green Lake County, along with the cities of Ripon and Green Lake.
As of Friday, Fond du Lac County had 8,103 total confirmed coronavirus cases with 1,216 active COVID-19 cases, according to data from the county health department. The number of total confirmed cases is up 408 from a week earlier, while active cases have dropped by 479.
Fond du Lac County also reported its 35th COVID-19 death Thursday. Additionally, there were 16 people hospitalized with coronavirus as of Friday, according to the health department.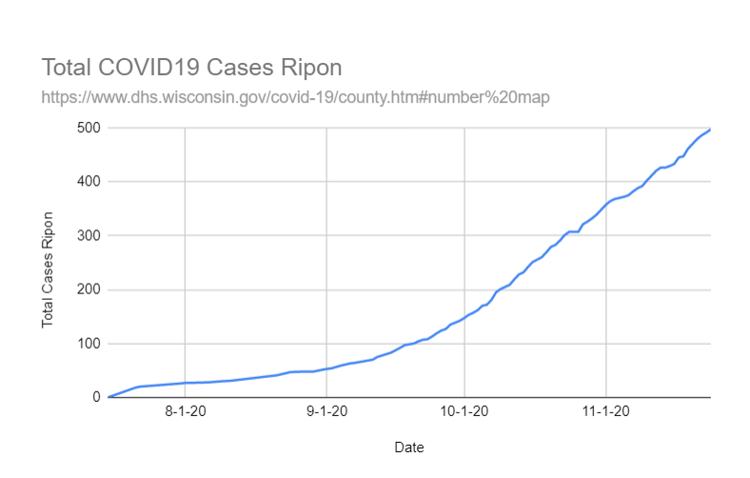 Meanwhile, Ripon had 497 total confirmed cases of COVID-19 as of Nov. 24, according to the Ripon Community COVID-19 Task Force — which is up from 461 a week earlier.
The website (www.riponcovid19.org/local-covid-19-cases) does not have a list of active cases. However, it does list the number of new positive cases each day.
"Since early August, the average number of daily new cases has increased from 15 new cases a day to about 110 new cases per day," Fond du Lac County Health Officer Kim Mueller said. "Due to this influx of cases, our health department is struggling to complete COVID-19 positive case interviews and contract tracing efforts in a timely manner to effectively identify and control the spread of the virus."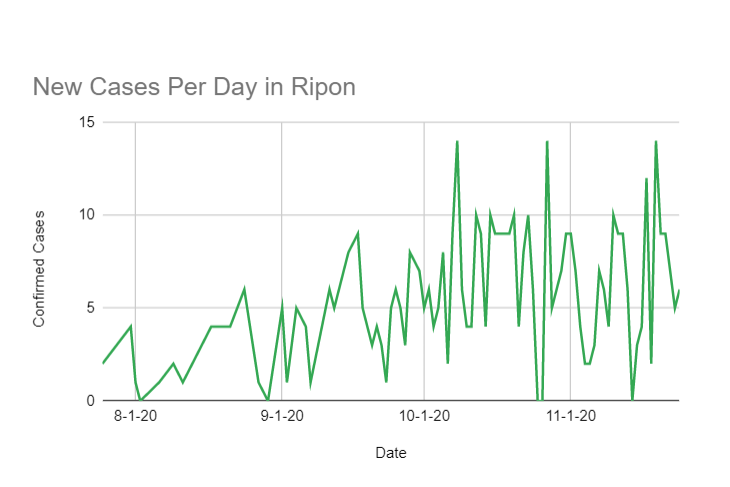 In order to continue with these critical pieces, the health department announced in late October that week that it is using a new contact tracing model that prioritizes individuals age 65 and older, children age 18 or younger and all other individuals as capacity allows.
In neighboring Green Lake County, according to DHS, there were 1,161 total positive cases — with 44 active COVID-19 cases as of Friday.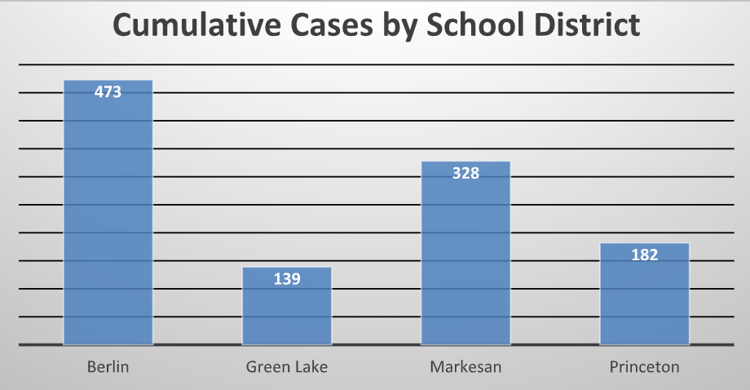 The number of total positive cases are up 75 from a week earlier and active cases are down by 26.
In the city of Green Lake specifically, there were 139 total confirmed cases as of Nov. 22 — an increase of eight from a week earlier.
To help prevent the spread of COVID-19, public health officials recommend everyone:
Clean your hands often, either with soap and water for 20 seconds or a hand sanitizer that contains at least 60% alcohol.

Avoid close contact with people who are sick.

Put distance between yourself and other people (at least 6 feet).

Cover your mouth and nose with a mask when around others.

Cover your cough or sneeze with a tissue, then throw the tissue in the trash.

Clean and disinfect frequently touched objects and surfaces daily.

CDC recommends that people wear masks in public settings and when around people outside of their household, especially when other social distancing measures are difficult to maintain.

Masks may help prevent people who have COVID-19 from spreading the virus to others
As coronavirus numbers continue to change, the Commonwealth will continue to post weekly updates atwww.riponpress.com.