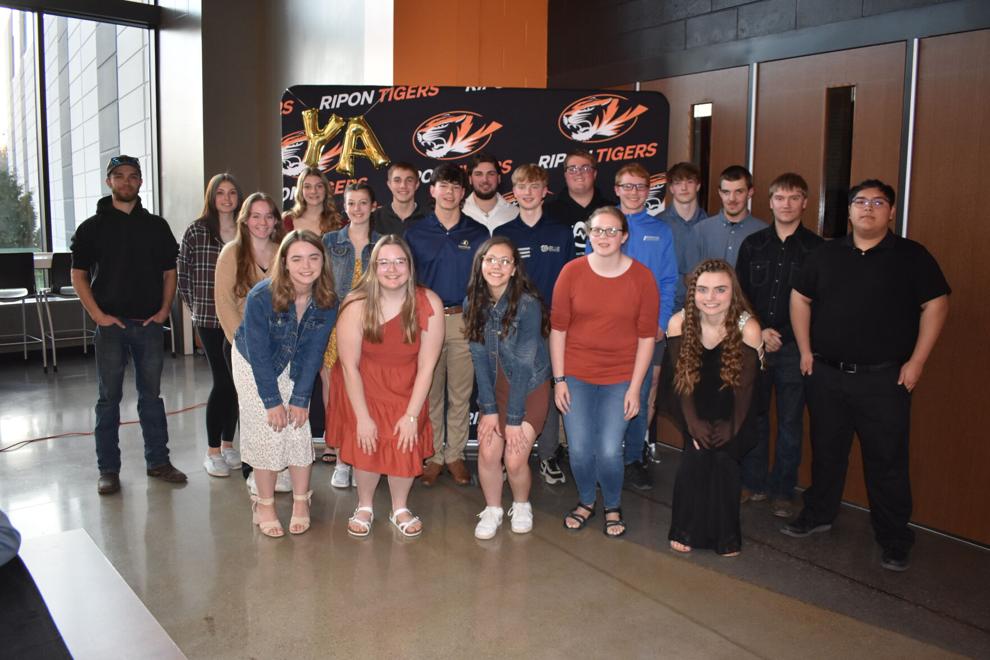 Forty-two Ripon High School juniors and seniors and 39 Ripon-area businesses were honored for their accomplishments and partnership in Youth Apprenticeship (YA) during the 2022-23 school year last month.
Students shared their experiences and achievements in YA April 27 during the first-annual Youth Apprenticeship Recognition and Appreciation Banquet.
Students also were able to express their appreciation for the supporting YA businesses with honoring their mentors with words of gratitude and recognition.
During the school year, students in YA are able to get hands-on experience and gain the skills employers are seeking as they work for area business partners.
Students work while going to school in more than 75 different career pathways, while getting certified in their skills proficiency. Businesses are supporting their future talent while giving feedback on the students' skills and supporting them in understanding.
One of the many differences with a typical high school job is that apprentices are learning industry-supported competencies on the job and are on a path to earn an industry-valued credential. YA supports students in their post-high school planning in determining the next steps of their success upon graduation.
Students participating in YA, with their supporting business in parentheses, are Maren Banks (Bella Vista), Brandyn Beahm (Alliance Laundry Systems), Paige Biever (Patina Vie), Rebekah Day (Barrett House), Emma Draeger (Prairie Place), Miya Grunert (Webster's Marketplace), Noah Hanson (Accurate Controls), Traeger Hatfield (Horicon Bank), Kaitlyn Hiemstra (Wolverton Glen), Max Huber (Cliff's Tire and Auto), Ethan Johnson (Full Draw Construction), Sawyer Kind (Zenter and Sons, Inc.), Jenna Konrad (Brandon Meats), Caden Kraege (D&E Diesel Services), Alexa Kuphal (Kingsway Wellness Center), Abigail Kuzelka (Kritter Kastle), Garrison LaViolette (Rowley Tool & Die), Madalyn Leinweber (Green Lake Area Animal Shelter), Gretchen Mildebrandt (Wolverton Glen), Justin Moyle (FLASH Trucking), Roman Mueller (Fusion Heating and Cooling), Ty Nagler (Fusion Heating and Cooling), Kaden Page (Page Farms), Brayden Parmelee (Struble Construction), McKenzie Parnell (Whispering Pines), Cayden Perr (Perr Electric), Kaiden Pollesch (Accurate Controls), Sebastian Resendiz-Castro (Knuth Brewing Co.), Adriana Rushani (Barrett House), Kolton Sina (Modern Rentals), Payton Steggall (Chris Miller Construction), Taylor Stellmacher (Ballweg Implement), Jayden Trochinski (Blue Design Co.), Ryan Vande Brink (Berlin Oil Products), Paige Velie (Taylor & Associates), Theresa Wegner (Hinz Farms LLC), Joshua Weinberger (Kingsbury), Madalyn Weis (Weis Livestock LLC) and Haleigh Zills (Kwik Trip).
Students or businesses interested in knowing more, may check out yawisconsin.org.