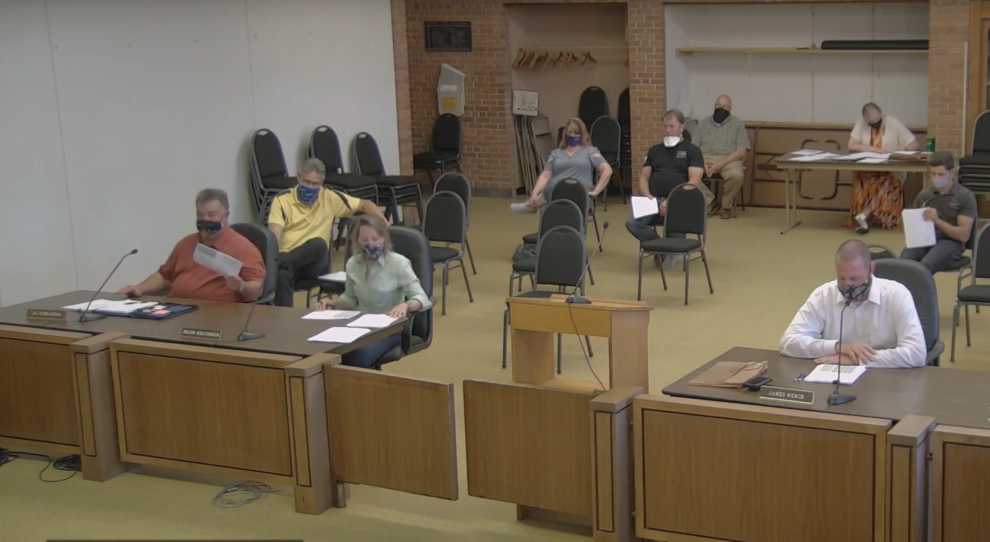 Ripon will soon receive roughly $400,000 from the federal government — or about half of its total stimulus from the American Rescue Plan Act — but the city is in no rush to spend those funds as it is trying to get the biggest bang for its buck.
The city of Ripon will receive $820,706 over a two-year period and has until 2024 to spend that money.
At Tuesday's Common Council meeting, City Administrator Adam Sonntag presented council members with a preliminary "wish list" of 31 possible uses for the funds, compiled from departments within the city.
Some items on the preliminary list include upgrading city and police department websites, replacing the tornado warning siren, digital equipment upgrades, a fire station remodel project, lead service lateral replacements, sewer line projects, park upgrades, trail connections and downtown branding.
The cost to achieve everything on the list was more than $2.15 million, which exceeds the American Rescue Plan Act funds by about $1.3 million.
Sonntag explained that the list was meant to spur discussion and asked aldermen to provide feedback as to which projects they would remove from the list and which they would prioritize.
"This is not a final list," he said. "I'm not asking for permission to spend that money; I just wanted input from the council in general."
Sonntag said the guidance from the U.S. Treasury Department as to how the funds can be used was very broad, but there are some specific guidelines municipalities must follow.
For example, the city cannot use American Rescue Plan funds for roads, vehicles and other "things of that nature," but it can use the funds for a water/sewer project.
"You can't just go buy a new fire truck; that's not the goal with these funds and the department of treasury has been pretty clear about that," Sonntag said. "It comes down to water, sewer, lead service laterals, broadband infrastructure, other eligible expenses to the clean water fund, water loan program, emergency response [and] lost revenue."
During the discussion, Ald. Al Schraeder described the federal funds as "one-time" money and advised officials to allocate those dollars to items that will last for "20-plus years."
He added that the city shouldn't spend those funds on something that could incur more expenses down the road.
"This is not money that is going to come year after year — one-time money means [looking for] one-time costs," Schraeder said. " … I would hate to spend money on something now that would incur additional costs to the city five, six or seven years from now."
Ald. Jim Werch echoed Schraeder's sentiments, noting the city doesn't need to use the federal money right away as other needs could arise down the road.
He added that the goal would be to use the one-time funds for something that would make a lasting impact on the city's future.
"We would really have to carve this [list] down a lot to figure out what we want [and] where we're going to use it," he said. "And if there's something not on this list, then we would need to come up with a reasoning for why we want to do it."
During the discussion, Ald. David Gallops inquired about potentially using the federal dollars as matching funds when applying for grants.
Sonntag replied that it's a possibility.
"For some of the bigger things on the list that is exactly where the strategy is in my mind," he said of using federal dollars as matching funds. "We could use state dollars to match [American Rescue Plan funds] while looking for other grants."
However, Sonntag added that grant funds have more specific restrictions than the federal money as to how dollars can be used.
"If you use that money to match, you may be tying yourself to doing a project that has more requirements than doing the project independently or finding another way to fund it," he said.
On the topic of grants, Werch proposed using reserve funds as matching funds and using federal dollars for something else that the city may have had to borrow for in the past.
"Potentially this opens us up for a lot of other things, not directly for these funds, but for our funds," he said.
Ripon Main Street Executive Director Craig Tebon inquired about how a federal infrastructure bill could impact the city's plans for American Rescue Plan funding.
Sonntag said it's possible that some of the items on the list could be addressed by infrastructure funds, but he doesn't want to assume more funds would come from the passage of an infrastructure bill.
"It hasn't passed yet and we don't know if we would even be eligible for any programs through that," he said. "All I can speculate is that this money will be far more flexible in touching more operations and departments in the city than the infrastructure bill."
The city has no intention of spending "even half of the half" of federal funding it's getting this year in the near future, but it is working on prioritizing different items on the list, Sonntag added.
"Some things are going to creep to the top of the list naturally — based on the guidance — that are easy to do and are an immediate need, whether it be public safety, response to the pandemic or things that are in the works," he said.
City Attorney Lud Wurtz advised aldermen to review the list and discuss the items they like, and those they don't, with Sonntag, who will then come forward to the council with specific projects down the road.
"I would encourage, as I have in many meetings, that each individual council representative meet with the city administrator," Wurtz said.