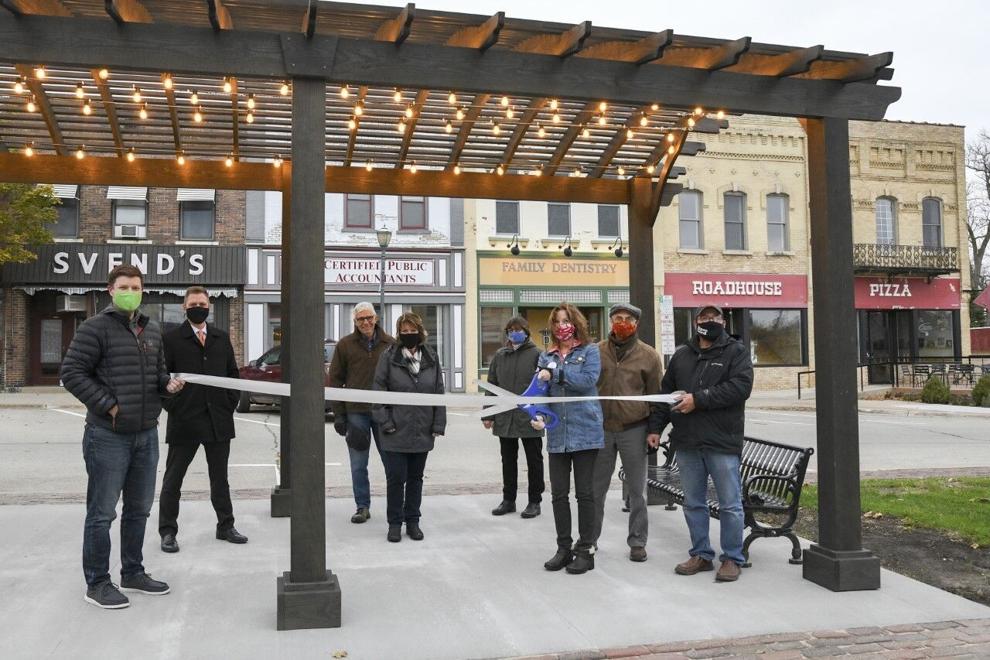 A downtown revitalization effort years in the making took another step forward last month with the unveiling of two pergolas in Ripon's Rotary Square.
The pergolas were funded entirely by the Ripon Rotary Club, which held a ribbon cutting ceremony to officially open them to the public Tuesday, Oct. 20.
Over the years, the Ripon Rotary has "adopted the square," having had a hand in the revitalization efforts, according to Craig Tebon, executive director of Ripon Main Street Inc. 
"For the last few years, it hasn't been up to snuff, so we started to think, 'Let's try and do something a little bit more impressive,'" Tebon said.
Then, in April 2018, Ripon Main Street participated in a workshop where consultants presented different beautification efforts in various municipalities and helped brainstorm ideas for Ripon. 
Tebon noted one of the major takeaways from the workshop was that each downtown needs "one identifiable feature per block" and "it's up to the community to decide what it is."
So, Ripon Main Street formed a downtown beautification committee, which consisted of some Rotary members and others in the community, to brainstorm some ideas.
One of the efforts to come from the committee was the installation of a dozen new trees downtown this June. 
The idea for the newest beautification effort, the pergolas, came after Tebon presented a similar structure that he had seen in Waukesha. 
It just so happened that Rotary had been fund-raising over time and it's executive board decided to "pull the trigger" and the organization stepped up to cover 100% of the necessary funds to install the pergolas, Tebon noted. 
"Anytime we can do something to attract attention [for downtown Ripon], it's a good thing," he said. "When people are driving by, there's just one more thing to catch their eye and attract attention."
The pergolas feature light fixtures that are on from dusk until 11 p.m., which Tebon noted helps to provide a "festive" atmosphere downtown after dark.
"It's very rewarding to see all this stuff come together and the beautification is just one small piece of the overall revitalization process," he said. "When you combine [the pergolas] with some of the other efforts, I think it helps elevate our downtown." 
For Tebon, the fun part about being involved in downtown revitalization efforts is that it's never finished and "there's always something to work on."
And although Ripon Main Street doesn't yet know what the next project is, Tebon noted the organization is continually traveling to other communities to get new ideas and perspectives. 
"We don't necessarily want to do what other communities are doing, but at the same time, you seek out the progressive communities, you network with them to find out what they're doing, what they're working on, and then you bring that back to your community," he said. 
While Tebon is happy to see the downtown beautification efforts blossom, he noted it wasn't long ago that Ripon's downtown featured vacant and dilapidated storefronts, remnants of when Boca Grande Capital LLC had gobbled up multiple buildings in Ripon's downtown.
In the years since Boca failed to live up to its multi-million dollar promises of downtown revitalization, Tebon has witnessed a dedicated group of community members band together to breathe new life into once vacant storefronts. 
According to Tebon, the transformation that has occurred has been accomplished entirely through private entities and non-profits, meaning no tax dollars have been spent towards downtown beautification.
"It takes vigilance to constantly look at what could be rather than what is there and to keep cultivating that," he said of the city's efforts to rebuild since the Boca era.