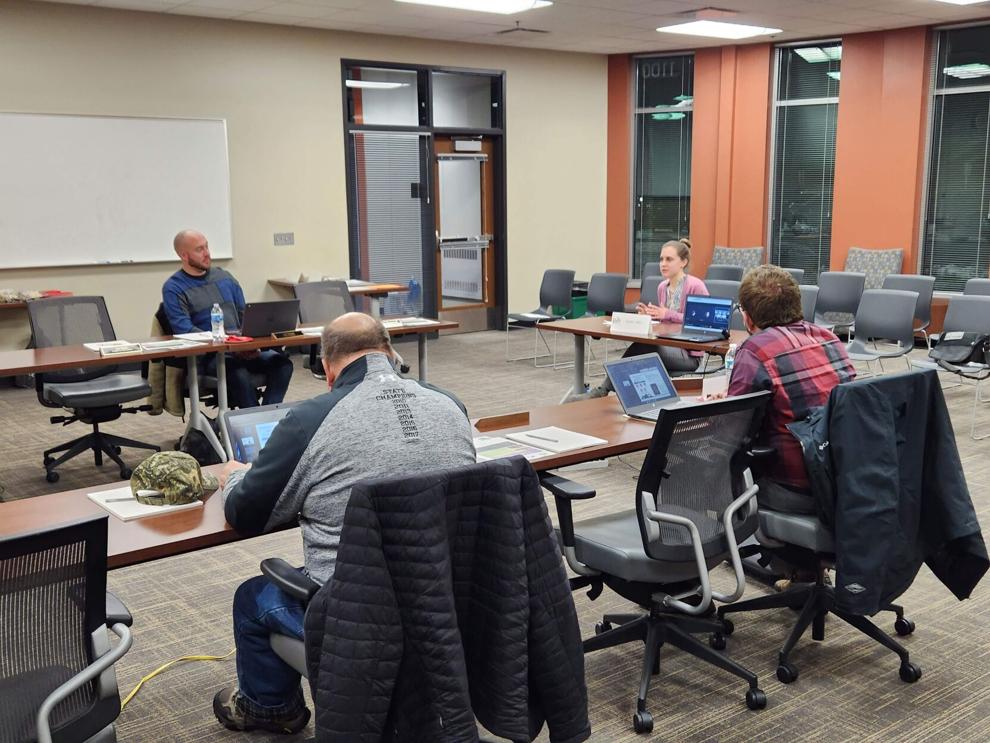 The Ripon School Board was updated on the changes and improvements in the Food Services Department at a meeting Monday.
Aramark Food Service Director Katie Maccoux gave a presentation to the board. She said the Ripon Area School District (RASD) is trying to get away from processed foods and is offering new food choices such as homemade banana muffins, and new plant-based entrees and sides, including a hummus plate with vegetables and parmesan garlic flatbread.
A popular choice at the elementary schools has been a string cheese, yogurt and fruit plate with a dinner roll.
"We were seeing that they weren't really taking the salads too much, but (this is) still kind of a healthier option that's been going over really well there," Maccoux said.
The high school offers a "Test Kitchen," which is a rotating menu including boneless wings, breakfast for lunch, popcorn chicken stir fry bowls, pasta bar and taco bar.
"What's really nice about these is the students can really customize what they want," Maccoux said.
Breakfast is free for all students throughout the 2022-23 school year, with about 25% of students participating district-wide.
Maccoux said the district has focused on rediscovering breakfast. Barlow Park and Murray Park elementary schools are offering a breakfast in the hallway model; where breakfast stations are located at different areas for students to grab and take back to their classroom to eat.
The district is working to incorporate healthy breakfast choices including whole fruit, an increase in fiber consumption and a reduced frequency of fruit juice.
"We know that eating breakfast really helps with their learning and helps them stay focused," Maccoux added.
Maccoux outlined various ways the district is advocating for students' health and wellness. She said RASD is making changes in an effort to promote sustainability.
In other news
In other news from the meeting, the board:
— Approved creating an exception to allow students who are taking college courses to utilize their personal laptops and iPads within the school.
— Approved the 2023-2024 school calendar, which is the same model used in previous years.
— Approved a job description for a secondary teacher position, with the position requiring a bachelor's degree or higher from an accredited institution and a preferred minimum of four years of teaching experience at the secondary level.
— Approved an assistant golf coach position with a stipend of $850 and a total expected cost of $972, including benefits.
Approved changes to the RASD handbooks, policies and wage-and-benefit guides to reflect the district's move to self-funded medical insurance.
— Approved hiring Marshall Morrin as the Ripon Middle School physical education teacher and McKenna Glover as a third-grade teacher at Murray Park Elementary School for the remainder of the 2022-2023 school year.
‰ Considered a report on the general fund budget, which indicated that revenue through November equaled 10% of projections for the school year, in comparison to 2021 revenues, which equaled 9%. Expenses equaled 30% of projected year-end budget amounts, which is the same as last year.
— Heard from Business Manager Jonah Adams who discussed the food service budget. The budget has $119,567 in revenue and $106,733 in expenditures. Because of the low participation in the free breakfast program, the budget has a net income of $12,834.
The board then moved to go into closed session to review probationary teacher performance.
The next meeting is set for Monday, Jan. 16.