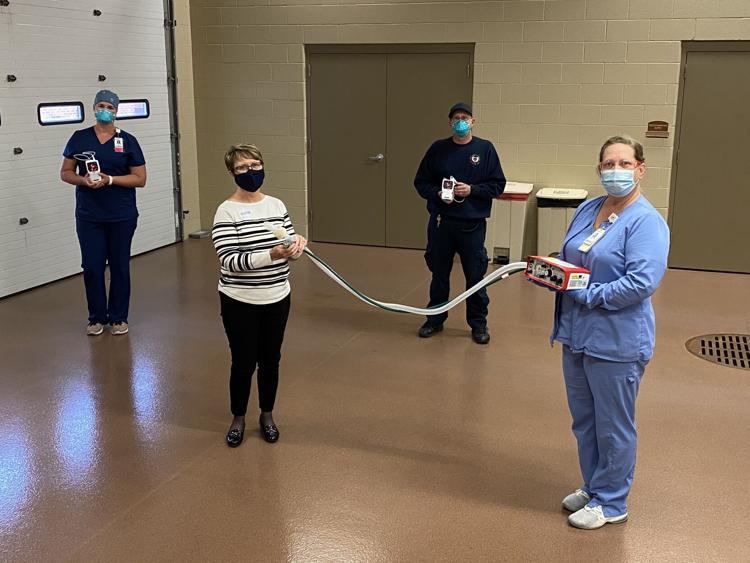 In March, as the coronavirus spread across Wisconsin, Ripon Medical Center (RMC) began developing procedures for handling a potential surge in COVID-19 patients.
Meanwhile, the RMC Auxiliary looked at its reserve funds and decided to dedicate a large portion to helping the hospital care for fighting the virus.
Now, six months later, the hospital is revisiting its surge plan as it's seeing more COVID-19 cases than it did during the statewide Safer at Home period.
Unlike March, however, RMC is now equipped with a new transport ventilator and two portable oxygen saturation (O2 SAT) monitors, thanks to a donation from the Auxiliary earlier this summer.
"We're anticipating the need for more mechanical ventilation for COVID patients because it can improve health outcomes or just reduce the risk of further complications," said Teal Krause, a registered nurse in RMC's Emergency Department.
In planning for a surge in COVID-19 cases, RMC decided to send patients who needed to be put on a ventilator to a tertiary care facility that could better handle an influx of ventilated patients, according to Vice President of Patient Care Services Kyle Hunter.
St. Agnes Hospital in Fond du Lac was chosen to be that tertiary care facility because of its larger capacity.
To better prepare St. Agnes for an increase in cases, Hunter explained RMC donated one of it's Hamilton-G5 ventilators, leaving it only two.
"When we sent one of our vent[ilator]s over to them, it decreased the number of vent[ilator]s that we had, so knowing that we had another ventilator coming was instrumental in our approach to COVID," she said.
With the purchase of a transport ventilator, Krause explained that RMC can intubate patients in the Emergency Room and safely transport them to a tertiary care facility without having to disconnect or switch machines, which is a high-risk procedure.
"With this new transport vent[ilator], we can reduce the risk of [COVID-19] transmission to hospital workers and patients because we can intubate a patient, put them directly on the transport vent[ilator], and then EMS can transport them on it," Krause said.
To transport patients to the hospital, or to transfer them to another facility, RMC works with Ripon Guardian Ambulance Services, which uses the same model of transport ventilator as the one RMC acquired in August.
The transport ventilator is small enough to be used in the ambulance, ensuring there is no disconnection between facilities.
"They can just take our vent[ilator] and go," RMC Respiratory Care Services Lead Tammy Martinek said of the partnership with Ripon Guardian. "It's a lot easier this way [because] we're not disconnecting from the patient and causing any aerosolizing of particles into the air; it's all a closed system."
When one transport ventilator is being used, Ripon Guardian EMS Chief John Teachout noted another is kept at the hospital, in case another patient requires intubation.
"It's a small unit and it works very nicely," Teachout said. "In the 18 months since we got our transport ventilator, we've transported 11 patients with it, and now that the hospital has its own, it's just seamless."
Additionally, the O2 SAT monitors, purchased with the Auxiliary's donation, enable the hospital to evaluate the oxygen level of COVID patients being treated in the emergency and overflow departments.
Martinek noted the monitors are small enough that RMC staff can "go from patient to patient," checking up on their oxygen levels.
"If we have someone on a ventilator, we need to monitor those oxygen levels as well to know if the ventilator and the oxygen is working, and if we need to make some adjustments to that ventilator," Martinek said.
In revisiting the hospital's surge plan, RMC is working with EMS in the area to make sure the local healthcare system is prepared.
Ashley Kolberg, clinical supervisor of RMC's Emergency Department, described the hospital's COVID-19 plan as "ongoing" as it has continued to evolve since March.
Initially, RMC expected an early surge of cases, but now it's preparing for a surge this fall, which hospital officials say has already started.
"We have a plan for how we are going to separate COVID patients out as best as possible to try and keep our non-infectious patients away from our infectious patients to try to limit that exposure," Kolberg said. "We do the best that we can; given the layout of our ER, it's not always feasible. We do have a plan but it's going to come down to what it looks like when that happens."
To prevent the virus from spreading, everyone coming into the emergency department is screened for symptoms. In addition, RMC no longer is allowing visitors because of a recent increase of cases.
Despite modifying operations to meet challenges faced by the pandemic, the new transport ventilator and portable O2 SAT monitors will have a use after a COVID-19 vaccine is available.
"While the transport vent[ilator] will be used mostly in the ambulance to transport patients, it can also be used in-house if we have a patient who is on a ventilator and also needs an MRI; it's MRI compatible," Martinek said. "So it's a nice tool to have for a number of reasons and everyone here is so grateful."