The Wisconsin Department of Public Instruction (DPI) released four options Monday that school districts can consider as they look to reopen schools in the fall.
Which one area districts will select, if any, remains to be seen.
When released Monday, the DPI described "examples of modified scheduling options. This is not an exhaustive list, but is meant to provide examples of scheduling modifications a school could use if the school is looking to return on a different schedule than one it would normally use."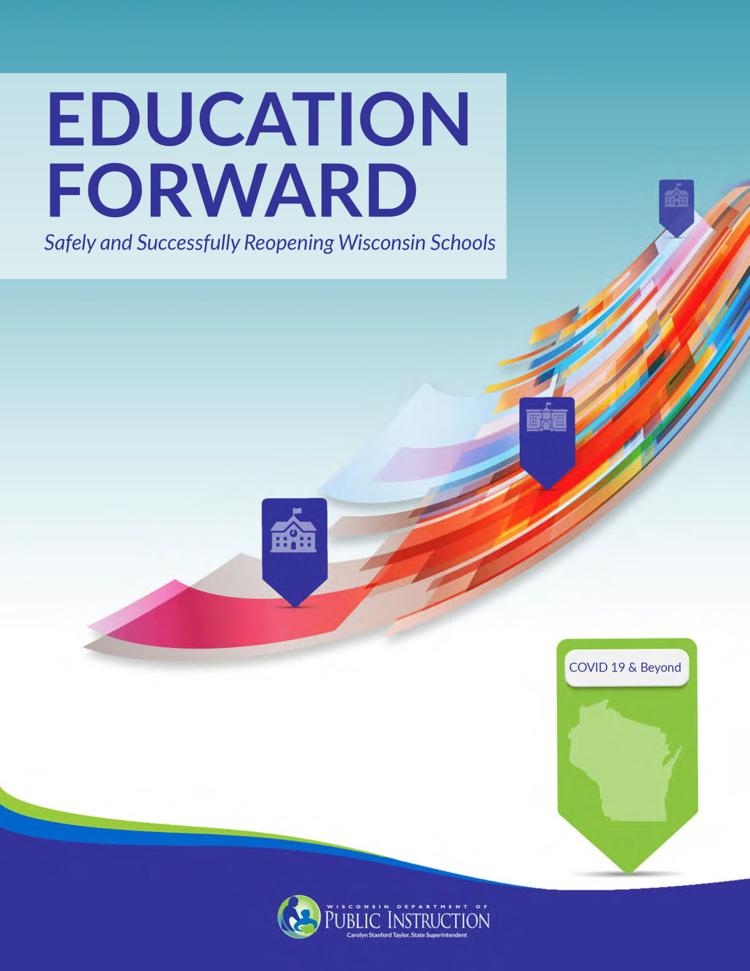 That appears to leave the door open for districts to consider returning to school without any modification to their schedules.
The Ripon Area School District continues to consider its options, as it announced via a press release Tuesday.
"Since its release, district officials have been reviewing the 87-page document. Ripon Superintendent Mary Whitrock has attended virtual meetings with hundreds of superintendents across the state as well as attending a meeting with the Fond du Lac County Health officials and public and private school leaders from across Fond du Lac County," the district stated in the release, adding that a leadership team met Tuesday to consider its options to ensure students and staff are safe while offering the best educational experience possible. "Our plan will likely include screening students and staff prior to entering the building to minimize initial risk and then provide for social distancing to the greatest extent possible throughout the entire day."
The Green Lake School District, meanwhile, continues to evaluate its options.
"Green Lake School District has created a 'Reopening Schools' task force to solve the challenges presented by COVID-19 and its impact on the reopening of our school in the fall," Green Lake Superintendent and 7-12 Principal Mary Allen said.
"Input from our educators, parents, students, and community members will be solicited so that we can make the best decisions regarding the educational plan for our students.
"We know the plan will need to be flexible in terms of delivery — in-person, virtual, or a combination of both. We also know that our biggest concern is keeping our kids safe physically, socially, and emotionally. The task force will use the guidelines from the Department of Public Instruction's 'Education Forward' to develop a reopening plan that is unique for our school. Ultimately, we want to have a plan that meets the needs of our kids and gives our families the freedom and comfort to go back to work when they feel safe to do so."
Every scenario presented by the DPI includes at least some element of virtual learning.
"There will be students who are not able to return to school due to health concerns and students and staff who may be quarantined due to exposure. This means every school district will need to plan for both school operations on campus and remote learning," state Superintendent Carolyn Stanford Taylor wrote in the forward of the 87-page document. "The DPI will be using federal CARES Act dollars to support school districts around remote learning options.
Changes will need to be made as districts look at how they provide meals to students, transport students to and from school, move through their buildings, and gather to celebrate achievements."
The four options presented include:
Four-day week: Students report to school four days a week, leaving a fifth available for deep-cleaning. A fifth day a week could be offered virtually or through some other alternative format, while teachers could use that day for planning and professional learning.
Two-day rotation: Students report to school on two days a week, as assigned, while other days could be taught virtually. Again, the DPI would recommend one day a week be set aside for teacher planning and professional learning time.
A/B week rotation: This is similar to what the Ripon Area School Board discussed at its meeting last week Monday, in which only half of the student population reports to school each week, with the DPI suggesting they attend for four full days per week for in-person learning while the other half of the school population participates in virtual learning at home. These two student groups would alternate between in-person and virtual learning weekly. The Ripon Area School District also discussed a variation on this in which all students would come to a school setting, but that only half would be in class while the other half would learn at an alternate location such as an unused school space. As was recommended previously, one day per week is used for teacher planning and professional learning.
Elementary face-to-face and secondary virtual learning: Only elementary students would return to school buildings, but would be spread across other school sites, including potentially the middle school, to reduce the student-teacher ratio to promote social distancing. Secondary students would learn virtually. And, as the DPI recommended consistently, only have students in the building four days a week so that one day each week is used for teacher planning and professional learning. This would be a virtual learning day for all students.
In light of these recommendations, Whitrock outlined what the Ripon Area School District anticipates it will do at this point.
She explained that while the district likely won't be able to adhere exactly to a recommended 10-to-1 ratio of students per teacher, it will seek to limit student group sizes.
"It is likely that at certain points during the day students will be required to wear masks and staff will wear masks or face shields. Busing, recess, and lunch will likely look different too," Whitrock said.
Meanwhile, the district continues to consider what students' schedules will be.
"... It is more likely that the county health department will help districts move between face-to-face, hybrid and virtual plans based on positive cases of COVID-19 that are found in the local community and any of the district's schools," Whitrock said. "We will need to be very flexible and fluid in our design.
Students who are home quarantining would be virtual while other students continue face-to-face so a blended model is most likely to be in place rather than a complete district-wide shutdown ...
"We recognize we can't control  what happens when students are together outside of school. That is why the daily screening is so important as well as sending students with any symptoms home prior to joining their classmates in the classroom."
The district plans to send out a survey to parents and staff in the next week or so as it seeks to make decisions.
Before the DPI provided guidance to schools Monday, Allen noted during last week Wednesday's School Board meeting the school is preparing for "many different scenarios" as it didn't know what was going to happen.
She stated the best option would be opening up as "somewhat normal," but having to divide the classes.
"Right now, recommendations are looking like 15 students in a classroom; again that would depend on the size of the classroom," Allen said. "And then of course we would need to maintain social distancing."
Allen also noted the district could utilize the hybrid model suggested by DPI, in which the school would have staggered attendance to limit the numbers in the building. Students would alternate between learning in classrooms and online.
Allen noted she is not of a fan of this "off-and-on" option.
"That is not, as far as I'm concerned, … an acceptable model just because I think our main focus is getting our parents back to work," the superintendent said. "I think if we have kids coming on 'A' and 'B' days, our parents are going to really have a hard time getting back to work."
Allen also acknowledged there might be a situation from what the school is hearing that might return to remote learning again like it did from March until June, so it is preparing for that to have better systems in place.
"I think things went really, really well but we know we can improve on that and make learning a better experience," she said. "So, those are the three options we're looking at; we're going to plan for all three just in case."
While waiting for the DPI to come out with a roadmap on reopening schools, Green Lake developed a task force.
It met last week Tuesday for the first time and is having weekly meetings during which it covers different topics and brings in experts in those areas to gather information.
During the task force's first meeting, it made some technology decisions and talked about remote-learning platforms and programs it wanted to investigate and possibly purchase to make learning better for students.
It also explored devices and the need to purchase more of them as some are getting older and the school also wants to get devices for students in 4K through second grade.
Another topic was possibly creating a virtual school so that any time that kids would not be able to be in school — whether they were sick or vulnerable to the virus — they could maintain their learning at Green Lake School.
"Normally, that is done by having to create a charter, and we are hoping that DPI will be allowing for virtual schools to go through different measures, so that we can do that, and not have to become a virtual school in a charter school to do that," Allen said, noting 4K-6 Principal Gina Baxter is investigating that to see what that's going to take.
The initial task force was made up of Allen, Baxter, Tom Archambo, Mika Chetto, Josh LeGreve and two IT people, but Allen noted the next one the group will be looking at different topics so it will involve new people.
"At some point, we'll involve parents and anybody we can find would be an expert," she said in response to a question by School Board member Loni Meiborg on the group's makeup. "We're going to need to get some of the nursing people involved. Our custodial people may be involved in a meeting. It all depends on what the topics are going to be that we need to discuss, so we're trying to break it down into areas, so that we can accomplish a lot."