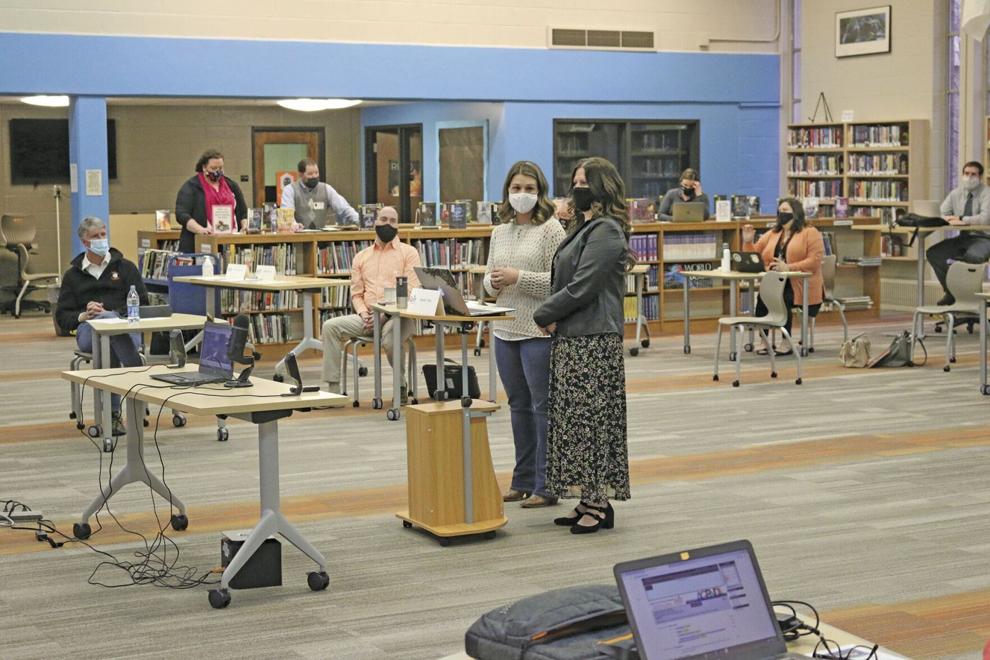 The Ripon School Board reviewed a presentation Monday of the 2020-21 Mid-Year Dashboard report, which examines trends within the district, identifies strengths and pinpoints areas for improvement.
Ripon Area School District (RASD) Director of Curriculum & Instruction Chrissy Damm guided the School Board through the report. She explained that the purpose of the report was to provide an overview of teaching and learning, specifically since the beginning of this school year.
"We really owe a tremendous amount of gratitude to our staff, to our administration and our students in helping to maintain that continuity of learning," Damm said, noting the report shows the success of RASD's various learning models, student engagement and its work to close achievement gaps created last spring.
The challenges highlighted in the report are not unique to Ripon as many schools across the country are facing similar obstacles as a result of the pandemic, she added.
Going into this school year, students at various levels came in behind in terms of their academic achievement from the previous year, but the district has worked to get them back on track and to close the achievement gap.
Additionally, many students who began the year 100% virtually have transitioned back to in-person learning as the year has progressed.
Across the board, pupil service contacts with school counselors in each building increased this year, according to the report.
Pupil Services Director Emmy Jess noted the district has increased its services by making contact with students struggling with social/emotional wellness, mental health or other behavioral issues.
"We have some really nice software that's alerted us to if our students are searching things that might be concerning for their mental health," she said. "It gives our pupil service team as well as our administrators an email that says, 'Hey, you might want to check in with this students and here's why.'"
BARLOW PARK
As district leaders anticipated, Barlow Park Principal Tanya Sanderfoot noted students in 4PS through 2nd grade came in behind because they missed out on instruction as part of the pandemic.
Despite coming in behind, she says students are making gains in closing the achievement gap, specifically in reading and math.
"Overall, the differences between last year's scores and this year's scores are minimal," Sanderfoot said. "You'll notice, we have more of our students in first grade needing extra support in the area of literacy."
She added that it's common for some students to fall behind in first grade because of the different rates at which they learn.
In addition, Sanderfoot noted it's been a challenge for teachers, who have to teach students both in-person and online simultaneously, but they've made it work.
Likewise, Damm said having virtual substitute teachers, who can focus on students learning virtually has been a "saving grace."
"We have been super fortunate, especially in our elementary levels to be able to have the support of substitute teachers who have been supporting our virtual students as well as our teachers," she said. "We could not have done that virtual format without them."
Of special education students at Barlow Park, Special Education Director Becky Morrin noted 94% were in school five days a week, which provided more engagement and specialized instruction than virtual learning did.
"It's hard to keep kids with special needs engaged, so having them in class five days a week was definitely a very good option for them," she said.
MURRAY PARK
At Murray Park/Quest, Principal Renee Bunge said while students came in behind, they are making strides toward end-of-year goals.
"When we look at where kids are now, they really are within a couple of percentage points of where they were last spring," Bunge said. "That is a testament to so much of what our team is [doing]."
To help the students who came in behind get caught up, she noted the school is working with teachers to develop new interventions for students.
Bunge added that vocabulary building and developing reading skills is one area where students are behind.
"The lag in vocabulary is not [unique] to Ripon or Wisconsin, it is across the board, so that's one of those things that we continue to build upon," she said.
In addition, she says the school will offer summer school courses in reading and math.
MIDDLE SCHOOL
At the middle school level, Damm said the hybrid model of not having students in-person five days a week presented challenges.
"We certainly know that when kids are in school five days a week, the engagement levels go up," she said.
Even so, the hybrid model helped the school remain open, Damm noted.
She doesn't believe there was a situation where an entire classroom of students had to be quarantined at the middle and high school levels.
"That was just phenomenal to recognize," Damm said. "The staff and students did a great job helping keep our school safe, in terms of helping to sanitize and wearing the masks."
Additionally, behavior incidents were down this year, which Damm says shows that students took advantage of their time in school each week.
In terms of academic achievement, she noted there are some fluctuations in performance, specifically at the 8th grade level where there were "some pretty significant gaps."
Damm says middle school principal Rick Bunge "dug into" the reasons for those gaps and spoke with students to find out why they were behind.
"Many of those students quite honestly indicated they didn't make the efforts that they would have had done in person five days a week," Damm said. "Just [by] having those open conversations about the importance of doing your best, I think we're going to notice some substantial differences in our data for the end of the year."
HIGH SCHOOL
Many of the trends the district has seen at the middle school level also were seen at the high school level, according to Principal Randy Hatlen.
The difference at the high school level, Hatlen says, is credits. He explained that if students pass a class, they get credits toward graduation. If they don't pass, they don't get the credits.
"That's been the challenging part here at the high school," he said.
One of the items school leaders tracked was the failure rate, which has remained "fairly steady" with last year's failure rate, Hatlen added.
"That's due to the efforts that the teachers, the students and the parents have made," he said.
Last year, the high school had more than 5,000 contacts to parents regarding students' behavior or academic performance, Hatlen said. So far this year, the high school had about 4,400 contacts home.
"If the teacher is taking the time and energy to go out and contact the parents, they want the students to be successful," Hatlen said. "To me, that's a positive."
Another trend the high school looked at was the honor roll, which Hatlen said has remained "pretty consistent" from semester to semester.
The biggest challenge the high school faces is trying to help the students who "just kind of fell off," he added.
"We're working real hard with those kids because you need 24 credits to graduate," Hatlen said, noting only about 15 students have fallen behind. "There's going to be a lot of time and effort in planning and developing different scenarios to help them get back on track."
He added that freshmen and sophomores were the most affected by the pandemic at the high school level.
ODYSSEY
Enrollment at the Odyssey Academy of Virtual Learning surged this year, increasing "just under 400%" as it went from 117 students fall 2019 to 458 students fall 2020.
Odyssey Principal Rebecca Miller attributed the increased enrollment to the COVID-19 pandemic and the virtual school being in its second year.
Additionally, she says the withdrawal rate has been less than initially expected as some students have gone back to brick-and-mortar classrooms while others have gone to complete homeschooling.
Currently, Odyssey is experiencing a "little wave" of about 10 students withdrawing from the program, Miller said.
"I think due to vaccinations coming out, Spring Break may be a natural time to transition back into their regular brick-and-mortar schools," she said. "We have a few students going to homeschooling, which I feel like may be attributed to the state testing that we're entering [because] a lot of parents just don't want to partake in that in our virtual setting."
She added that it's difficult to compare this year's data to last year's data because there's so many new students who were not in the program last year.
TAKEAWAYS
Amid an array of challenges created by the pandemic, the RASD has found a way to stay open and continue educating students, which Damm says is a testament to the efforts of teachers, students, parents, staff and district leaders.
"One of the greatest things about the Ripon Area School District is that we pride ourselves in being proactive rather than reactive," Damm said. "Despite the challenges that we faced with COVID, so many of the things that our principals are talking about are things that we had already prepared for."