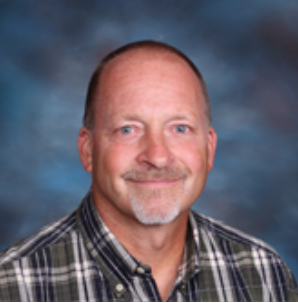 What inspired you to become a teacher?
"That is easy. I was blessed with a great education with some great teachers who loved what they did and passed that love of education on to me. My older sister, Jody, also had a huge impact on my desire since she too, went on to get a degree in education."
What is the most challenging part of your job?
"Time. As I get older time seems to have changed on Earth. I am busier today than I ever have been. Teaching online courses at the same time as in-person all while wearing a mask in a new block schedule has been anything, but pleasant. The biggest problem is I never seem to have enough time to get ahead. I am lucky to stay even. I know I spend a lot of time at home doing school work since there is not enough time at school to do what needs to be done if I want to do a quality teaching job."
What is the most rewarding part of your job?
"The friendships I have made with students, community members and, most importantly, staff members. Our staff in Markesan has been a pleasure to work with. I can ask any one of them for help and they will bend over backwards to help me and I will do the same for them. A number of the staff have become like another family to me after all of these years."   
What's the most memorable moment you've had in the classroom?
"There is no one moment that sticks out over 30 years of teaching. Rather, there is an eclectic combination that has created an overall great experience. The kids are what has made my 30 years worthwhile. While politicians have come and gone, musical tastes have changed, clothing styles go through some interesting changes, the kids are still kids.  Markesan's students, in general, are fantastic kids that are nice to be around and make teaching them both easy and enjoyable. I have also had great times working with them as an advisor for NHS and class advisor.  When we are all allowed to relax a bit and enjoy ourselves I am constantly reminded how neat many students are." 
What's your favorite subject/class to teach and why?
"That is a tough answer since each subject has different topics that are fantastic to teach. With Earth Science teaching about space, earthquakes, volcanoes, rocks and minerals as well as geochronology and severe weather are all fun. In psychology it is fun to teach the topics of developmental psychology, abnormal personality, and altered states of consciousness. AP US history is fun since I am dealing primarily with history geeks which means we can talk about history topics that are not found in books, but are interesting. Criminal Justice is a blast when I can bring in speakers (dozen or so per semester) to talk about their careers (the former country coroner is a big hit because of her love of bugs, as is the K-9 officer because she is a dog) and when we can visit the county courthouse or Fox Valley Tech. Economics is fun when we talk about how politics and world events influence economic systems. The best part is when I teach the students about investing. Finally, there is US history which is phenomenal when we learn the truth, both good and bad, about how our country developed and evolved. Kids always want to talk about the wars, but I love when I can teach some economic lessons such as 'Rats on a Stick.'"