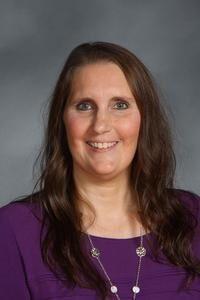 Sandy Kuik is a 4th Grade Teacher at Brandon School.
She started out as a Title 1 Reading Teacher at Rosendale Primary and then came over to Brandon School. She taught 3rd grade for a number of years, went to 1st grade after that, and made the move to 4th grade ten years ago.
What inspired you to become a teacher?
Growing up, I had teachers in both elementary and high school who showed me what it truly meant to be a teacher. They were well-prepared and knew the subject matter. They met for parent-teacher conferences, filled out report cards, and had recess duty.
They also helped me when I needed it and challenged me to do more than I thought I could. And, while all of those are certainly important as far as teaching goes, they weren't the things that mattered most and inspired me to follow in their footsteps.
For me, it was their kind words, caring ways, compassion, understanding, sense of humor, and the way they showed an interest in me, not just as their student, but as a person who mattered. These qualities impacted my life like nothing else and inspired me to be a teacher! Even today, so many years later, they continue to be my inspiration.
What's the most challenging part of your job?
When "teacher me" mode is on, it can be difficult to turn it down even a notch, making maintaining a work-life balance challenging.
I may occasionally correct my family's grammar, share stories about my day at school a little too much, or be clueless as to what just happened on a tv show, in a movie, or during a Packer game because I was busy correcting papers or writing lesson plans.
I have been known to spend a bit too much time hunting for thrift store bargains to use in my classroom or put in my prize box, to turn down a Saturday lunch date now and then, or to stay up extra late trying to keep on top of things.
That's all just part of who I am. Those who are close to me understand and accept that "teacher me" never goes away. They encourage me, offer support, and are always by my side, knowing that despite the challenges, I wouldn't trade being a teacher for anything!
What's the most rewarding part of your job?
By far, the most rewarding part of my job is my students. Making connections as we get to know each other throughout the year and watching them grow as learners as their struggles lead to successes.
Creating bonds over even the silliest things like made-up words such as "confuzzled" and "funishments" that become a part of our everyday vocabulary, recess shenanigans, and joking around about how they are my proofreader and I am not their human dictionary.
We share times of seriousness, laughter, and sometimes sadness. I enjoy being able to cheer them on as they play their favorite sports and laugh when they call me mom or grandma (YIKES). One of the more meaningful rewards of being a teacher is maintaining the relationships that are built well past the year that they are "my kids" in 4th grade, with these lasting memories to fill my heart.
What's the most memorable moment you've had in the classroom?
Finding one memorable moment is next to impossible. However, believe it or not, over the years tears have defined my most memorable moments.
Holding back tears during a touching part of a read aloud book (even though I know it's coming) and looking up to see students doing the same.
Shedding tears because something has happened, letting my students see that I am human and things hurt.
And, then having my tender-hearted kiddos tell me that it will be okay (followed by more tears)...this time for a different reason.
Laughing so hard that the tears just come after hearing a student's corny joke that only someone who spends their days with nine and ten year olds would think is funny.
Tears of excitement when a student "gets" something they had been struggling with.
Having the tears flow as I sit alone in my classroom or try to fall asleep at night, worrying and wondering if that certain student is doing okay. Tears of pride during a concert or talent show.
And, tears of both sadness and hope when a student leaves during the year, or when saying good-bye at the end of the school year...both equally difficult. So many tears. So many memorable moments.
What's your favorite subject/class to teach and why?
I really enjoy teaching social studies. In 4th grade, that means a whole year of learning about Wisconsin! Incorporating research, picture-book read-alouds, project work, interactive online activities, songs, videos, and so much more into social studies lessons helps make our state's history come alive.
It's exciting to see my students put the story of Wisconsin together as they learn all about our amazing state.
It's funny because before moving to 4th grade I joked around saying, "How can someone spend a whole year teaching JUST about Wisconsin?"
Well, I quickly learned the answer to that question and no longer joke about it because, quite frankly...a year isn't nearly long enough. Not even close!