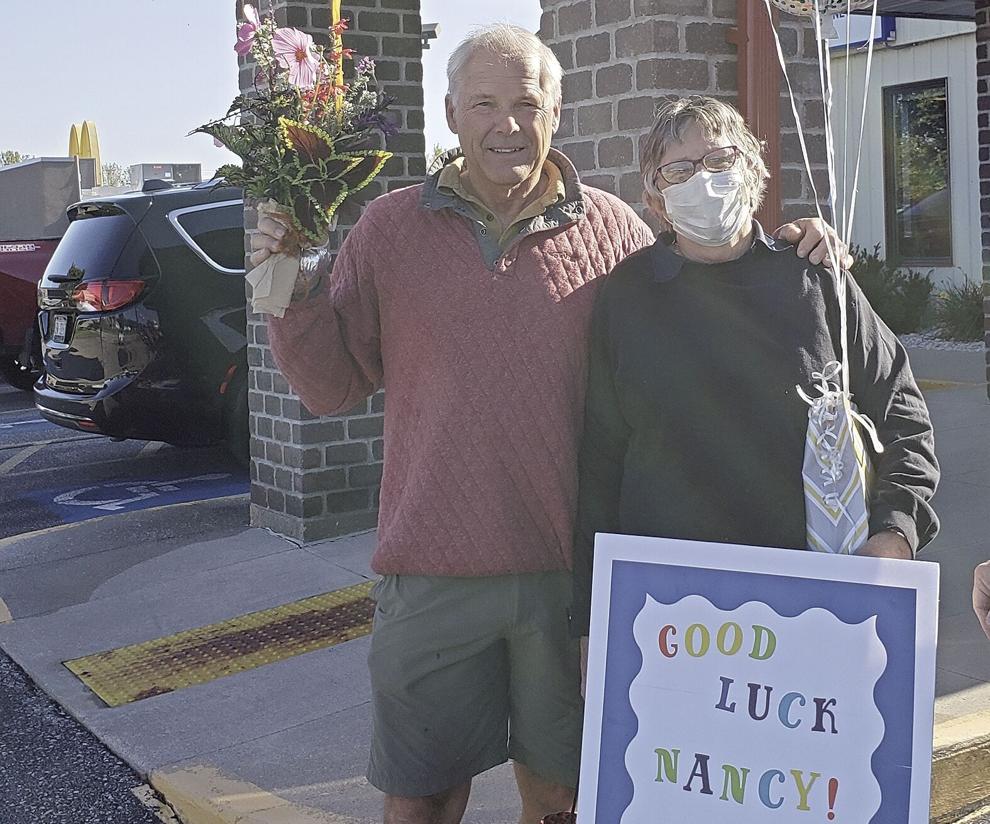 After dedicating her life to the community, Green Lake resident Nancy Hill thought her days were numbered months ago as she was in desperate need of a new kidney.
She had lost function in both kidneys, which limited her contact with the outside world to dialysis appointments.
Although dialysis filtered her blood and removed unwanted toxins, waste products and excess fluids, Hill expected her health to gradually deteriorate over the next two to three years without a new kidney.
Months later, Hill is now recovering from a Sept. 30 kidney transplant, and is hopeful that her life will return to some semblance of "normal" in the coming months. Hill's donor is a 64-year-old female Green Lake County resident, who wishes to remain anonymous.
"My gratitude to this donor is totally amazing, I just don't have enough words," Hill said. "This has given me a life I never thought I'd have."
Since the transplant, Hill has been recovering "in a lot of different ways." Doctors are watching her medications carefully, recommending she drink lots of water and encouraging her to go for walks.
Hill explained that the medical regimen she's participating in is designed to prevent her body from rejecting the kidney.
The procedure has left her with a weakened immune system, so she's been extremely careful about avoiding gatherings and wearing a mask when she has to go out in public.
Hill hopes that in six months she'll be able to resume more normal interactions with others, but she'll have to be careful for the rest of her life.
"I've kind of learned to be careful anyway, especially since I was on dialysis," she said.
Despite still being cautious, Hill's quality of life has improved as she no longer has to attend four-hour dialysis appointments multiple times a week.
"It wasn't an easy way to spend four hours," she recalled.
Hill remains grateful to the local woman who was willing to donate a kidney to prolong her life, which has given her a more positive perspective.
"My outlook is even more positive than when I found out that I was going to get a kidney," she said. "After I got the kidney, it made me realize that I would be able to do the things I never thought I'd be able to do on dialysis."
The donor heard about Hill's story through news coverage about her condition, and felt implored to try to help.
"It's a blessing, definitely, to be a blessing," the donor told the Commonwealth. "When I found out that Nancy had kids and grandkids — I do not have either — I saw a need and that I could possibly be somebody that can help."
On the morning of the surgery, the donor met Hill's daughter, who gave her a "Thank You" card and described the donor's willingness to help as "life changing for their family."
"That was a special experience to be able to recognize that I am making a difference for somebody else," the 64-year-old kidney donor said.
Through the donation process, the 64-year-old Green Lake County woman has learned that humans can contribute to "life-giving work."
"Many people have a 'spare' kidney to 'share,'" the woman said. "... If I can do this at 64, others who are younger could certainly consider being tested to donate."
Since the procedure, the donor, too, has had to recover, but she said doctors were very thorough throughout the process and set her up for a full recovery.
"I am feeling very glad that they prepared me well," the donor said. "I'm feeling pretty good, but I'm not up to 100% yet."
She encourages others to either sign up to become an organ donor or inquire about how to become a living donor.
"I am just so glad that it worked out and that Nancy was healthy enough that she could take on the process of the transplant," the donor said. "I was healthy enough that I could do it, and I was glad to know about it.