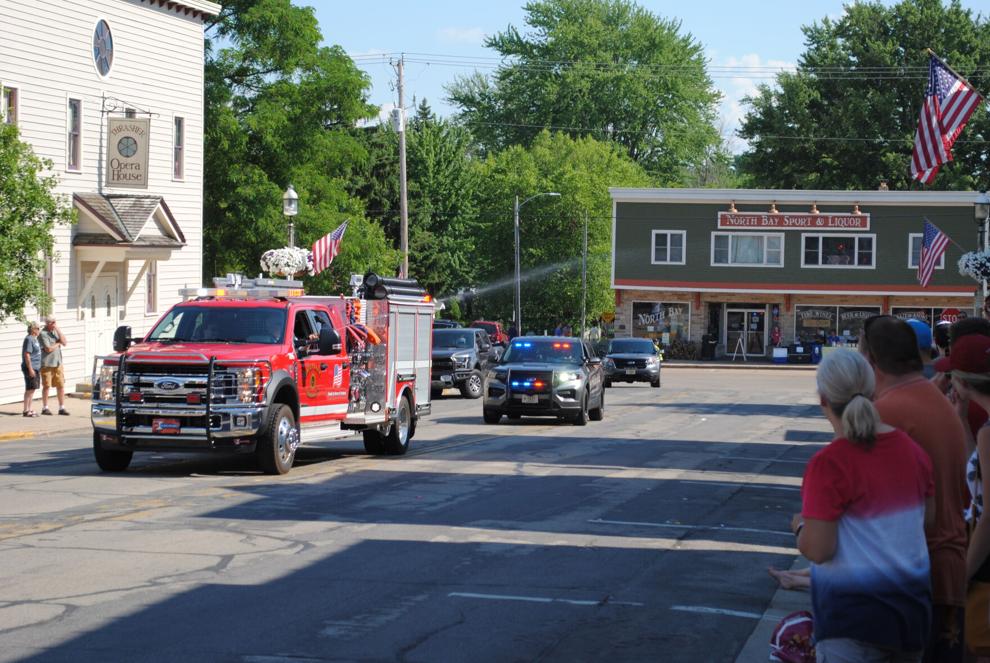 As Green Lake prepares for its summer tourism season, the Green Lake Area Chamber of Commerce (GLACC) is working with local event coordinators to avoid overlap in the city's event calendar.
To kick off the process, GLACC Executive Director Lisa Meier (formerly Lisa Beck) hosted a collaboration meeting with community leaders last week Wednesday at American Legion Post 306.
Here are three takeaways from the meeting:
1. Events are back
After many events were canceled last year, most are back on.
"I'm talking to other communities and other chambers of commerce all across the state [and] everyone is moving forward," Meier said. "I'm excited to see that most events are back on and people are going to try to have a normal summer."
However, Splash into Summer, which received a park reservation permit from the city in early March, has been canceled for this year, Meier said at a recent Park and Recreation Board meeting.
Even so, Green Lake Mayor Ray Radis said the city has been "approving everything in sight" when it comes to permits for events.
"There's been three street closing and eight park permits so far," he said. "It's kicking off to come right back to where it was before" the pandemic.
So far, the city has granted permits to Concerts in the Park, Harvest Fest, the Fourth of July celebration, the Green Lake Triathlon, the Green Lake 100, the Wooden Boat Show and the Chili Cook-Off.
More events discussed in the meeting included, the Freeland Film Festival and a host of others at the Town Square Community Center and Thrasher Opera House.
2. Changes coming to classics
While many classic Green Lake events are making a comeback, they may be a little different than in previous years.
Some will be modified because of the pandemic, while others are being changed with the goal of benefiting attendees.
For Concerts in the Park, Meier noted the chamber is looking to purchase a beverage trailer, which will be used to sell drinks and Green Lake-themed merchandise.
She said non-profits and other for-profit organizations will be able to rent the cart and use it, with non-profits paying a discounted fee.
"We're not looking to sell a ton of food or any of that; we're going to leave that to our restaurants and our non-profits when we're doing fundraisers," Meier said. "But the goal for the chamber is to do the beer and do merchandise."
The cart will be used for Concerts in the Park and potentially other downtown events.
Additionally, Meier noted the chamber is looking to create opportunities for restaurants and non-profits to serve as food vendors in Deacon Mills during Concerts in the Park.
"We want to get at least two food vendors down there throughout the summer nights," she said.
For Harvest Fest, Meier is looking at potentially using a different layout that will include utilizing a large food tent in front of Little Corporal Restaurant, where all of the food vendors will be stationed.
"I want it in the center of town, I want music [and] I want tables for people to sit and relax," she said. "I just feel like it was kind of sporadic and all over the place" last year.
Green Lake Police Chief Jason Reysen said the idea could work, "as long as the Post Office has accessibility 24 hours a day."
"I don't think it will be an issue," he said. "We'd just have to get permits through the city."
Meier added that plans for Harvest Fest remain in a state of flux as she continues working with the event's planning committee.
Additionally, she noted the chamber is looking to move the fireworks closer to Hattie Sherwood Park to make them more visible.
Beyond changes to Concerts in the Park and Harvest Fest, Meier noted the Fourth of July parade could see a different route this year, similar to the route used during Harvest Fest last year.
In terms of the Freeland Film Festival, Event Coordinator Evelyn Galster said the film festival would likely remain a virtual event this year. She is looking to host some outdoor movies this summer, sponsored by Freeland.
3. Brainstorming new attractions
Aside from discussing this summer's event calendar, community leaders also brainstormed new events, specifically for the winter months to boost tourism in the "offseason."
Meier noted the chamber is looking to host a winter festival in February 2022, but it isn't clear what the festival would entail.
The festival would be akin to Winterfest and the Trout Derby of Green Lake's past.
Meier is looking at an event that would potentially include a fishing component, live music, food vendors and children's activities.
She's still in the planning stages and noted a lot more needs to be finalized before next February.
"We've got to start thinking about that," Meier said. "There's lots of ideas."