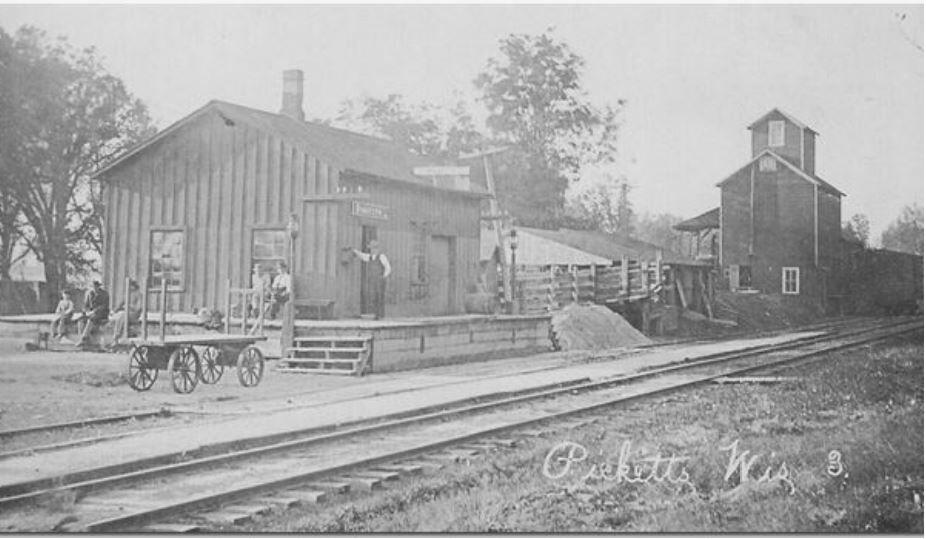 About halfway between Ripon and Oshkosh on Highway 44 lies the quiet little unincorporated community of Pickett.
Armine Pickett (1800-1875) moved from Ohio to near Lake Mills, Wis., in 1840. He then purchased nine acres of land east of Ripon in 1845 and brought his family to the area in 1846.
At a price of $1.25 per acre he acquired another 160 acres and at one point he owned a total of 480 acres of land.
In 1848, the same year Wisconsin became a state, Pickett built a large two-and-a-half story Greek Revival home. Pickett's grandson, Jasper (1876-1968), wrote that the house was called "Welaunee" (sometimes spelled Weelaunee). This is from the Native American word meaning a dwelling place beside a big tree and near a stream. It is from this that the community that grew on what was originally Pickett's land took its first name.
Pickett used his house as a gathering place for meetings of every description as Pickett was a chairman of the town, a member of the County Board, served in the State Assembly and was acting magistrate for 45 years.
Pickett also was the postmaster for 25 years starting in 1852. (Some local information also states that it was his wife Anne that served as the postmistress.)
Many people believe Pickett was active in the 1854 founding of the Republican Party, but this cannot be verified. In 1860, he hid abolitionist Sherman Booth in his home. Booth was being sought by government marshals and the incidents surrounding Booth later became known as Booth's War. As an abolitionist himself, Pickett's house is reputed to have been a station on the underground railroad.
In order to get the railroad to come through the community, Pickett donated nine acres of land and a right-of-way along with cash. By the 1870s, Welaunee was renamed "Pickett Station." Finally, the name was changed to the present-day Pickett in 1883.
In 1850, the first log schoolhouse was built on the bank of a creek northeast of the village.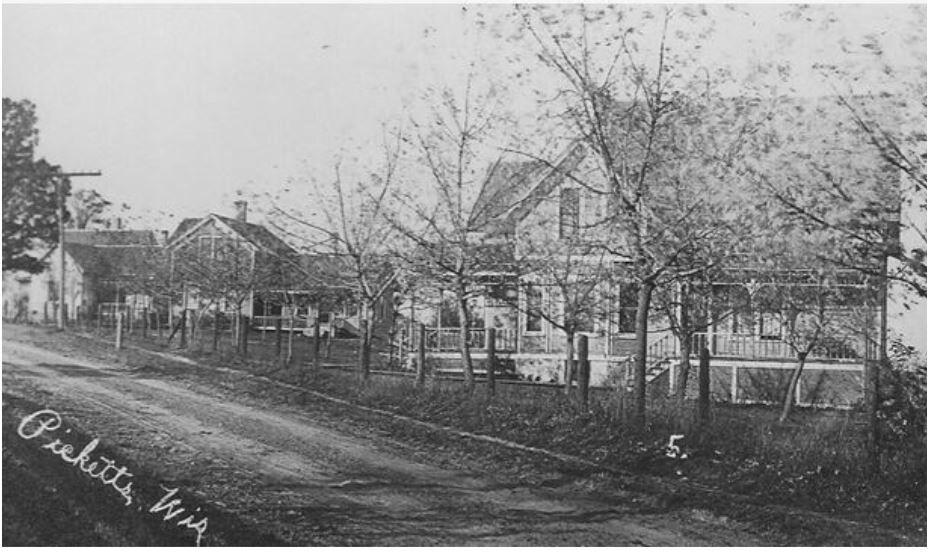 Pickett was a dairyman and opened a cheese factory which also housed a dry goods store and grocery store. This building burned in 1888 and a new one was built two years later. It still stands today.
By the turn of the century, Pickett was a busy little village. It had two grocery stores, a bank, lumber yard, coal yard, sugar beet dump station, freight station, meat locker plant, barber shop, grade school, telephone office, hemp mill, a Lutheran church and cemetery. It also had an auto dealer and four auto and machinery repair garages, three of which had gas pumps. There also were numerous prosperous farmers.
Eventually, times changed and businesses could not compete with the larger cities to the east and west, and they closed.
Today, Pickett is comprised of a post office, the United Cooperative and Cenex gas station, an agronomy office, Ripon Truck Repair and Equipment, Grace Lutheran Church, Jaspers Food & Spirits Pub and the cemetery. An old school building has been converted to the Pickett Community Center.
What was left of Pickett's property stayed in the family and in 1953 his farmstead was named a Wisconsin Centennial farm. After Jasper Pickett died in 1968, the house and land were sold off.
The Ripon Historical Society is the oldest continually operating historical society in Wisconsin.
The Historical Society is temporarily closed due to COVID-19.
For more information follow it at Facebook/riponhistory or www.riponhistory.org