The Ripon Public Library has launched its 100 Extraordinary Women of Ripon capital campaign to assist with the renovation of the library entrance and adjacent circulation and staff work areas.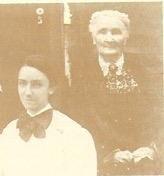 The library is asking the people of Ripon to donate $1,000 to honor a woman who has made an impact on their life, whether it be a loved one or in someone's memory.
"When women come together, extraordinary things can happen," the library said.
Because of this, the Ripon Historical Society wants to look back at one of the first women to come to the Ripon area.
Isabella McKay Town Hunter (1813-1908) was born and raised in Canada. At age 17, she married Sylvanus Town, and by age 19 she was fully in charge of the household of a public house run by her husband in Cornwall, Canada.
Family stories relate that she cooked for the crews on the Erie Canal and was asked to move with the crew to Lockport, Ill. as the Illinois Canal was to be built.
With two young sons, records show she obtained a frowned-upon divorce from her husband in 1843 in the District Court of Milwaukee, Wisconsin Territory.
Southeast Wisconsin Territory was a hotbed of social reform discussions during this time and Hunter heard about the newly forming Wisconsin Phalanx out of Southport (Kenosha). Since divorced women were allowed, Hunter believed the Phalanx offered a good way of life for her and her two boys.
In May 1844, just before the first 19 men and a boy left to establish the new experimental settlement in western Fond du Lac County, Hunter was voted in as a member of the Phalanx. Early Phalanx records show she was the first unmarried woman to be admitted.
When Hunter arrived by an ox team at the Phalanx site, by then named Ceresco, she was quickly assigned as manager of the culinary department.
The Phalanx members had to raise all their own food because Ceresco was so isolated. There were times dinner consisted of a bowl of onions and sage tea.
A trip to Fond du Lac was made once a week for mail and supplies, but with only an Indian trail to follow, getting lost was not uncommon.
Hunter was known as providing a pillow case to carry the mail. Once in a while, a peddler might stop by to offer such necessities as shoes.
At its peak, the Phalanx supported 30 families and individuals totaling approximately 150 residents, 1,800 acres, a sawmill, gristmill, school and public house.
As part of the Phalanx experiment, residents lived in attached quarters known later as the Long House. Each family had its own room for privacy, but they all ate at a communal table.
Although the work was demanding, evenings were reserved for meetings, debates, and dancing parties. No alcohol was allowed. Hunter recalled they were among the happiest days of her life.
Hunter married Phalanx member Nathan Hunter (1820-1894) in 1845, and their daughter Arabella Hunter Maxwell (1847-1914) was the first baby girl born in Ceresco.
By 1848, the Hunters built and moved to their own home south of the Phalanx in the vicinity of the Hillside Terrace Apartments. After Nathan's death, Hunter moved in with their daughter on Watson Street.
The Phalanx, which was located in the area of today's Ceresco Park, disbanded by 1850 and was absorbed into Ripon a few years later.
"Those are the simple basic facts about the life and family of Isabelle Town Hunter, born during the presidency of James Madison and a real Wisconsin pioneer," stated Beverly Thomann's 1981 book "When a Woman Wills: A Narrative History of Ripon, Wisconsin Women." "Frontier life meant coping with hardship and struggling to survive. It was a hard world for men who had to build houses and communities, but even harder for women who, out of almost nothing, made rough cabins into homes and created warm, loving atmospheres for their families."
The book went on to note that "Mrs. Hunter is one woman who faced the rigors of day-by-day frontier living and managed to provide a good home for her family."
Copies of the book "When a Woman Wills: A Narrative History of Ripon, Wisconsin Women" may be found at the Ripon Public Library.
The Ripon Historical Society is the oldest continually operating historical society in Wisconsin. It is open Fridays and Saturdays 10 a.m. to 1 p.m.
For more information follow us at Facebook/riponhistory or www.riponhistory.org.