Eunice Narcena ("Cena") Synder Lockwood and William Maynard Lockwood moved to Ripon in 1897.
William already was known as a photographer and Eunice began learning photography from him. Together they started Lockwood's Temple of Photographic Art on the second floor of 123 Watson St., where Brinkley's Boutique currently is located.
The Lockwoods were both known as an artistic couple — described as charming, unconventional and holding many interests. William gave speeches and lectures in nearby towns and was called "Professor Lockwood" in public. He found politics engaging and ran for Wisconsin State Assembly, became chairman of the Labor Reform Party State Convention. He also was a writer of books and pamphlets.
A follower of spiritualism in the mid-to-late Victorian era, he was president of the Wisconsin Association of Spiritualists. He played in a local orchestra, sang, sponsored musical events and even owned and operated the steamboat named the "Camera" on Green Lake during the summer months.
Cena ran their photography studio with her own professionalism, artistry and charm.
Under her expertise, Lockwood Studio was one of the most popular photography businesses in the area. After 26 years of marriage, the Lockwoods filed for divorce as she must have become weary of his involvement in many interests depending on her to constantly operate their business.
At the same time, a newspaper article appeared in Ripon announcing Cena was severing all connections with "Lockwood's Gallery of Photographic Art" and opening her own studio April 1, 1883, which would become known as the "Ground Floor Gallery" on East Fond du Lac Street (building still exists today as a private residence). She sold pamphlets and local scenery photos to support her new venture as she built that business on her own.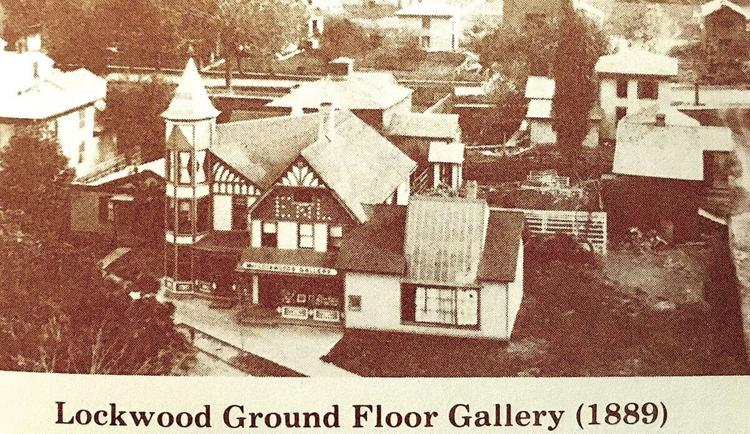 Meanwhile, her former husband married a second wife the day after his divorce to Cena was finalized and continued to operate their first photo studio on his own — just down the street from Cena's new business.
Cena converted to Christian faith and in 1889 adopted two local children ages 4 and 6, taking on the responsibility of being a 48 year-old single mother.
While attending a religious movement event in upstate New York, she met the Rev. Joseph Brown Davison, congregational minister from Ohio, who was a widower with three children.
After a courtship, Cena married him at Ripon's Congregational Church. She then moved to Ohio and lived as Mrs. Lockwood-Davison but didn't close her photo gallery in Ripon.
Operated by a Mr. Wilcox, the Ripon photo gallery still provided income for the new Mrs. Lockwood-Davison.
In 1891, her new husband left the ministry to work for a religious affiliation in Milwaukee and Cena suffered a nervous breakdown after years of being a married breadwinner providing income for her family.
Her recuperation was at a facility in California. Upon her return she took on even more work, opening yet another photographic studio in Milwaukee — and in 1899 brought her adopted children to live in Ripon from where she operated both the Ripon and Milwaukee businesses, traveling between the two. She died in 1905 at age 65 and is buried next to her parents at Liberty Cemetery in Pickett. Her gravestone reads "Margaret N Snyder," reverting back to her maiden name after two marriages. Part of her funeral eulogy reads "Being a natural artist she has long been known as one of the most painstaking and successful workers in this art. She was never fully satisfied with mere mechanical picture taking, but put her whole artistic soul into her work."
In 2017, Bret and Kimi Sandleback published a book about the Lockwood's photography.
The book features many stereographic photos of both Ripon and Green Lake from the Gordan Hoffman collection. The book, "Green Lake Scenery — Through the Eyes of the Lockwoods," may be ordered from www.Amazon.com.
The Ripon Historical Society is the oldest continually operating historical society in Wisconsin.
The historical society is temporarily closed due to COVID-19.
For more information, follow it on Facebook and/or online at www.riponhistory.org.