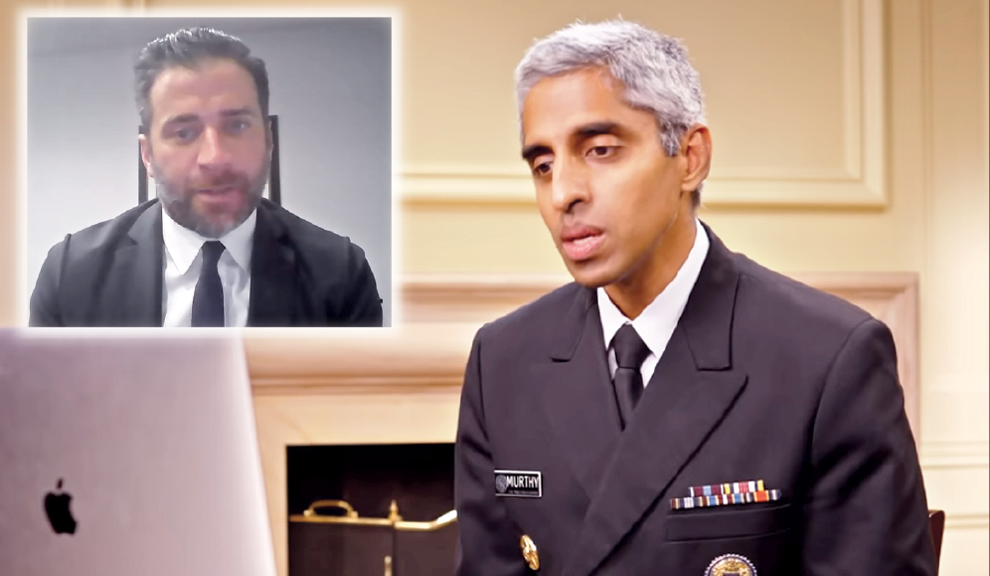 Ripon native and Ripon High School alumnus Brock Martinez is expecting to become an uncle in a few weeks. But, in order to see the newborn, Martinez was "highly encouraged" to get the COVID-19 vaccine.
However, Martinez was unvaccinated as he was getting bombarded with conflicting information, coupled with a general distrust of mainstream media.
He didn't know what information to trust.
"I was having a hard time getting things lined up with having to go get [vaccinated]," Martinez recalled. "There were some things with the politics of it all that I wasn't agreeing with, and that was really where I was in my head about not getting vaccinated."
To help make an informed decision about the COVID-19 vaccine, Martinez recently spoke with U.S. Surgeon General Dr. Vivek Murthy via Zoom.
A video of their conversation, and Martinez's subsequent vaccination, were posted to the White House's official YouTube channel on Nov. 8.
During the conversation, Martinez asked Murthy a variety of questions, ranging from potential side effects of the vaccine to questions about possible treatments.
"I really just wanted to get the information out there as information, not try to sway people one way or the other, but just say, 'Here was what I found out,'" Martinez said of the discussion with the surgeon general. "This was a really cool experience, a unique opportunity, and maybe this information gives someone else the comfort they need to move forward."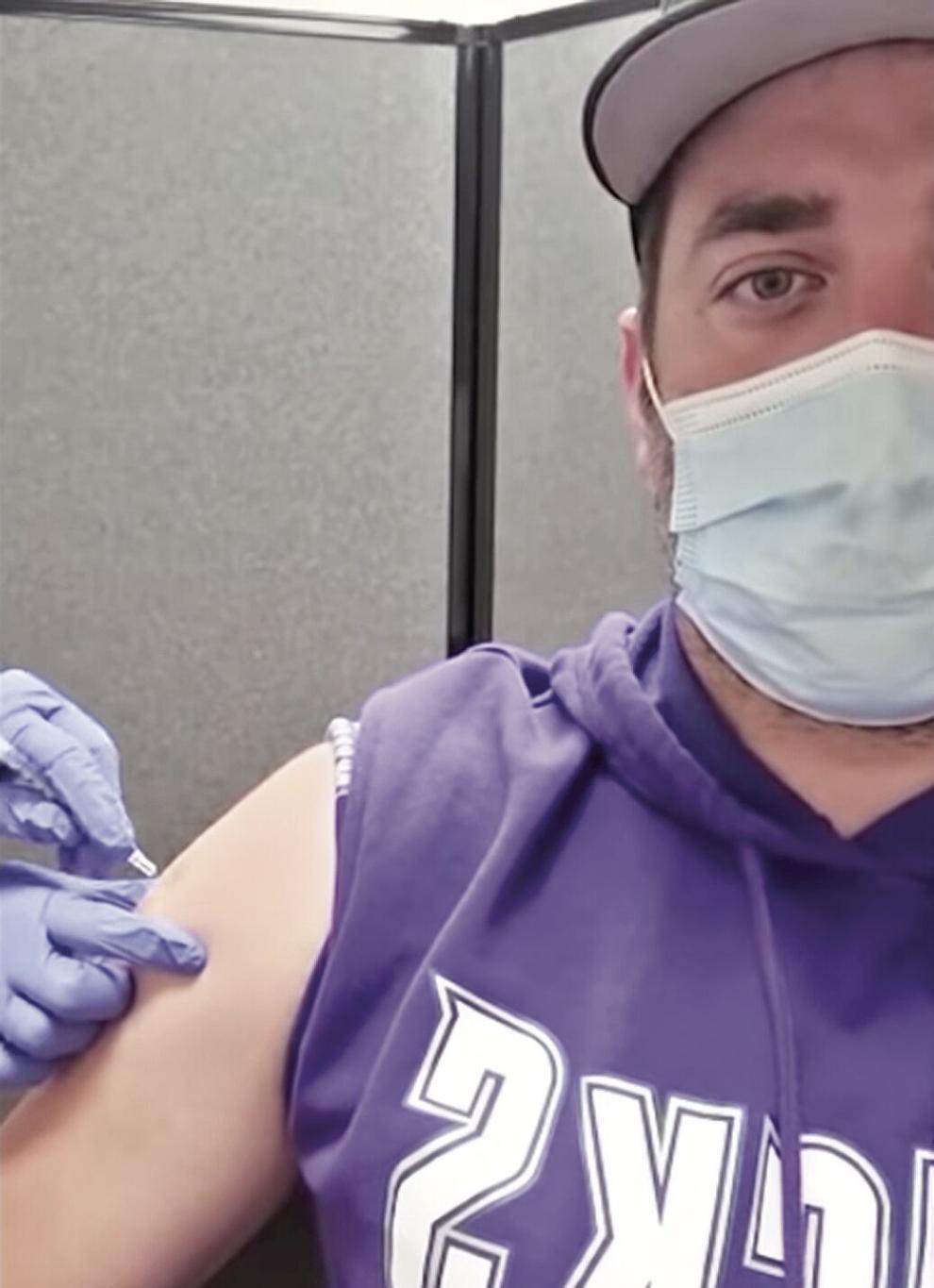 In the video, Murthy said the long-term health risks of the COVID-19 disease outweigh the relatively small risks of the vaccine.
He noted the vaccines approved in the United States are highly effective at preventing hospitalizations and death against the original strain of COVID-19 and the Delta variant.
"This vaccine is our pathway to end the pandemic; it's how we're going to get back to seeing our family and friends and not worrying about impacting them," Murthy said. "It's how we're going to get back to going to concerts and games.
"It's about not only getting our kids back to school, but keeping them in school, and how we're going to get back to the workplace and not worry that we're going to infect other people in the process."
The conversation prompted Martinez to get the COVID-19 vaccine, and he soon will meet his new nephew.
"If it can help someone make a decision, then it is worth the effort," Brock's father, Ripon resident Curt Martinez, said of his son's conversation with the surgeon general.
Long before Martinez spoke to America's top doctor, he was a student in the Ripon Area School District.
Martinez was "born and raised in Ripon," graduated from Ripon High School in 2004 and attended Grinnell College in Iowa, where he played football, basketball and baseball against Ripon College.
During his junior year of college, Martinez transferred to the University of Wisconsin-Madison, where he graduated. He works for Federated Insurance, managing sales on the west side of Wisconsin.
When Martinez was struggling with whether to get vaccinated for coronavirus, a friend in Chicago, who's brother works in Washington, D.C. and has a friend on President Joe Biden's communications team, reached out in September.
The Pfizer COVID-19 vaccine had received full FDA approval in late August, so the friend texted Martinez to see if it changed his views on the vaccine.
"I gave him a three- or four-sentence answer," Martinez said. "He forwarded my answer to his brother, who forwarded it to his friend on the communications team."
After all of those text messages, the communications team asked for Martinez's contact information, and he ended up on a phone call with the White House the same day.
"Between the first text to my buddy at 9:30 a.m., there were probably four hours that went by, but by one or two o'clock, I was on the phone with the White House, which was bizarre," Martinez recalled.
The call was a 20-minute general screening call. The White House asked about his mindset surrounding the vaccine because it wanted to talk to someone about the vaccine in a public way.
In fact, Martinez initially was supposed to talk to President Biden, but the communications team felt that the surgeon general would be better able to answer his questions.
"They called me back probably a couple of days later and said, 'How would you like to have a 30-minute conversation with the United States Surgeon General, and we'll call it a 'gloves off,' where you can ask anything you want about the vaccine or about COVID in general?'" Martinez recalled.
He responded to the communications team that "there might be some people better suited for that opportunity, but I'd love to do it."
Before submitting questions to the White House, Martinez spent time researching what he wanted to talk about. He spoke to doctors who were vaccinated and doctors who were unvaccinated, as well as others in similar positions to his.
"I took all the politics out of it, because I wasn't really interested in going down that route because it's just useless," Martinez said. "We really wanted to just get through the science, and how things are progressing."
The White House performed a background check on Martinez, and asked for his questions ahead of time, but didn't censor or change them.
"We had the call and it ended up being about 40 minutes," Martinez said. "It was a pretty free flowing, very easy going conversation. I got to ask anything I wanted, and I felt like the information that I got was sufficient to feel comfortable [getting vaccinated]. And then I went ahead and did it."
Although the conversation was trimmed down to about 20 minutes for the YouTube video, Martinez said nothing too substantial was cut.
He noted answers to his questions were trimmed to be a little shorter in the video, and one question was removed from the end product because the White House couldn't speak on behalf of Pfizer.
Even so, he said the video didn't twist his questions to fit an agenda, nor did it change the answers in a meaningful way.
"The whole experience was something I went into with a lot of pessimism; I thought for sure it was going to be altered or made to look different than what it was," Martinez said. "But that really wasn't the experience. I was pretty encouraged by that."
Martinez added that Murthy was respectful during the conversation, and actually called him after he received the vaccine to check in.
"He was more than respectful; he's not someone that necessarily has to be when he is the top doctor in the country," Martinez said of Murthy. "He didn't have to be as patient as he was, and I was very impressed by that. Even though it was a Zoom call, I felt like I was in the room with him."
In getting the COVID-19 vaccine, Martinez said he's had no adverse side effects.
"I got it at like 6:30 p.m. and it basically helped put me to sleep," he said. "I was a little fatigued right afterwards, but the next day I felt fine after both of them."
He believes the politicization of the COVID-19 vaccine has negatively impacted the public and created additional divisiveness.
Getting vaccinated isn't a political decision, so the political divisiveness surrounding it has made much of the public discourse unproductive, Martinez added.
"I do feel like that's the whole issue: A lot of people are just digging their heels in one way," he said. "Some people, myself included a little bit, almost didn't do it just because I was being told to do it. It's such a harsh tone that I felt like people were lecturing and belittling."
He added that individuals aren't uneducated if they are unvaccinated; they just "haven't really found that thing that made them feel comfortable enough to move forward."
In terms of advice to unvaccinated individuals, Martinez recommends finding a way to communicate with a health-care professional such as a family physician.
"Find someone who has your best interests in mind, and just talk through a lot of these concerns and, hopefully, get the answers that you're looking for," he said. "At the end of the day, in my mind, it is something that is a personal decision.
"If you can get armed with the right data, I think it's all there to support going out and getting it. But I understand people aren't there and, because this is such an unprecedented situation, that decision is something that should not be looked down upon."