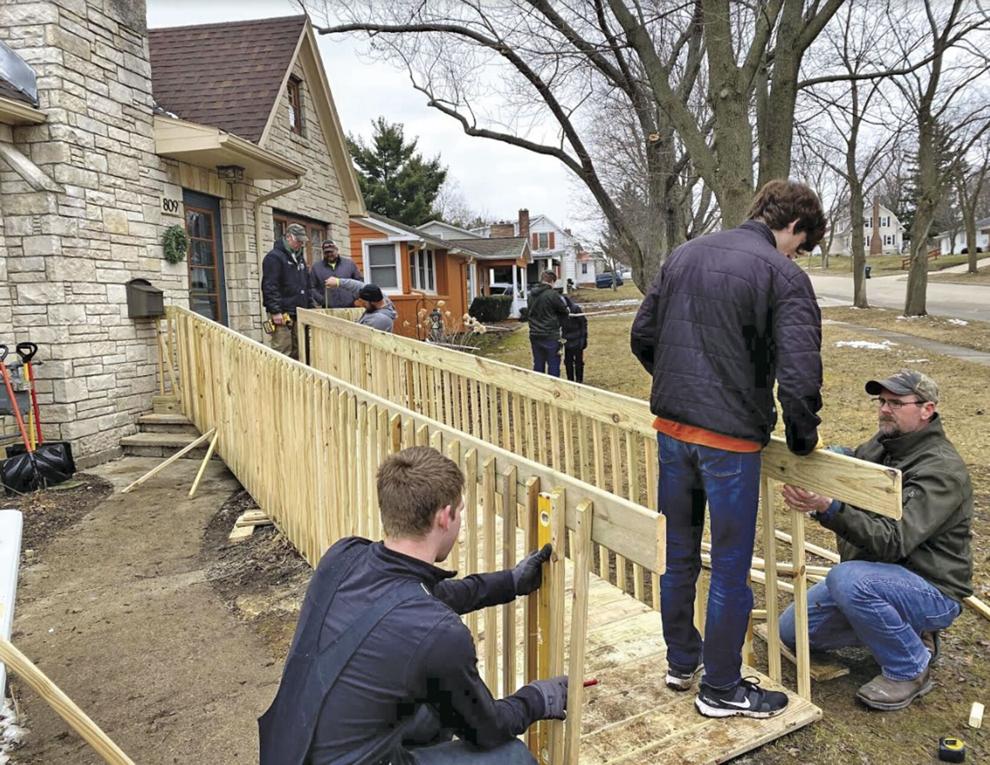 After taking a spring break camping trip, a Ripon couple returned to a surprise as local Boy Scouts built a ramp in front of their house on Newbury Street.
Although the ramp was recently constructed, Barb and Dan Mitchell have been facing adversity and receiving overwhelming support from the community for several years.
Dan was diagnosed with Non-Hodgkin lymphoma, a cancer that starts in white blood cells, back in 2017. The cancer was so severe that it had spread to his brain and spine.
Roughly a year later Dan had a bone marrow transplant, in which he had 21 spinal taps putting chemo into his back.
While the treatment helped in his battle with cancer, Dan is suffering from Severe White Matter Disease, which is affecting his balance, movement and nerve endings.
"This has been getting worse over the last few months and he suffered some falls," Barb said. "It's just now taking effect where it's showing up on brain scans. A lot of neurons are just not firing anymore."
Dan's condition continued worsening this summer.
"He started having issues with short-term memory loss and some other cognitive issues," Barb said. "He's still functioning as far as his long-term memory, reasoning skills and sense of humor, but short-term memory is not good."
It had gotten so bad that Barb retired early from her job at Ripon College to be his caregiver.
"I was called 'Academic Support,' which meant support for students and faculty in many areas; I also worked for the athletic department," she said. "I loved my job and I loved working with the students, so it was very hard to leave. But this is a full-time job at home."
To help Dan get around safely, the Mitchells have had to make a slew of changes around the house, from pulling floor rugs out to getting a quote on a walk-in shower installed.
"Cancer doesn't just go away and then life is back to normal; you deal with different things as time goes on," Barb said. "It's very difficult for Dan [because] he was a very active person in his life; he was a mail carrier for 31 years and he's always done all of this work himself.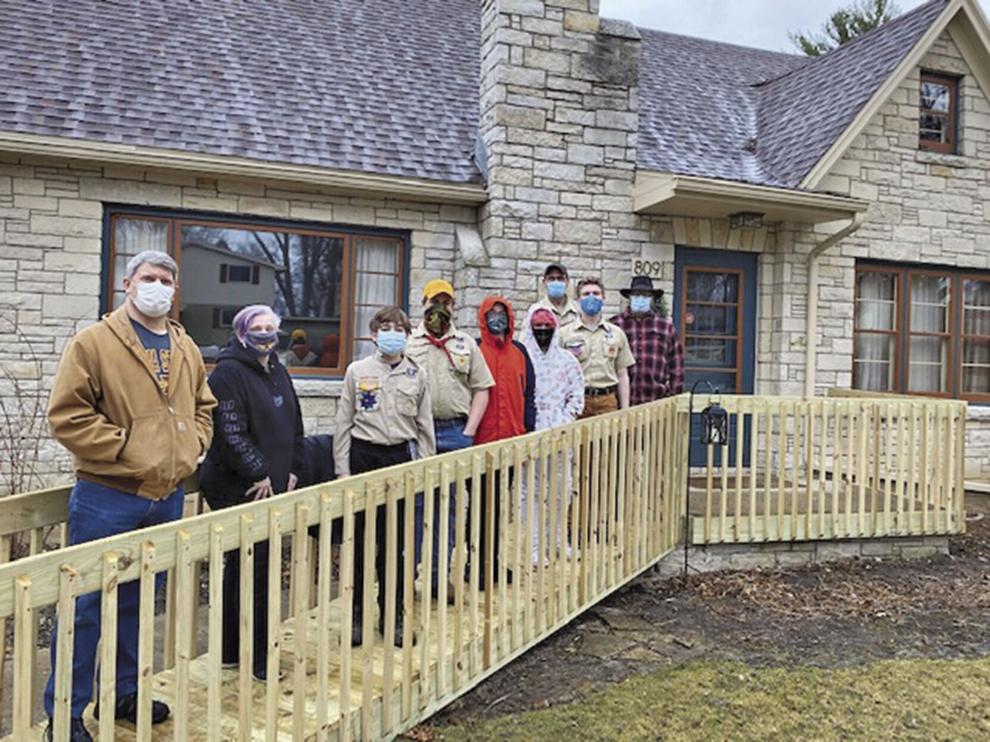 "... He just had a small stroke a few weeks ago, which is another aspect of the Severe White Matter Disease. On top of that, he has osteonecrosis — not the same as osteoporosis — where bone tissue dies due to cancer treatments. He is having shoulder replacement surgery in April, so that is our next hurdle."
Despite the challenges, the Mitchells are trying to stay upbeat and maintain a positive outlook. For example, they recently purchased a camper and plan to go camping this summer.
In navigating the "new normal" created by Dan's condition, the Mitchells have experienced an outpouring of support from the community.
After speaking with Scoutmaster Mike Bair, a longtime family friend from when their son Garrett was in Boy Scouts, about Dan's condition, Barb was asked: "Would you be OK with us building you a ramp?"
At the time, Barb thought it was a great idea and Bair told her, "We've got the money and we've got the manpower. When is Dan going to be gone because we'd really like to surprise him?"
Barb replied that the couple had planned a three-day camping trip during the Ripon Area School District's spring break.
Bair said the project was a no brainer for the Boy Scouts because they knew Dan was a good person in need of a little help from the community.
In fact, Bair wanted to keep the ramp a surprise because he wanted to give Dan an "Oh my God, where did this come from?" moment.
The Boy Scouts waited for the Mitchells to leave and then began constructing a wooden ramp for Dan, which Bair says took about six hours total.
"Building the ramp was fairly straightforward for us because we're really blessed to have carpenters and construction backgrounds in the troop," he said.
Beyond giving the Boy Scouts some "hands-on" experience, Bair noted the project also helped teach them valuable life lessons and show the impact good deeds can have on others.
"It helps build up their character, helps build morals and it really helps provide that solid background that they need," Bair said. "It was rewarding for me to see the scouts step up in the action and to use all of these skills that we've been teaching them over the years."
Bair noted the project taught the Boy Scouts perseverance, how to give and receive direction as well as how to adhere to guidelines set forth by the Americans with Disabilities Act in constructing the ramp.
"I did get a lot of pride out of seeing the scouts grow and learn," he said. "For a lot of them that were there, this was their first time that they had been able to do something on this level of a project."
For Bair personally, the project meant a little bit more because it gave him a chance to help his longtime friend in his time of need.
As a result of the scouts' effort, when the Mitchells returned from their trip, Dan received his "Oh my God" moment.
"He was just over the moon [because] we came home and it was done," Barb said. "This was so huge to us to just have it done, basically overnight. We don't have to worry about Dan because those were the only stairs he had to deal with here."
Bair believes this project is an example of what makes Ripon special: The community banding together to help those in need.
"We still have those small-town ideals and those small-town values, where when someone is in need, we step up to help," he said. "It's that small-town community mentality. I think that it's awesome here in Ripon."
Beyond the ramp, Barb said the community has helped in a variety of ways, from helping the Mitchells install storm windows to providing gas gift cards.
In Ripon, "we're all part of the same family and when one person is hurting or struggling, everybody chips in," Barb said. "It's an amazing place to live and we feel very fortunate."