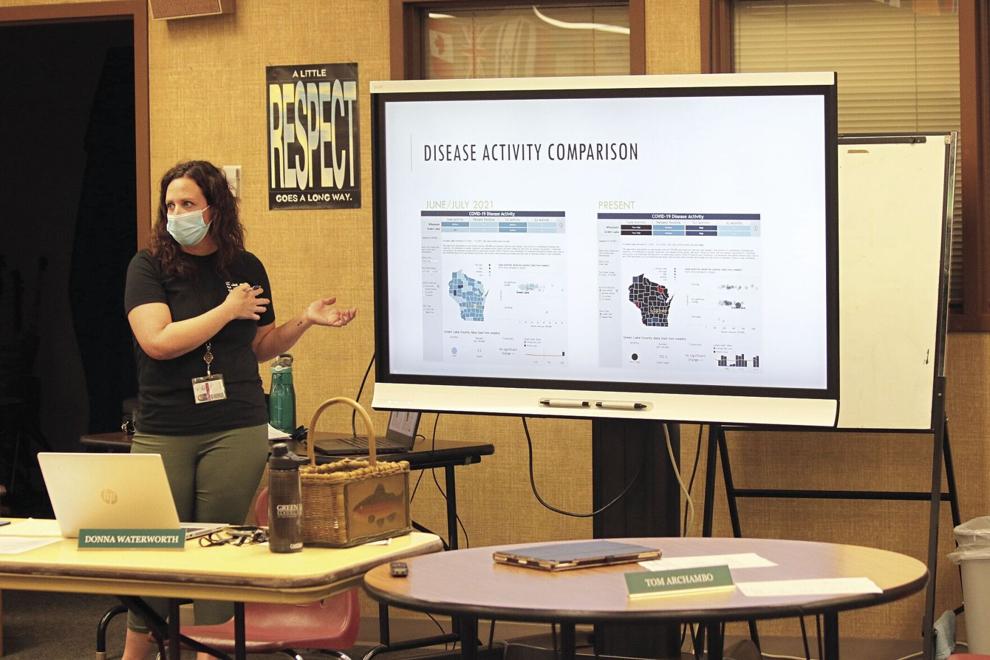 COVID-19 dominated the Green Lake School Board's meeting last week Wednesday as it heard from members of the public and the county health officer, before debating how to enable the Science Club to go on a camping trip without violating the district's reopening plan.
Green Lake School has made masks mandatory for students and staff, and its reopening plan prohibits transporting students on field trips beyond 15 minutes.
While the U.S. Centers for Disease Control and Prevention (CDC) is recommending masks be mandatory in schools, the issue has divided the public.
However, the majority of those who either spoke during the School Board meeting or submitted written comments were in favor of the mask mandate.
"The school building houses many students under 12 who are currently ineligible for a COVID-19 vaccination, including my kindergartner who has a baby sister, and immunocompromised grandparents who love and want to see her," Alex Kohlenberg wrote to the School Board, praising the district's "layered approach" to preventing COVID-19 transmission.
Only two of the seven public comments were against the mask mandate. Trina West said the school failed to get "informed consent" from parents about masking.
"I presume you're aware that telling students and parents or guardians that one will not be able to attend in-person instruction and receive a free and appropriate education without wearing a medical device is a form of coercion," she said.
School Board President Andy Gryske said he spoke to the school's attorney about the legality of the reopening plan and the attorney found no issues.
Green Lake County Health Officer Rachel Prellwitz gave a presentation to the School Board regarding the state of the pandemic locally.
She explained that virus activity decreased in the spring and summer as a result of people getting vaccinated and being outside, where the virus doesn't spread as easily.
By August, COVID-19 cases began increasing, with the Wisconsin Department of Health Services classifying Green Lake County's coronavirus activity as "very high," Prellwitz noted.
She explained that the Delta variant is much more transmissible than last year's version of COVID-19.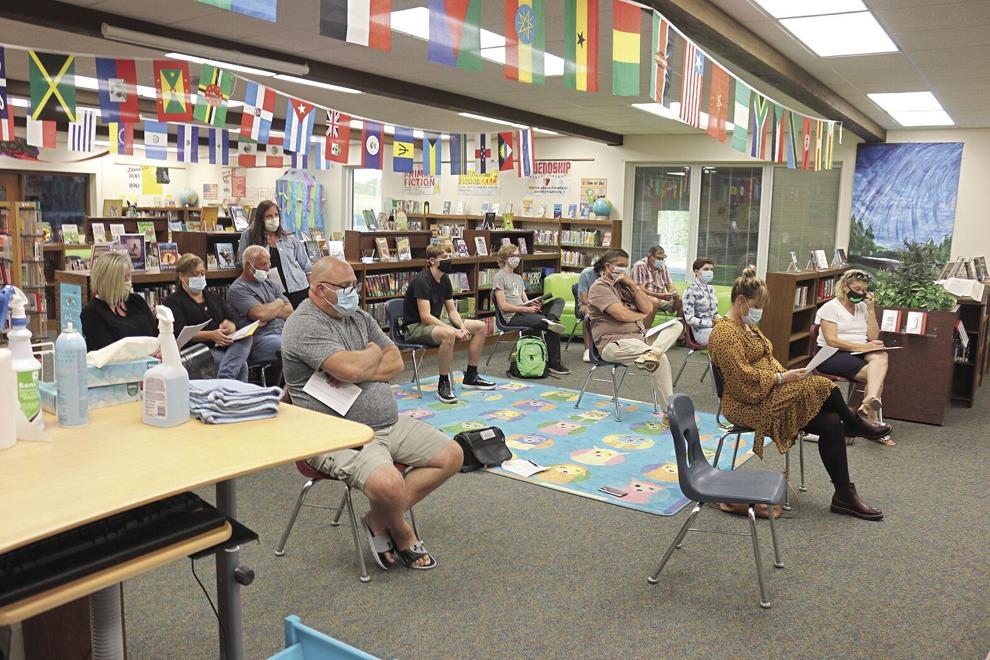 With the original strain, an infected person would spread the virus to two other people, but with Delta, an infected person spreads it to five, Prellwitz noted.
She said the COVID-19 vaccine has proven to be highly effective at preventing severe illness and hospitalization.
In fact, only 11.5 fully vaccinated people out of 100,000 are getting hospitalized, while 98.5 not fully vaccinated people per 100,000 are getting hospitalized, according to the Wisconsin Department of Health Services (DHS).
"The thing with the Delta variant is that it is affecting children who are not eligible to get the vaccine," Prellwitz said. "Experts say that they don't believe the pandemic will be over until there is a vaccine available for everyone at all ages."
Because children under 12 cannot get vaccinated, Prellwitz said mitigation measures in school — such as masking — remain an important tool in keeping people safe.
She even went on the record in support of Green Lake School's reopening plan for its layered approach to combating the virus.
"I do support your following of what the CDC, DHS and [the Wisconsin Department of Public Instruction] DPI has laid out as a layered mitigation approach," Prellwitz told the School Board, noting the case load at Green Lake School has been lower than others in the county.
Additionally, according to Superintendent Gina Baxter, there has been no virus transmission within Green Lake School.
After the presentation from Prellwitz, the School Board heard from members of the Science Club, who requested to go on a camping trip.
The Science Club submitted several proposals ranging from a two-hour trip to a 15-minute trip, which caused debate because the reopening plan prohibits trips above 15 minutes.
School Board members Katie Carrier and Michelle Grimes expressed a desire to approve the camping trip, regardless of the reopening plan.
"We're down to brass tacks over a healthy science trip," Grimes said.
Gryske said no one wanted to prevent the Science Club from taking its trip, but they had to find a way to do so that worked within the reopening plan.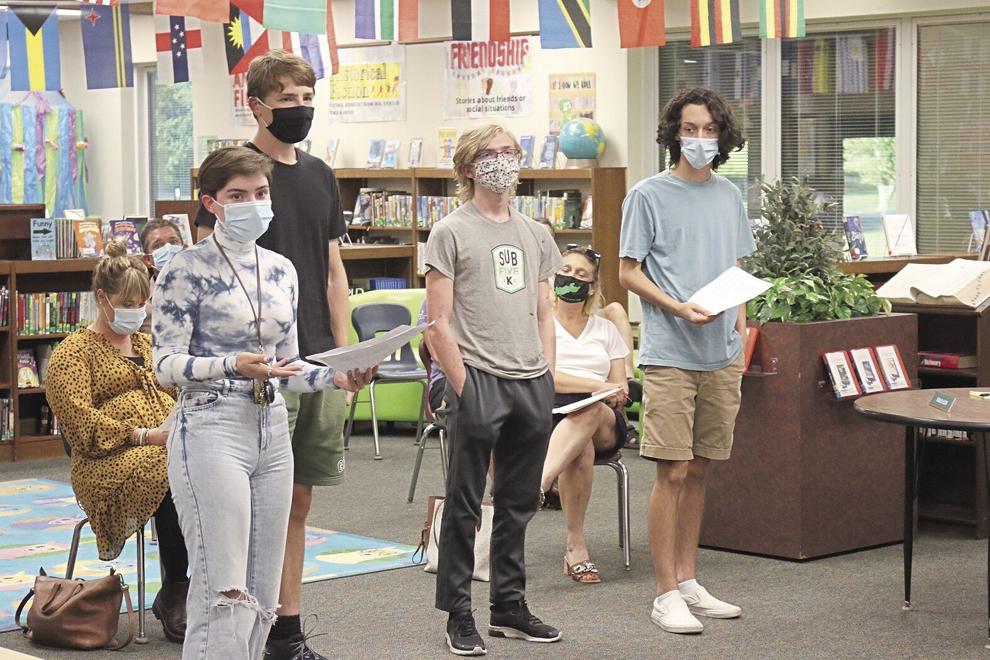 "I don't want to say 'no,' ... but we do have a plan we have to follow and we have to do it safely," he said.
Amid the discussion about how to approve the field trip, one audience member got frustrated and stormed out of the meeting.
School Board member Tim Lyke proposed enabling parents to drive because it would keep students in separate vehicles, not owned by the district.
Eventually, after much discussion, the School Board voted unanimously to approve the Science Club's trip at the discretion of teachers, as long as it falls within the guidelines established by the reopening plan or if parents drive.
"I applaud everybody here for finding a very good and creative way to help in the Science Club. That's what we're trying to do here," Gryske said. "We're trying to make sure we can help these kids be productive. We're trying to keep the school open. If we all work together to find new ways to do it. That's outstanding."
In other news
In other news from the Green Lake School Board meeting:
The School Board approved a new teacher contract and high school counselor contracts.
All junior varsity (JV) volleyball games and practices are canceled this week, according to a Facebook post from the Green Lake School District. The situation will be reevaluated Thursday to decide if it is possible to play in the JV tournament Saturday. JV volleyball parents night has been moved to Sept. 28. Last week's varsity football game was moved from last week Friday to Monday.
Green Lake's 7th grade International Baccalaureate students exhibit, inspired by the 2020 Freeland Film Festival, was on display at the Town Square Community Center ballroom during the Freeland Film Festival. Students also had a meet-and-greet with Freeland Founder Steve Galster to present their projects.