Will people walking down Watson Street during the first Saturday in December this year witness windows being brought to life with Christmas scenes?
That and much more remains up in the air as Ripon's signature winter event, Dickens of a Christmas, will look different this year amid the COVID-19 pandemic.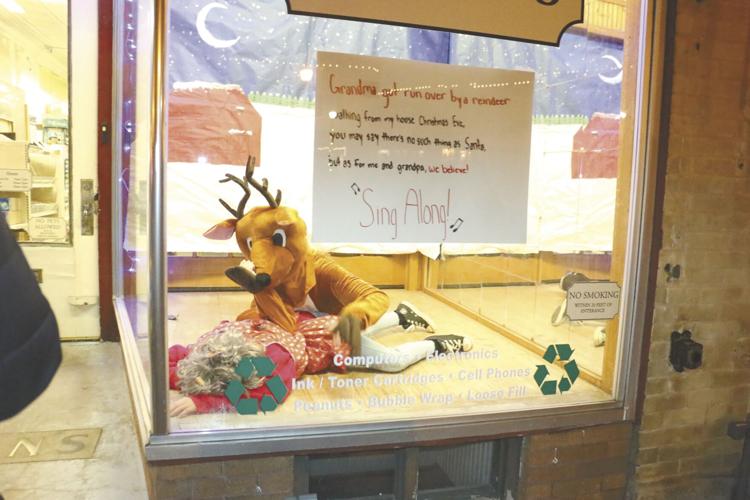 During the first weekend in December, Ripon's downtown business windows display scenes based on a Christmas theme that has yet to be decided as Santa Claus and his reindeer interact with children, along with a smorgasbord of other activities.
"It's the signature event for our community," Ripon Area Chamber of Commerce Executive Director Jason Mansmith said regarding Dickens of a Christmas. "It's kind of this picturesque environment, and if you get a little snow, it's even better."
As the event prepares to celebrate its 30th anniversary, the Ripon Chamber of Commerce participated in two meetings this week to evaluate the logistics of hosting the signature winter event during a public health crisis.
After the meetings, Mansmith noted there will be "some kind of event" planned for December, but nothing is set in stone because the progression of the COVID-19 pandemic could force plans to change.
"Somebody is going to be upset at us no matter what we do. If we have to postpone or cancel events, people are going to be upset about that, but if we continue on with events, then some people are going to be upset about that too," Mansmith said. "We understand that, we just hope that everybody else is willing to understand that too."
According to Mansmith, many of the smaller side events already have been canceled, including Dickens of a Quilt Show and some of the craft shows.
Even so, he noted other pieces of the event are going to be conducted virtually, such as the Dickens Tour of Homes.
"We don't want people going in and out of other people's homes — that doesn't seem safe to us — so we're going to transition that to a holiday home showcase where people are able to send us pictures of their favorite holiday rooms that they've decorated or host a [virtual] tour of the house," Mansmith said.
Meanwhile, larger events such as the holiday parade and Living Windows are in a state of flux as event coordinators continue to evaluate COVID-19 activity in the region.
"Those COVID numbers are increasing around here and we're super aware of those things and we need to be socially responsible for the community," Mansmith said, noting the chamber will continue to collect feedback from the community and businesses in regards to the event. "To put these events on, you can plan as much as you want, but then in a moment's notice, it can just be shut down."
For Living Windows, which see's downtown businesses act out iconic Christmas moments in their store windows, Mansmith added that the chamber would likely leave it up to business owners as to how they want to participate.
"If they're comfortable having people in a window, then they're more than welcome to do so," he said. "It's hard to say what the capacity of certain businesses will be by then and if it's able to be done."
During the planning meetings this week, Mansmith said some people were very much for hosting the event, while others were much more hesitant.
Even so, he noted the safety of potential event attendees is the main concern of all of the parties involved in organizing and hosting the event.
"The folks that help us plan this event really come at it from different angles," Mansmith said. "We look at all of them, we discuss and we'll come to a final decision."
Event coordinators will continue to work to host Dickens of a Christmas  — in some capacity — because over the last three decades, Mansmith noted it has grown to become one of Ripon's largest events, drawing guests from all over Wisconsin to enjoy a little holiday cheer in the city's historic downtown.
According to the chamber director, the event typically sees thousands of people spend money in Ripon businesses, giving the city an economic boost during the holiday season.
"It's one of those things where people really enjoy coming together and it may be their only trip to Ripon every year, but they gather here to make those memories and that's really what it's all about," he said.
Ultimately, Mansmith wants the community to be flexible in their expectations for this year's event as much still needs to be determined.
"Hopefully, in 2021, we can kind of go back to a regular scenario," he said. "But for right now, with the situation that's playing out, we just have to be willing to be able to adjust and I think people will be understanding of that."