Carl "Roger" Steindorf left us for a round of golf with St. Peter Saturday evening, Dec 5, 2020. He passed away peacefully after a fall. His son and daughter were able to be at his side as he did not have COVID-19.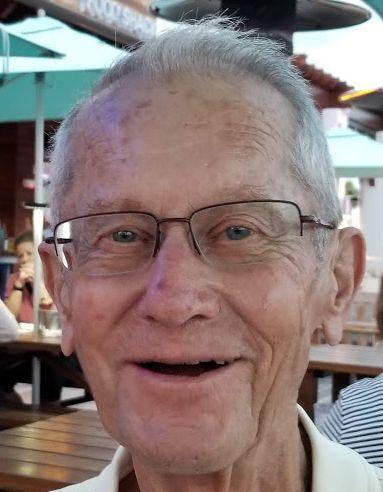 In life, Roger was one of the kindest friendliest people you'd ever meet. "Such a nice man" was a common description of Rog. His friendly easy going demeanor served him well over the years as a husband, father, pharmacist and simply...as a friend.
Roger was born in Albany, Wisconsin on May 30, 1934 to Doris (Gillette) and Carl "Emil" Steindorf. He was their fourth child. After graduating from Albany High School, Roger earned a degree in Pharmacy from the University of Wisconsin. Roger met his future wife Kathryn "Kay" Custer while interning at the drug store on campus in Madison, Wisconsin.
Roger and Kay settled in the small farming town of Markesan, Wisconsin in the early 60's after a brief stint in the Army. Roger ran the drugstore in the then vibrant downtown of Markesan. Rog and Kay were active in the area for nearly two decades, participating in the Chamber of Commerce, Kiwanis, Boy Scouts and a number of social clubs. They had two children, Eric and Marci. As they kids were growing up, the family did a lot of camping, canoeing, fishing and golfing. On nice summer evenings, when Eric was young, he and Roger could often be found in their aluminum canoe on Little Green Lake fishing for bluegill with cane poles.
Back in the late 60's, the Steindorfs were early adopters of the new sport of snowmobiling. So, winter weekends meant rides through the local woods and fields with family and friends. They even ventured out to Yellowstone Park in the winter of 1970 for a snowmobile trip in the virtually vacant park.
Kay and Rog were avid travelers. Thanks to a trip to Tahiti in the early 70's, Roger got hooked on scuba diving. He became very active in the local dive club out of Green Lake, WI which resulted in many great dive trips to locations from the Keys and Caribbean to the Dead Sea.
While in Wisconsin, the Steindorfs were members of the Tuscumbia Country Club in Green Lake where they golfed a couple of times every week over the summer. While Roger's golf game intimidated no one, he loved the sport's social aspect. Golfing became his primary avocation upon retirement from pharmacy. He worked for years as a starter and ranger at the Fernandina Beach Golf Club where he developed a broad network of friends on the island. The Steindorf family thanks all of those friends for their support of Roger and Kay over their years on Amelia Island.
Rog and Kay's love of golf, scuba and warm weather led them to move to Lake Worth in southern Florida in 1979. Rog worked as a pharmacist at Bethesda Memorial hospital for years. He continued to golf and scuba dive and added sailing and wind surfing to his repertoire of hobbies.
Upon his retirement from the hospital in 1996, Rog and Kay moved north to Amelia Island, Florida. Roger continued to enjoy golf and the beach even after Kay's passing in 2014.
As age started to take its toll, Roger moved to an independent living facility in Roswell, Georgia in February, 2020 so his son Eric could do a better job of keeping him out of trouble. As always, Roger quickly made a lot of new friends, despite the challenges of the COVID-19 pandemic.
Roger was preceded in death by his parents Emil and Doris; siblings Robert, Joyce Mauerman, and Jean Burdick; and his spouse, Kay. He is survived by his son Eric, daughter Marci Martin, five grandchildren, and several cousins, nieces and nephews.
In light of the COVID-19 pandemic, we will not be holding a service for Roger. Please share your thoughts in a tribute. In lieu of flowers, please consider a donation to the Alzheimers Association (www.alz.org) or the American Heart Association (www.heart.org).