Caroline Amanda Machmueller, age 85, of Ripon, WI, passed away on Saturday, March 14, 2020, at Prairie Place in Ripon.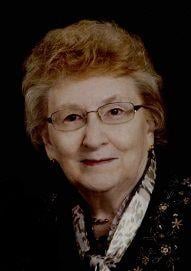 Caroline was born September 8, 1934 in Berlin, WI, the daughter of Edward and Helen (Lind) Manske. Caroline graduated from Ripon High School in 1953 and married Theodore Machmueller on September 26, 1959. She worked for Admanco in Ripon for 47 years. Caroline was a member of Mt. Zion Evangelical Lutheran Church, where she served on the Ladies Aide committee. She also belonged to Ducks Unlimited.
Survivors include her husband, Theodore Machmueller of Ripon; son, Todd (Lori) Machmueller of Ripon; granddaughters, Ivy (Jayson Resop) Machmueller of Ripon and Holly Machmueller of West Allis, WI; great-grandson, Abel Resop of Ripon; brother, Edward (Jean Zeto) Manske of Ripon; sisters, Edna Schwandt of Ripon and Debbie (Stuart) Schliepp of Hortonville, WI; sisters-in-law, Marion Wittchow of Ripon and Karen Manske of Markesan, WI and many nieces, nephews, cousins and friends. Caroline was preceded in death by her parents, Edward and Helen Manske; brothers, Earl and Donald Manske; sister and brother-in-laws, Clarence Schwandt, Margaret and Ewald Beske, Adeline and Norman Kiesow, Josephine and Virgil Rhode, Virginia and Anton (Bill) Nagler, and Betty (Lyle Cole) (Clarence Hoffman) (Arnie) Malzahn.
Visitation for Caroline will be held from 9:00 am until 11:00 am on Saturday, July 18, 2020 at Mt. Zion Evangelical Lutheran Church, 320 Mount Zion Dr., Ripon, WI 54971.
A memorial service for Caroline will be held at 11:00 am on Saturday, July 18, 2020 also at Mt. Zion Evangelical Lutheran Church, with Pastor Michael Sheppard officiating. Inurnment will follow at Green Lake Center Cemetery, Green Lake, WI.
The family would like to thank Hospice Hope of Green Lake and Caroline's care team (Chad, Leslie and "My Sara"), along with the staff at Prairie Place, for their exceptional care.
Please visit www.butzinmarchant.com to send online condolences.