As Chris Gatzke and other Ripon High School coaches stood next to the track to watch how their runners did in the 300-meter hurdles and the 800 run, they kept their eyes on Celina Lopez.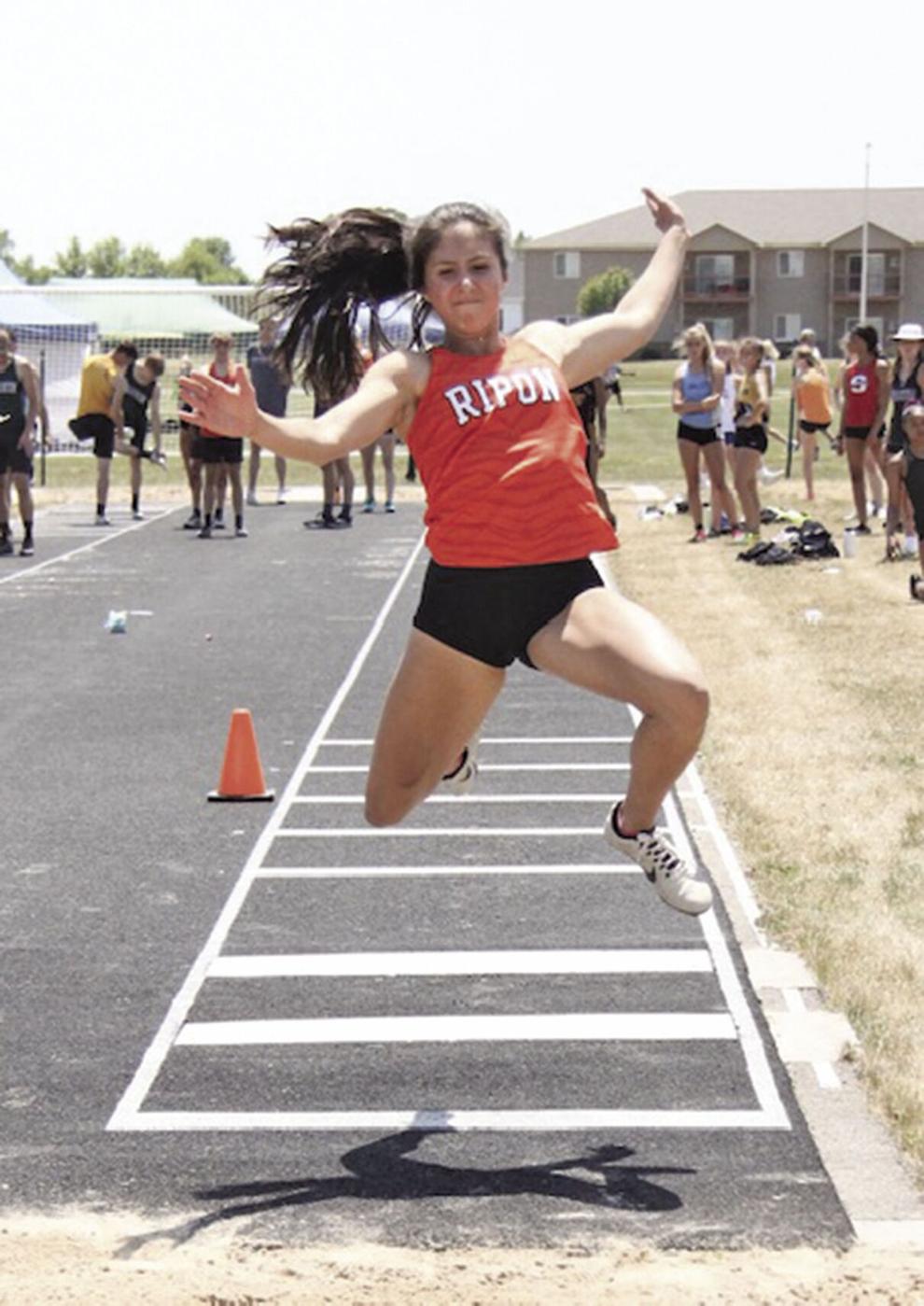 Lopez was the last Tiger competing in a field event and was preparing for her final triple jump attempt.
The coaches looked over to see her jump and Gatzke noted that it looked like "an OK jump."
And then, all of a sudden, he and the other coaches saw her jump in the air in excitement.
"She could have probably done a 6-foot, 3-inch high jump because she jumped so high up off the ground," Gatzke said, noting the coaches quickly ran over to see just what had happened."
When they got there, they found out that she just set a new school record.
Lopez recorded a distance of 36 feet, 11.5 inches in the triple jump, which breaks the record of 36-3 set in 2003 by Christal Wagner. The 36-11.5 was 2 feet further than her previous season-best that she set in the Berlin Invitational to open the season and was 1 foot, 7.5 inches further than her personal-record which she accomplished in 2019 at the Wisconsin Dells Invite.
Much like the coaches, Lopez didn't realize she jumped as far as she did at first.
"When I saw that number, I was honestly surprised," she said, noting she prepared for it like any other jump and pushed herself to go as fast and get as much power as she could. "It really did not feel like it was that far. It felt like way too easy to be that far, but I was ecstatic about it."
The jump, which was good for first place, was the icing on the cake for the junior at the Waupun Division 2 Sectional last week Thursday as she qualified for state in the triple and long jumps.
Lopez was the only athlete out of the 15 Tigers who qualified for the sectional meet to advance.
The Division 2 State Track & Field Championships will take place Friday at the University of Wisconsin-La Crosse's Veteran's Memorial Stadium, with Lopez's first event set to start at 11 a.m.
"I don't want to say they were guaranteed, but we felt that was probably our best chance and we talked about that going into it," Gatzke said of Lopez qualifying in the long and triple jumps. "We knew that there was going to be some competition there from the southern schools, and there was, but she made it."
Lopez's closest competitor in the triple jump at the sectional meet was Brown Deer's Aniya Young, who finished with a distance of 35-9.25. She was 2 feet, 5 inches ahead of the fourth and final qualifier. She has won the triple jump in all 10 of her competitions this season.
The junior also qualified in the long jump with a second-place leap of 16-9. She was 6 inches behind New Berlin West's Katie Gerovac and also 6 inches off her personal-record that she set June 3 at the Tom Callen Invitational. The school record is 17-6.5, set by Dana Caudill in 2013.
Gatzke attributed part of Lopez's success to her speed, noting that she's gotten faster so her approach had to be adjusted a little bit so she can take that speed and put it in her jump.
He added that Lopez has put a lot of commitment and desire to continue to improve, where she's put a lot of effort into focusing on her jumps and her sprints.
"Other people in other sports will work on getting into the weight room to be stronger for football, will shoot free throws to get better in basketball," Gatzke said. "Celina has done a combination of everything — working on her sprint, the weight room and just working on her overall abilities to put everything together and make this a successful track season."
Lopez credited her coaches for pushing her so much to be the best that she can be, noting that they know that she puts in as much work as she can on and off the field.
"I do a lot of lifting like outside of the track, so they know that and they really help me succeed over there and on the track as well," the junior said of a reason for her success this season. "With warmups and specific workouts, they just adapt to my lifestyle and I really enjoy that."
In addition to the long and triple jumps, Lopez came close to helping the 800-meter relay team make it to state. The team, which included Lopez, Lillian Schram, Lucy Beuthin, Hannah Yeomans, Elena Willams and Ally Bradley, finished in sixth place with a time of 1:53.56. The time was 2.61 seconds behind the fourth and final state-qualifying team.
While Lopez was the only Tiger to qualify for state and break a school record, she was not the only Ripon athlete to record a personal-record performance at the sectional competition.
Check out more than 50 photos of the Ripon High School track and field team's sectional competition in Waupun
Also achieving the feat were Noah Hanson in the shot put, Henry Walheim in the pole vault, Landon Shidell in the long jump and Jasmine Moldenhauer in the 1,600 run.
Hanson broke the 41-foot mark in the shot put, finishing in seventh place with a throw of 41-10. Gatzke noted he barely made finals and actually wasn't announced as a finalist until his throwing coach, Chris Meeker, drew attention to the omission to get the sophomore into the final round.
His previous personal-record was 40-6, which was set at the East Central Conference meet.
"We know he has it in him; we've seen it in practice, but to be able to actually do it in a meet was worthwhile," Gatzke said of Hanson.
Walheim, meanwhile, topped his previous best in the pole vault by 6 inches as he finished eighth with a height of 10-0. Shidell, on the other hand, added 3.25 inches to his previous personal-record jump, which was set a meet earlier, with a seventh-place distance of 19-1.5.
"Henry worked on some things going into the meet and practiced the night before and put it all together," Gatzke said, noting that Walheim cleared 9-6 in the rain before a lightning delay was then was one of the first ones that had to go after the delay and was able to clear 10-0.
The Ripon head coach added that Shidell has just improved "a little bit by little bit" and that "it was nice to see him be able to get that."
He's only a sophomore, same with Noah, so getting that little extra push here to finish the year is exciting." Gatzke said.
One athlete who finished her high school career on a strong note was Moldenhauer. The 2021 graduate ran a personal-best time (5:57.09) in the 1,600 run to finish ninth. It was 1.23 seconds faster than her previous-best time, which was accomplished the previous meet.
Moldenhauer also placed eighth in the 3,200 run with a time of 13:43. Gatzke noted the 3,200 run was "probably the hottest and muggiest point of the day," along with the 1,600 relays.
Also scoring (top-eight finishes) for Ripon at sectionals include the boys' 800 relay team of Remington Mueller, Roman Mueller, Donovan Huber, Henry Walheim, Landon Shidell and Kai Agamaite (seventh, 1:38.01) and Huber in the 300 hurdles (eighth, 45.82).
Other sectional finishes for the Tigers include Williams in the 400 run (ninth, 1:09.19); girls' 1,600 relay team of Williams, Yeomans, Beuthin, Lopez, Tirion Radtke (10th, 4:42.70); boys' 1,600 relay team of Huber, Agamaite, Shidell, Walheim, Remington Mueller and Tyler Bradley (12th, 3:48.25); Ally Bradley in the 300 hurdles (12th, 58.57); Schram in the 200 dash (14th, 29.28); and Beuthin in the 800 run (15th, 2:45.84).
"We had good performances," Gatzke said. "Not everybody had the personal-bests ... but everybody ran or performed to a very high standard. The competition was good, but we weren't intimidated by the competition and … we felt like we had a chance to do well there."
Up next
Lopez will look to carry over her success to the state championships. She enters the meet as the top seed in the triple jump and is ranked No. 11 of the 16 qualifiers in the long jump.
"She has the potential to podium (top-six finish) in both events," Gatzke said. "It's not like we're going, 'Wow, it's her first time to state and we're just happy that she's there and how things fall, they fall."
He added the fact that Lopez won't have to worry about running relays should allow her to stay fresher.
Lopez, meanwhile, noted that she just hopes to do her best and leave everything she has out there.
"I'm hoping for a first-place finish, maybe even pushing the record more," the Ripon High School junior said. "But regardless, I'm going to push myself as far as I can and do all I can."