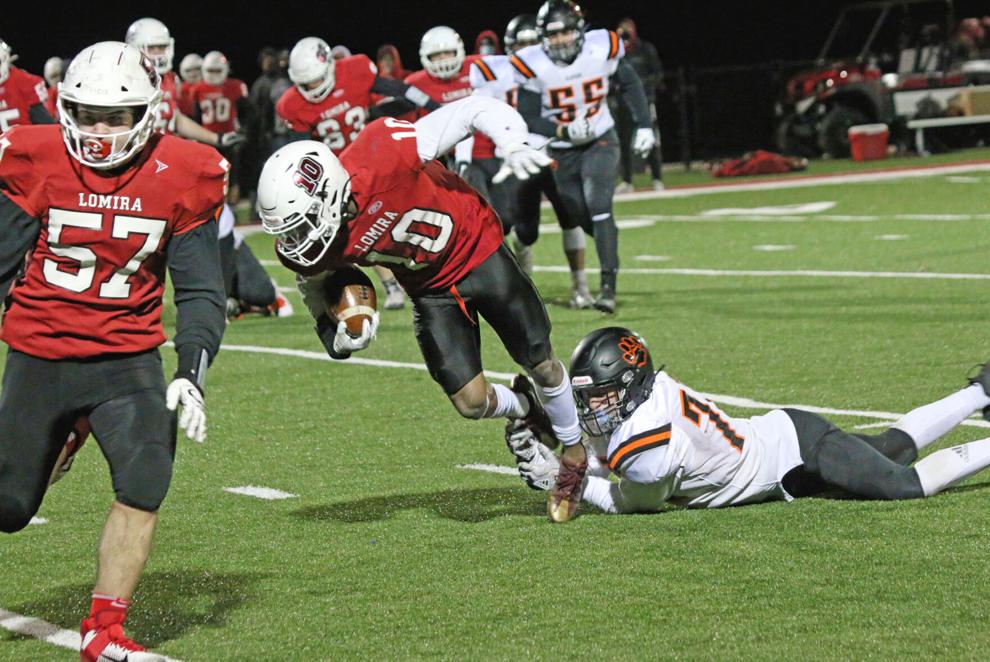 The Ripon High School football team fumbled the ball on its opening possession Wednesday night.
It ended up being a sign of what was to come on a night where temperatures hovered around 30 degrees.
The Tigers couldn't do much right as it wound up falling to the Lomira Lions 43-6 on the road.
Following the fumble on its first drive, Ripon allowed the Lions to convert a fourth-and-long attempt and score a touchdown a few plays later. It would be one of six touchdowns it gave up in the first half as it trailed 41-0 at halftime, resulting in the implementation of a running clock for the entire second half.
"Against a team like Lomira, who was very physical and good, we can't have those mistakes," Ripon head coach Mark Bradley said of the fumble on the opening possession. "It's cold and the ball is slippery and Lomira had their issues with the ball as well. It just was unfortunate that Lomira recovered it and then we weren't able to stop them on defense … That definitely put us behind in the game, but it was still early and we should have been able to combat that, but we weren't able to."
On their following drive, the Tigers offense went in reverse as it lost 14 yards, five of which came on a delay of game penalty, before punting it from their end zone and giving Lomira the ball at the 32-yard line. The Lions capitalized on the short field as it scored on an 11-yard touchdown pass to make it 13-0.
Ripon High School football at Lomira — March 31, 2021
Ripon continued to struggle to gain positive yardage throughout the first half and could do little to stop the Lions from marching the ball down the field. It came up with just two defensive stops in the first 24 minutes, both of which were aided by Lomira. One came at the Tigers' goal line, when Lomira fumbled, and the other came after Lomira's quarterback fell on the ball two-straight plays after not handling the snap.
Much of Lomira's success came as a result of Ripon not being able to defend the option offense.
"They did a good job of running inside and outside and keeping us off balance," Bradley said. "On the option, it's such a key play where everybody has to do their job and get the right guy, so it was a combination of going after the wrong guy and being out of position that we just kept running into."
The Tigers also struggled controlling the line of scrimmage on both the offensive and defensive side of the ball. Bradley attributed that in part to Lomira having a physical and aggressive line on both sides, and Ripon's inability to match that aggressiveness and physicality.
"It's really important that all people are on the same page and matching what they're doing because the line of scrimmage is key," the Ripon head coach said, noting the Tigers got beat on the line a lot, which led to some long runs for Lomira and allowed Lomira to stop Ripon from doing much offensively.
Making matters worse for the Tigers were three interceptions — two of which came in the first half. The Tigers also failed to get on top of a loose ball on a kickoff, which allowed Lomira to recover it and take possession. The Lions scored on a 24-yard pass a play later after a defender bit on a play-action play.
Bradley said Ripon needs to do a better job of keeping its head in the game and maintaining composure. Defensively, he noted his team needs to do a better job of executing as it wasn't reading its keys and was worried about the run on the wide-open touchdown pass that made it 35-0.
The Tigers had their own chance to score on a long pass play in the first half, but it was just slightly out of the reach of Kai Agamaite. It was their best opportunity to score in the first 24 minutes of the contest.
Ripon's defense played a little better in the second half as it kept the Lions' offense off the scoreboard. It was helped by the running clock, as well as a few turnovers on fumbled snaps by Lomira's quarterback. The Lions only points in the second half came on a safety in the fourth quarter.
"They continued to play hard all the way to the end, which is good, but we just have to come out more aggressive and physical with these teams, especially a team like Lomira," Bradley said.
The Tigers managed to get on the scoreboard with seven seconds remaining as Adam Sina broke off a 59-yard long touchdown run. They ended up going for the 2-point conversion, but were unsuccessful. While the game was over by that point and both teams had backups in, Bradley noted "anytime you score it's good."
"It was good to end on a nice run like that; Adam made a good cut, the line did a good job of blocking and we were able to capitalize on that and then Adam was able to out-run everybody else," the Ripon head coach said. "And on the sideline, the starters were happy for the guys that were in and they stuck together all the way to the end with each other and that was good to see. Anytime we can score, it's always a bonus and getting those young kids some more playing time at that varsity level was also very important as well."
Behind that long run, Sina led Ripon in rushing with 63 yards on three carries. Cameron Hahn added 12 yards on six carries. Caleb Hopp and Gannon Stellmacher caught one pass apiece for 10 and four yards, respectively.
Sam Yeomans led the Tigers defensively with nine tackles, while Quintin Stephens recorded eight tackles and one sack.
Up next
Ripon will try to bounce back Friday, April 9, when it hosts the Mayville Cardinals at 7 p.m. at Ingalls Field.
It won't be an easy task as Mayville is coming off a 48-0 win over North Fond du Lac and have out-scored its two opponents this season by a combined 75-0, also defeating Laconia 27-0 in its season opener.
"The main thing is we just have to match their physicalness and their aggressiveness," Bradley said of what the Tigers need to do to defeat the Cardinals. "They are a mainly running team that does do some passing. They're defense is very aggressive. So it'll be a lot like the kids from Lomira where they're going to come out and aggressive and physical and we have to match that aggressiveness in order to beat them."