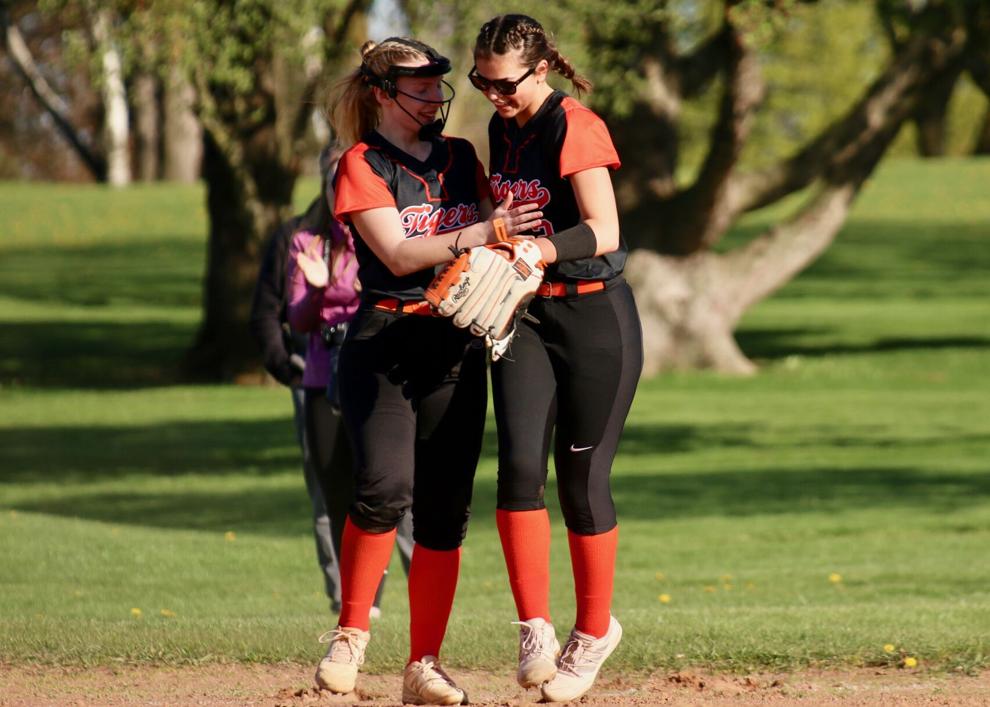 The Ripon High School Tiger softball team used early offense, strong pitching and solid defense to defeat the neighboring Laconia Spartans 6-1 tonight (Friday).
Ripon (2-1 overall) scored two runs in the first inning and added three more in the second to take a 5-0 lead. Pitcher Laila Simonis and the defense then took over from there as they retired the Spartans (0-3 overall) in order in the third, fourth, fifth and sixth innings. 
The Tigers tacked onto their lead in the sixth inning as Simonis scored Eva Baker on an RBI double to make it 6-0.
Ripon High School softball vs. Laconia — April 30, 2021
Laconia scored its lone run of the game in the top of the seventh inning. Lexy Smit started the frame with a double, snapping a skid of 18-straight batters retired by Simonis and the Tigers' defense. She advanced to third on a single and then came across to score on a passed ball.
Simonis finished the game allowing just that one run, which was unearned, on four hits. She struck out seven batters and did not walk a batter in her seven innings of work.
Her impact wasn't limited to the circle as she also led Ripon at the plate with two hits and two RBIs.
Also recording hits for Ripon were Avary Makarewicz, Cassidy Mader, Erika Mills, Baker and Avery Downs. Makarewicz and Downs notched RBIs for the Tigers.
Next up for Ripon is Kettle Moraine Lutheran, which it will host Tuesday May, 4 at 4:45 p.m. at Murray Park.