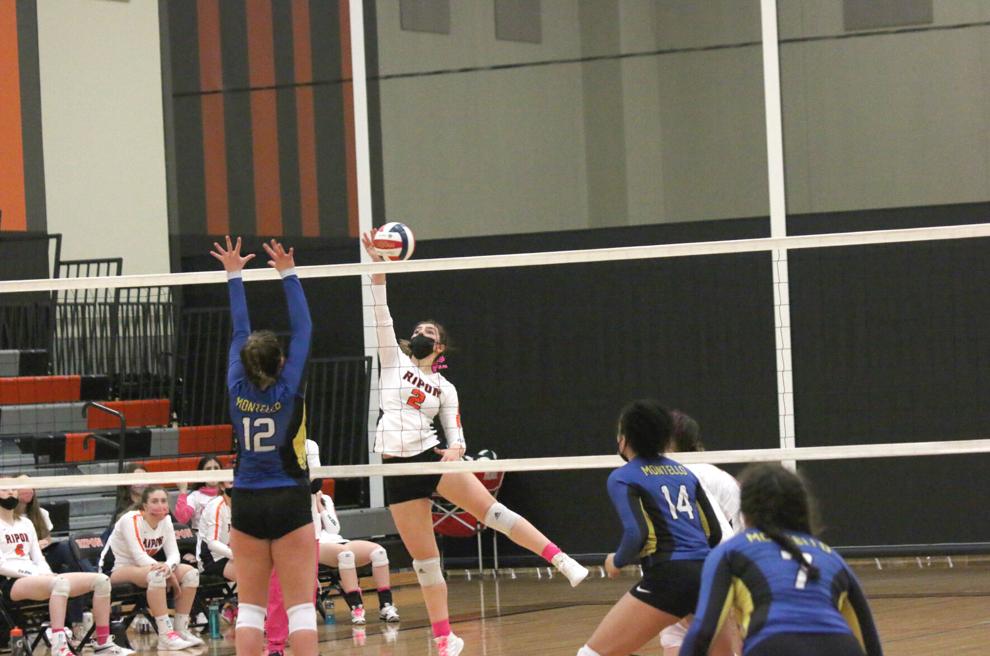 The Ripon High School Tiger volleyball team could have easily thrown in the towel in the first set against the Montello Hightoppers Monday night and shifted its attention to the next set.
It trailed 19-11, 21-12 and needed to fend off game point five times just to extend the set.
But the Tigers did just that as they rallied off six-straight points to take a 25-24 lead and fought off another game point after Montello answered with two-straight points to win the set 28-26.
Ripon never looked back either as it won the final two sets 25-12, 25-12 to sweep the match.
"That was a great comeback," Ripon head coach Tracy Landerman said. "And to be in that position where you're kind of on the ropes, we really did a great job of staying together, playing composed [and] utilizing our strengths."
She added the Tigers' composure was really on display at the end of the set, when Montello was just a point away from winning the opening set and had six chances to close the deal.
Check out these 36 photos from the Ripon High School volleyball team's win over Montello
Ripon gave itself a chance to stave off game point multiple times thanks in part to a 6-0 run that it went on to get back into the set. That stretch featured Maleigha Kovalaske recording a block kill and Lexi Miller serving up three aces in a span of four serves.
"It can come down to one error and the game is finished and we stayed very composed and we were smart about how we played our strength at the net," Landerman said of battling back from several game points. "... That set the tone for momentum going into the second game."
Ripon capitalized off the momentum from the big first-set comeback victory to score the first five points off the second and never looked back as it cruised to the 25-12 win. In that set, the Hightoppers scored just two points off the serve as Ripon was able to force sideouts. That trend continued in the third set as Montello scored just five points off the serve, three of which came in a row.
"Our passing tonight was spot on," Landerman said. "It was one of our better serve-receive passing nights ... If you can convert that first pass and give it to your setter where it needs to be and then they have the availability to utilize anybody at the net, that makes a big difference. And we have good hitters, so we want to get that ball where it needs to go so that we can utilize them as well."
The Tigers' hitter took advantage of the opportunities setter Sheridan Zimmerman provided them with as well, finding the open spot on the floor on several occasions to score points. Erika Mills was one Tiger who did a good job with that as the majority of her five kills were put in a place where Montello had little chance to return the ball.
"She really did do a nice job of looking for spots on the court and she had some really nice, dynamic hits," Landerman said of Mills.
The junior wasn't the only one hitting her spots as the Tigers received a balanced offensive attack. Abby Radloff and Kovalaske led the way for Ripon in kill points with nine each, while Miller added six and Emma Pinnow contributed with three.
"We really took advantage of our strengths and the kids were very smart about talking to each other on the court and picking out open spots," Landerman said. "They left the middle open quite a bit and we dominated by placing things in the middle and catching them off balance."
The three-set sweep of Montello was especially sweet for the seniors, who were celebrating Senior Night. Among the seniors are Miller, Pinnow, Avery Downs Cassandra Jennings and Evelyn Norton.
"The seniors are an awesome group of young ladies," Landerman said. "They've had to deal with a lot of different things this season and they did that with grace and perseverance and it was just a great night for them and a great team effort all the way around. So I was excited to see that happen for them because they put the time in and they deserve that outcome; they worked hard for it."
Team leaders
Service aces: Lexi Miller 4, Maleigha Kovalaske 2, Avery Downs 2, Cassandra Jennings 1; Kill points: Abby Radloff 9, Kovalaske 9, Miller 6, Erika Mills 5, Emma Pinnow 3; Block kills: Pinnow 3, Kovalaske 1, Radloff 1, Miller 1, Mills 1; Assists: Zimmerman 28; Digs: Downs 25, Kovalaske 10, Zimmerman 8, Pinnow 6.
Ripon downs Poynette in four sets
The Tigers overcame a rough second set to defeat the host Poynette Panthers in four games 25-15. 20-25, 25-14, 25-17 last week Thursday. The non-conference match was a late addition to their schedule.
Landerman noted in the first set, Ripon controlled the tempo by utilizing its offense and serving well. In the second game, however, it struggled a bit with its serving and allowed the Panthers to stay in the game.
Poynette also was able to convert a little bit more offensively on their end in that second set.
"They just did a better job of staying in the game with us; we kept them running in set one and the tables turned a little bit in set two with them being on the other side of that," Landerman said of what went wrong in the Tigers' lone loss in the match. "Passing and serving is what tripped us up in that second set."
While Ripon struggled serving a bit in that second set, it was a strength for it in the match as Miller, Mills, Downs and Kovalaske combined for 20 service aces. Miller and Mills had six each, Downs five and Kovalaske 3.
Another bright spot for Landerman in the match was the Tigers' net play. She noted they did "a great job blocking."
Pinnow led the Tigers with seven block kills, while Kovalaske and Miller added six and four, respectively.
"We had a lot of touches on the ball and we executed well defensively at the net," the Ripon head coach said.
Team leaders
Service aces: Miller 6, Mills 6, Downs 5, Kovalaske 3; Kill points: Kovalaske 17, Mills 14, Miller 7; Block kills: Pinnow 7, Kovalaske 6, Miller 4; Assists: Zimmerman 36; Digs: Kovalaske 15, Miller 9, Downs 9, Karsyn Bauman 5 and Zimmerman 5.
Tigers falter in five sets against WLA
After controlling the tempo in the first two sets last week Tuesday against Winnebago Lutheran Academy, Ripon couldn't pick up the elusive third win as it lost in five sets to the Vikings 25-14, 25-17, 24-26, 15-25, 6-15.
Landerman noted the third set, which Ripon lost 24-26, was a momentum changer for the rest of the match as the Tigers fell behind big early on only to come back, get close and end up falling just short of ending the match.
"The momentum switch carried them into game four and then game five came down to starting to second guess things," the Ripon head coach, adding that dropping the match was hard to swallow. "We went flat on our passing and they took control with their momentum and just finished stronger than we did. That's one I'd like to have back."
Up next
Ripon will hit the road Thursday to face the Green Bay East Red Devils in a match that will begin at 7 p.m.
It will be its penultimate match of the regular season as it will host Campbellsport Thursday, April 8 at 7 p.m.