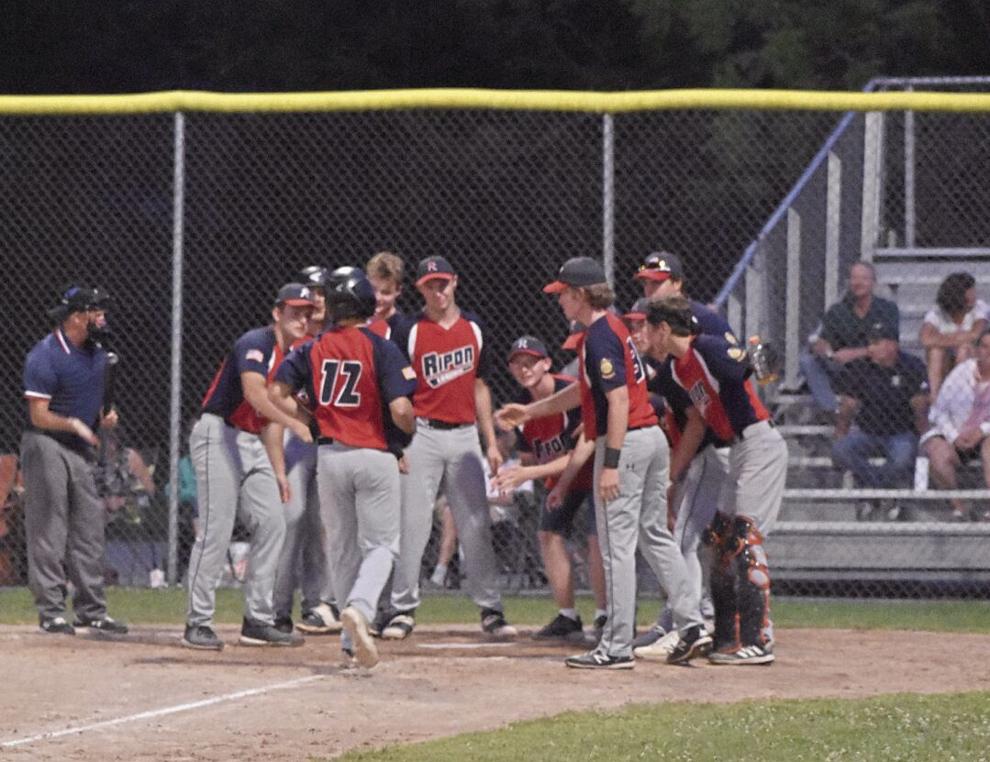 The Ripon American Legion Post 43 baseball team closed the regular season on a high note Monday night as it received strong performances on the mound and at the plate to defeat Green Lake 10-0 on the road.
The game was a preview of the first round of regionals as the two teams will meet again Thursday at 4:30 p.m. in Green Lake. The winner will advance to play the winner of Fox Lake/Randolph vs. Markesan Friday at 7 p.m. The loser will face the loser of Waupun and Omro Friday at 2 p.m. in the double-elimination tournament.
"Getting that momentum in our favor, going against them again Thursday, is a huge deal," Ripon head coach Austin Fenner said. "I don't know if we saw their best pitching ... but I was really pleased with the way we came out."
Ripon, which finished the regular season on a three-game winning streak and 5-2 overall, benefited from a strong outing on the mound from Henry Willett. The incoming Ripon High School junior allowed just two hits and two walks in four scoreless innings of work, while striking out two Green Lake batters.
"Henry pitched really well; we've been working with him on some mechanical things and some control and he's been taking that in stride, so that's been really good to see, too," Fenner said.
Ripon American Legion baseball at Green Lake — July 19, 2021 (Miya Grunert photos)
With Willett's arm getting a little sore and Ripon leading 10-0, Ethan Schuld came in and pitched a scoreless fifth inning to preserve the shutout. He allowed just one hit, while striking out two batters.
"He only threw 30 pitches on Sunday, so he was good to go on no days rest and I wanted to get him a little more work before regionals, too, just because we're most likely going to need him when it comes to regionals," Fenner said of Schuld, noting pretty much anybody who can pitch has got to be available.
Willett and Schuld received plenty of run support as well as Ripon scored 10 runs on nine hits.
Ripon also benefited from six errors and three walks, which was a role reversal from the first game of the year that Green Lake won 12-4. Ripon scored a run in the second inning, three in the third, one in the fourth and five in the fifth to come away with the 10-0 victory.
Conor Diedrich led the way with a 3 for 4 day and two RBIs, which included a home run. Max Belling also collected multiple hits as he went 2 for 3, while Garrett Jennings, Schuld, Brett Bock and Dayton Baird recorded a hit apiece. Baird and Bock matched Diedrich for the team-lead in RBIs with two each.
"Everybody hit pretty well," Fenner said. "It's good to see. Everybody's clicking on all cylinders right now and that's a huge thing going into that regional, so you've got to be happy with that."