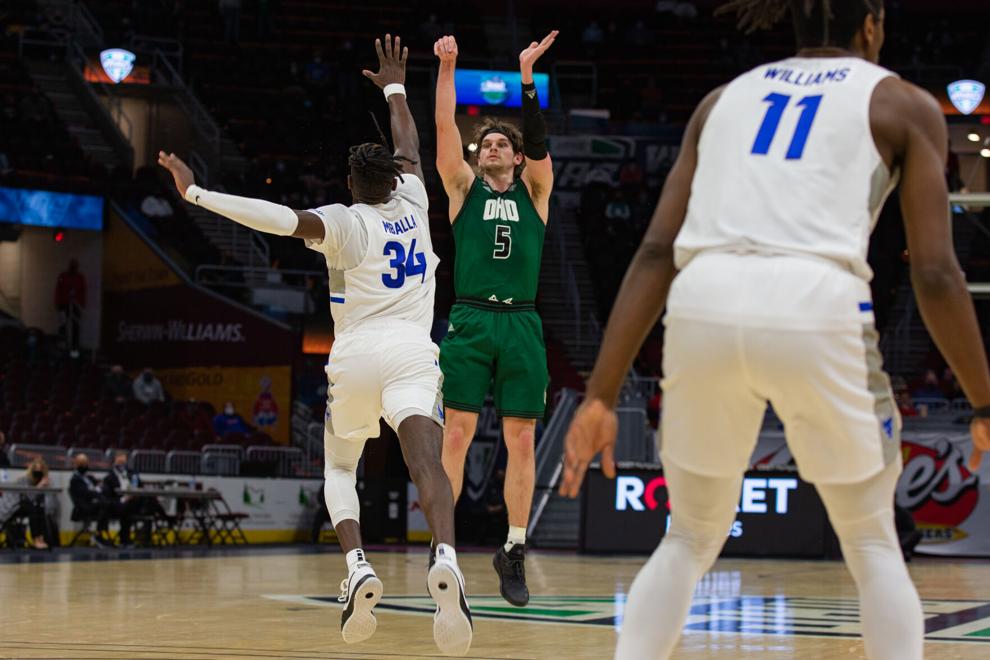 After making his decision in the fall of 2016 to attend Ohio University, Ben Vander Plas told the Commonwealth that it would be "a very cool experience" to make the NCAA Tournament.
"I know from stories that my dad [Dean Vander Plas] has told about his college experience that going to the NCAA Tournament was one of the best things about his college career," he said.
The 2017 Ripon High School graduate will get that experience Saturday after the Ohio Bobcats won the Mid-American Conference (MAC) Tournament last week Saturday, upsetting three higher-ranked teams in three days.
Ohio, which was the No. 5 seed in the MAC Tournament, defeated No. 4 seed Kent State 85-63, No. 1 seed Toledo 87-80 and No. 2 seed Buffalo 84-69 to capture the title.
Ben Vander Plas, a redshirt junior, had his biggest game of the tournament in the win over Toledo as he scored a season-high 26 points, which was just one off his career high set last year. He also pulled down eight rebounds and seven assists in the game.
As a result of winning the MAC Tournament, Ohio received a No. 14 seed in the West Region and will face No. 3 seed Virginia, who is the defending national champions, Saturday at 6:15 p.m. The game will be aired on truTV.
Virginia is coached by Tony Bennett, who was a teammate of Ben's dad at the University of Wisconsin-Green Bay when it made the NCAA Tournament in 1991 under the coaching of the legendary Dick Bennett. Ben, whose full name is Bennett, was named after Dean's college coach.
The Ripon Tigers' all-time leading scorer currently is pursuing a master's degree in sports administration, which he is set to get at the end of the school year. He obtained a bachelor's degree in communication studies in just three years and is in the process of figuring out what he wants to study next year.
While quarantining for the week in Indianapolis, which is where the entire tournament will take place, and attending virtual classes, Ben Vander Plas took some time for a Q&A with the Commonwealth to discuss making it to the dance, playing during a pandemic, scoring his 1,000th career point and more.
Here is what he had to say:
Q. Describe the feeling as the clock hit zero and your team won the Mid-American Conference (MAC) Tournament Championship?
A. It was a surreal moment just to be there with my team, just hearing that buzzer go off, seeing everybody start to celebrate, hearing the fans in the stands. It was just a crazy moment, getting to run on that court and just enjoy the moment with my teammates and my coaches.
Q. Your team did not have an easy path to the NCAA Tournament as it needed to knock off three of the top-four seeds in the MAC in three days, which included the No. 1 seed. How tough was it to pull off that feat?
A. It was definitely tough. Three teams that beat us by double digits in the regular season, so we knew it was going to be a challenge. Three games in three days is really tough, so we knew that it was going to take a lot of heart, a lot of effort from everybody involved. We just went out there with a mentality that we were there to win and we played with so much confidence. Most of all, we were just having fun out there.
Q. How did you and your team take in the Selection Show? What was that experience like after watching it as an outsider growing up?
A. Growing up playing basketball, everybody watches the Selection Show and you see all the reactions of the teams that get picked. Our coach was talking about it leading up to the championship game, just talking about how there's no feeling like seeing your name pop up on the screen. We got to the hotel in Indy, they set up a projector for us in a conference room. We got all spaced out on some chairs and we got to see our name pop up on the screen and that was just an amazing feeling.
Q. How neat will it be to go up against Tony Bennett, who was a teammate of your dad's at the UW-Green Bay, and someone you have met at a basketball camp?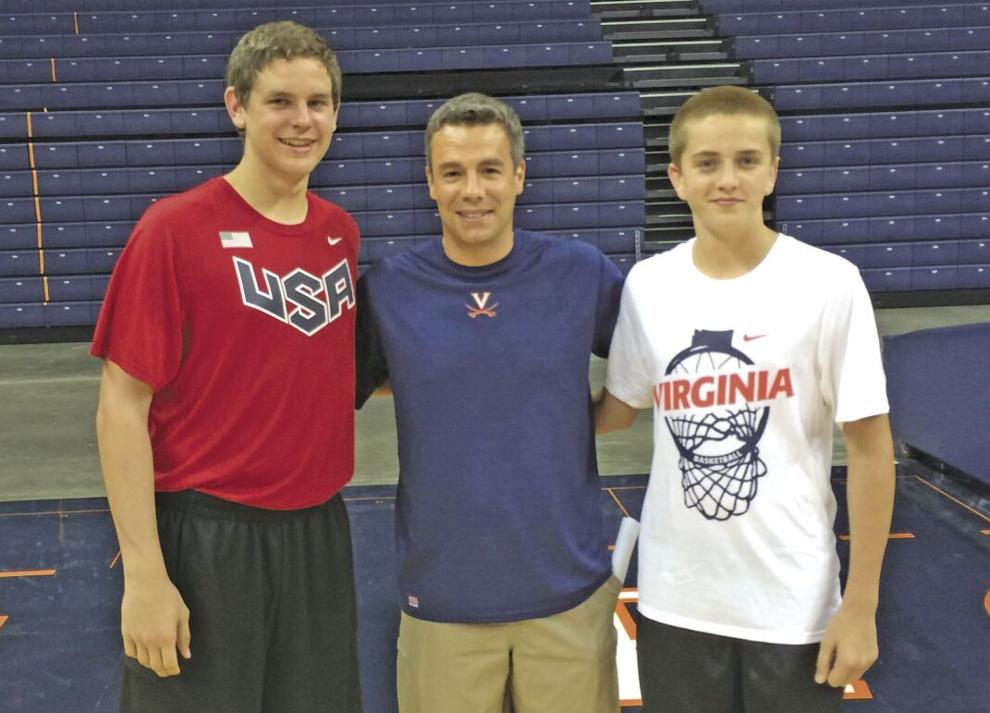 A. The Bennett family has had a really big impact on my dad's life and my life, too, just with basketball. It's going be a really fun experience to play against my dad's college teammate. They made it to the NCAA tournament together and now I get to play against him in one. It'll be a really fun experience. I've already had a lot of people talking to me about the connection with the Bennett name and it's going to be really fun.
Q. You recently amassed 1,000 career points at Ohio University? How special was that moment for you?
A. Reaching 1,000 points, that was another really fun experience ... I was on a radio show the night before and he had told me how many points it would take me, so I knew that was my 1,000th point. Really, coach stressed, again, to take it in with my teammates and my coaches. It was kind of nice, honestly, just to get it over with. Obviously, a MAC championship is way more exciting; it's much more fun to celebrate with the team. But the 1,000th point, it's fun to look back on.
Q. Describe how this season in the time of COVID-19 has been unlike anything you've experienced in the past. What was challenging about it and how hard was it to overcome?
A. From the start, we didn't get to have our normal summer in Athens, we didn't get to go until a couple months after we usually would and then when we got back, [there was] a lot of quarantining, a lot of safety protocols put into place with practice timing, masks, testing, different groups to keep people separated, social distancing ... and that carried on in the season. It was a little bit tough with no fans in the stands; really didn't get to see my family as much, but we made it work. Our guys approached it with a lot of maturity and we almost made it the whole season without a shutdown, but towards the end of the year we had one. Again, we just fought through that and got back to the grind.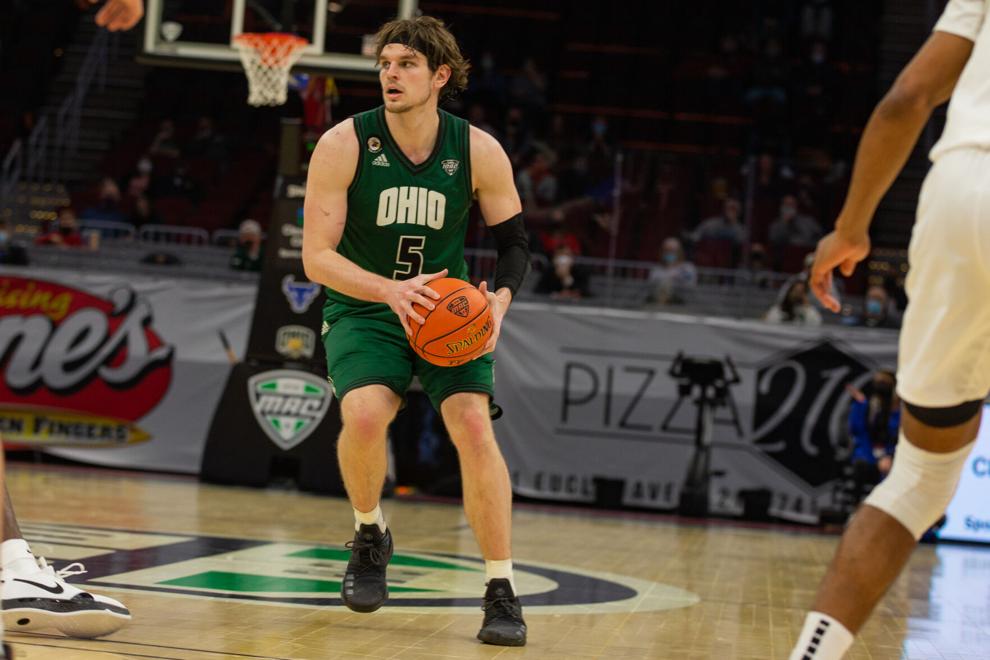 Q. Your team had to deal with a couple shutdowns due to a positive COVID-19 test and/or contract tracing and played only three games between Feb. 3 and March 10. How tough was that time when you were stuck quarantining and how do you manage to stay in basketball shape/condition?
A. The first shutdown, we had a couple of people in the program test positive, so everybody got shut down, everybody was contact traced. And actually one of my roommates in my apartment was someone who tested positive, so they moved the rest of my roommates [and me] into a hotel room and we were stuck in a hotel room for 10 days, couldn't leave, couldn't go to the gym, didn't touch a basketball for 10 days. So it was definitely a challenge, but our strength coach and our training staff did a really nice job sending us workouts that we could just do in the room to get any type of workout in that we could. Once we got everybody back in the gym, it was just everybody getting extra shots and everybody doing extra work to get back to where we were before the shutdown.
Q. After the first shutdown, which sidelined the team from Feb. 3 to Feb. 22, your team won five of its final six games. Do you believe the stoppage could have helped the team?
A. Looking for any type of positive in that, it would have to be just a little bit of a rest. It's the first time in my career that towards the end of the season, a long season at that, that you get a bunch of days off just to let your body recover, let all the little injuries go away. And I think that probably applied to everybody in the team just to get everybody off their feet for a little bit. [It was] maybe a little bit longer than we would have liked, but I think that definitely played a part ... in getting everybody back healthy.
Q. Was there ever a fear that your team wouldn't get a chance to play in the MAC tournament?
A. When we got our second run-in with COVID with the team, it was just one positive case and it ended up only being two people who were contact traced. The time leading up to the tracing and the decision that was made, there was definitely a thought that if multiple people got contact traced, or if more people started to test positive, it might run into our first game of the MAC Tournament. So leading up to when they let us know that we can get back to practice, there were a couple of days where it was definitely in my mind a little bit.
Q. What are your hopes for the tournament and how do you manage to savor the experience of being a part of the NCAA Tournament while still going out there to win?
A. Starting with the MAC tournament, it was just every second trying to soak it in; enjoying being out there with my teammates; I love my teammates and I love playing with them, so just being out there trying to have fun. Once we won ... I just caught myself once every couple minutes standing still, just looking around, really trying to savor the moment, really trying to take everything in, trying to process what just happened. So that was really cool and I'm glad I did it and I'm going to keep trying to do that throughout the week, even if it's just us at the hotel getting to experience a once-in-a-lifetime thing of just being here at the tournament. Just taking everything in, every practice, every chance we get to do something as a team, I'm going to keep trying to do that. And, obviously, we came here to win. We came with a mindset that we're a hot team right now and we want to win the thing. I think that's the only thing you can do is you've got to come in as confident as you can and you've got to try to win as many basketball games as you can. It's a one-game season a bunch of times in a row, so [we've] just got to keep winning one game at a time.
Q. For all the people in Ripon, what would you tell them when they are filling out their brackets?
A. I know I've got a lot of people back home in Ripon supporting me. I got a lot of messages from a lot of people; I'm really thankful for that. I'm hoping that Saturday, Ripon is filled with a lot of green. I'm definitely picking Ohio in that first slot, so that's what I would tell my people back home.
For a related story about the connections that the Vander Plas family have with the Bennett family and reactions about the Saturday's game, read Connections Run Deep in NCAA Opener.