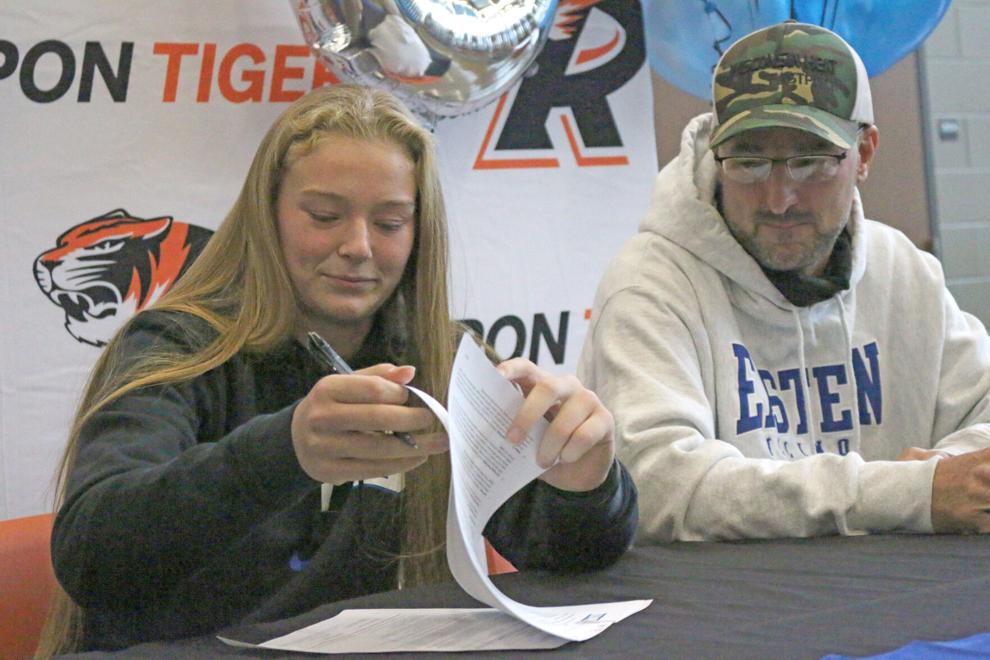 Avary Makarewicz set a goal many years ago of playing Division I softball.
That goal came one step closer to fruition last week Wednesday as the Ripon High School senior catcher signed her national letter of intent to play softball for Eastern Illinois University surrounded by family, friends, past and present coaches, classmates and teammates.
The ceremony in the high school cafeteria honored the hard work and dedication she has put into softball, and the process Avary has gone through to make the goal become a reality.
Her dad, Mike, who also is the Ripon High School head softball coach, noted at the ceremony that the process started when Avary was just 1 ½ years old and they were living in Milwaukee.
"It was snowing, and I broke a broom sweeping off the driveway," Mike said. "... I handed her a broomstick, I made a snowball, and in my superior coaching I taught her how to hit a snowball, and she was killing it. I threw a couple, I ran in the house, I grabbed Jill, I showed Jill and Jill wasn't super impressed, but I told Jill that day, Avary's going to be a stud."
He noted that the family eventually moved to Ripon and during its first year in Ripon Avary played travel ball in Waupun and was told she would never be a catcher. Mike, along with Jeff Radloff and others, then got together and decided to
Avary Makarewicz signs National Letter of Intent to play softball at Eastern Illinois University
Ripon High School senior Avary Makarewicz this afternoon signed her National Letter of Intent to play softball at the Division I level for Eastern Illinois University. Click on the story to check out photos from the event and check back with us early next week for a story, which includes emotional comments from her coach and father.
start their own travel ball team.
It didn't take long for Mike to realize that he had someone to build the team around and shortly after that summer Avary developed her pump fake that she became known for.
"Wow, did that work," Mike said. "Not so much of the coaching again, but because of the heart of the girl behind the mask. Soon pickoffs and caught stealings changed the game."
He credited a lot of her past and present coaches, who include Radloff, Lindsay Berndt, Cris Bumby, Kevin Miller and Candie Baker, for helping her develop into the player she is today.
Mike especially was grateful to Eric Mueske of Softball Central, whom he noted put in "more swings, more catching lessons, more hours, a lot of gas mileage, a lot of gas money … into this girl."
"Eric saw something that definitely helped Avary achieve her goal," Mike said. "Avary told Eric long ago that she wanted to go D1. Eric never doubted her; however, Eric told her it would not be here, especially being from a small town in Wisconsin."
He also thanked his wife, Jill, noting that the "whole coach/dad/husband thing is not easy."
"I did a really good job of always leaving the coaching part on the field I promise," Mike said jokingly. "Jill also put a lot of work in, believed in Avary and helped Avary not just be that [future Division I softball player], but the young woman that Avary is."
When Avary first told Mike that she wanted to play Division I softball, he doubted it as he didn't know that she would put the work into it that she has. But he noted that she never settled and achieved every softball goal that she set for herself.
Mike reflected on the day they went to Eastern Illinois for a camp and how Avary told him she knew her worth, slammed the door and by noon made sure that Eastern Illinois knew it as well.
He noted that a couple weeks later, the family went down to Eastern Illinois and Avary got the scholarship she always wanted. She then set the next goal for herself to work toward.
"The best part about being your dad is what you said on the way home," Mike said. "You told me and mom that this is just the start, and someday you'll be playing pro. It's crazy, but I honestly believe it. You never quit. You hate losing and you never settle and you're crazy talented. Eastern Illinois and coach Tara [Archibald] have an amazing talent and person on the way ...
"Don't ever forget those last two things that you told me: Shoot for the pros and more important, always know your worth. I love you so much. Thank you for everything that you've done."
Avary is the first Ripon High School athlete to sign a Division I scholarship since Ben Vander Plas inked his national letter of intent to play college basketball for Ohio University in 2016.