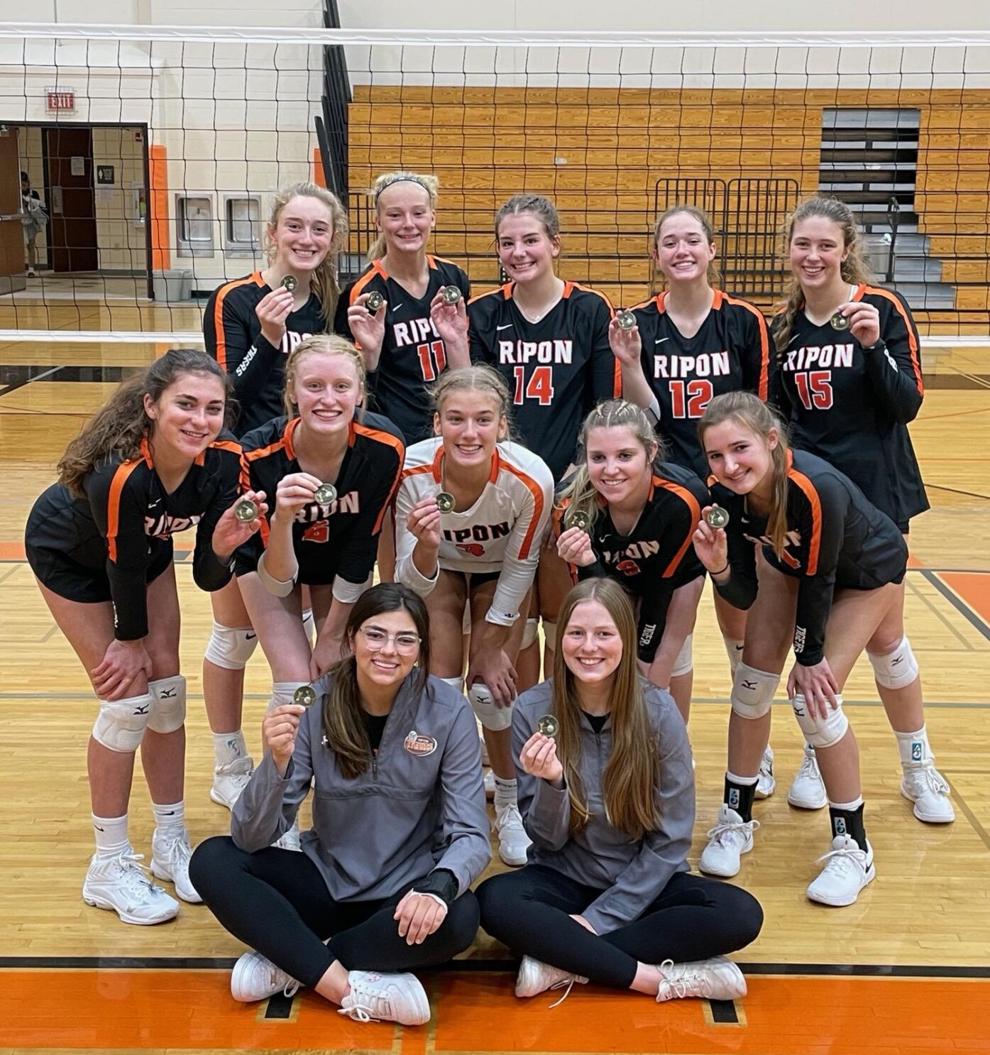 The toughness of her team.
That is what stood out to Ripon High School volleyball coach Tracy Landerman last week Saturday as the Tigers showed resilience to win the seven-team Clintonville Invitational.
After dropping its first match of the day to Valders 17-25, 27-25, 14-16, Ripon rallied off five-straight wins. It bounced back to defeat St. Mary Catholic 25-10, 25-23, Shawano 25-20, 25-15, Clintonville 25-19, 25-20, Southern Door 26-24, 25-23 and Abbotsford 25-23, 25-19 in the round-robin competition..
By winning the Clintonville Invitational, the Tigers now have won their last three multi-team meets as they also finished first at the Tiger Invitational a week earlier and won a home quadrangular last week Tuesday.
"To take three tournaments in a row, that's impressive," Ripon head coach Tracy Landerman said, noting Ripon likely hasn't done that except for the two teams that went to state in the late 1990s. "And especially this past weekend … we were pressed to play some really good volleyball."
The competition did not start off well for the Tigers as they dropped the first set to Valders 17-25, won the second set 27-25 and then fell in the third and decisive set 14-16 to snap a nine-match winning streak.
Ripon High School volleyball at Clintonville Invitational — Sept. 21, 2021 (Kay Bumby photos)
Landerman noted it's always hard to drop a first match of an invitational as it could set the tone for the rest of the day. But the Tigers were not about to let that happen and they didn't drop a set the rest of the way.
"They turned it on and did what they needed to do and played the way that they're capable of," she said.
According to the Ripon coach, the Tigers had some "incredible volleys" with some teams where they made some "amazing saves" and did "a great job" on the defensive end of the floor.
"We had little glitches here and there where we let things go that we shouldn't have, but for the most part, when you look at the majority of the games we played, our defense was very good," Landerman said.
The defense wasn't the only area that impressed her as she also was pleased with Ripon's offense, noting that her players looked to exploit weaknesses of the other team and played to put the ball down for scores.
One of the matches in which that offense was on display for the Tigers came against Southern Door. After needing three sets to defeat Southern Door in the championship match at the Tiger Invitational a week earlier, Ripon took care of business in just two sets as it won the match 26-24, 25-23.
"They played much better throughout the day on Saturday, but when we played them, we gave them absolutely no opportunity to do much with the ball," Landerman said. "They still scored points; it was probably more so on some unforced errors that we had, but we kept them out of sync. They were scrambling for everything, just trying to survive and we kept coming at them. That's what we did with a lot of teams. We really did a good job of dominating offensively and trying to push our opponents off balance."
The Tigers also did a good job of keeping Abbotsford off balance in the final match of the day, which turned out to be the one that decided the winner of the invitational as both teams entered with one loss.
In addition, Landerman noted that Ripon's blocking was solid in that match against Abbotsford and overall for the day as it finished with 23 block kills in the invitational, not to mention plenty of touches on the ball.
Team leaders
Service aces: Sheridan Zimmerman 11, Ari Brooks 9, Maleigha Kovalaske 6, Avary Makarewicz 4; kill points: Kovalaske 48, Makarewicz 34, Karsyn Bauman 21, Erika Mills 33, Eva Baker 14; digs: Brooks 55, Baker 51, Mills 48, Kovalaske 29; assists: Zimmerman 116.