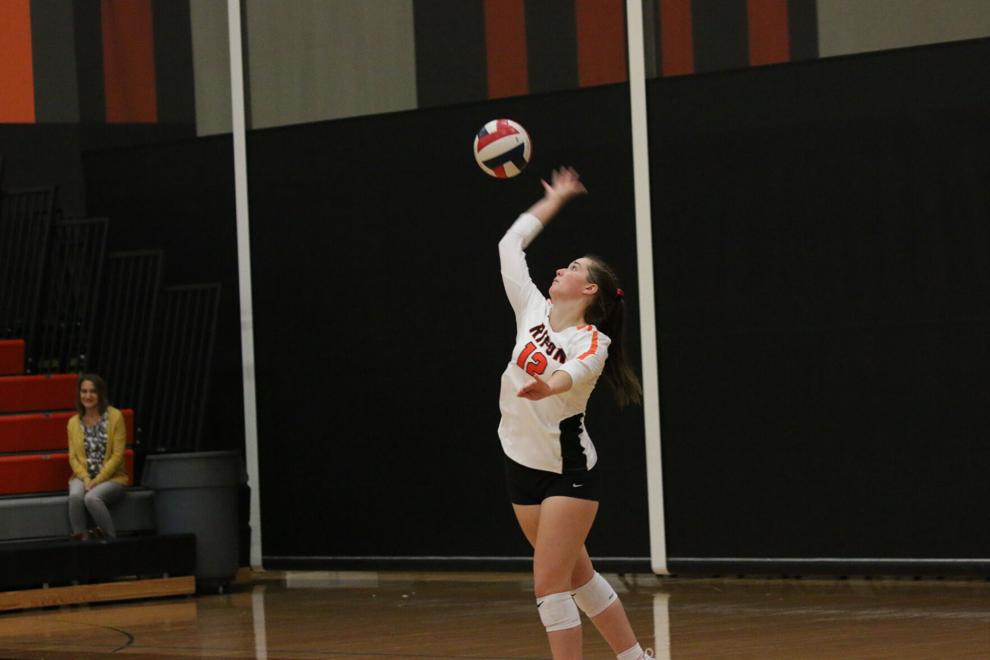 The Ripon High School Tiger volleyball team entered last week Saturday's East Central Conference Tournament in fourth place. And that's exactly where it left the competition.
Ripon won its first match against Berlin in a battle of the Nos. 4 and 5 seeds, before dropping its final three matches to Kewaskum, Kettle Moraine Lutheran (KML) and Winneconne to finish fourth.
The results mirror what happened in the regular season, when Ripon beat Berlin and lost to the other three teams. In fact, every team came out of the tournament, which took place at KML, in the same place where it entered the competition.
"That shows you how close competition is as far as how we match up and how we stayed in those spots," Ripon head coach Tracy Landerman said about conference positions holding true.
She was proud of how the Tigers came out against Berlin, a team they beat on the road in five sets earlier this year, to secure themselves a spot in the gold bracket for the first time in the meet. They won the first set 25-20, before dropping the second set 22-25 and winning the third set 15-9.
Ripon High School volleyball vs. Waupun — Oct. 14, 2021
Ripon then came out and put up a good fight in the first set against Kewaskum, before losing 22-25. Landerman believes that may have taken the wind out of the Tigers' sails as they lost the second set in more convincing fashion 13-25. Ripon lost to the Indians in four sets a couple weeks ago.
The Tigers followed that up by taking on a KML team that entered the tournament undefeated in conference play and finished that way, losing to the Chargers 9-25, 16-25.
Landerman noted that the Chargers are a "very good team," but that Ripon likes the challenge. She also was pleased with how the Tigers rebounded after a rough first set to make it closer in the second set.
"They have good firepower coming from just about every angle," Landerman said. "They are a well-oiled machine. I don't mind being challenged. I want my girls to go into every match knowing that at any given time, you can beat a team. And so look at it from that vantage point, and the challenge that it brings."
The Ripon head coach added the loss to Winneconne to close the day was probably the one that the Tigers were maybe a little disappointed in as they were anxious to play the Wolves again after losing to them in their first conference match of the season. Ripon dropped the most recent match 16-25, 25-27.
"I think they believed that we could beat them," Landerman said. "They were anxious to do that, but by the end of the day, it was just a little different look."
One area where she noted the Tigers have to continue to do better in following the conference tournament is serving. It was a point of emphasis at Monday's practice, with her telling her team that "Our serves are tough and we score a lot on our serves, but we miss too many serves, plain and simple."
Landerman added that the missed serves always seem to be at very inopportune times, such as when a set is really tight or after Ripon just worked very hard to win back the serve.
"When we're having a good serving night, it makes a huge difference on how we play because we're not giving up momentum and we're not giving up points," Landerman said. "And granted, I do expect my kids to do different things with the ball and we call zones and we're looking to try to score off of a serve, but we've just got to protect the ball a little bit more, and keep that a little cleaner serving game."
Team Leaders
Service aces: Maleigha Kovalaske 4, Sheridan Zimmerman 3, Erika Mills 2; attacks: Kovalske 17, Mills 17, Abby Radloff 9, Avary Makarewicz 8, Karsyn Bauman 6; blocks: Bauman 5, Mills 2, Zimmerman 2, Makarewicz 1; digs: Ari Brooks 31, Radloff 24, Kovalaske 15, Mills 14; assists: Zimmerman 64.
Ripon downs Waupun in three sets
The Tigers weren't about ready to spoil Senior Night, which doubled as a Pink Out, last week Thursday.
They came out strong from the start en route to defeating the Waupun Warriors 25-16, 25-22, 25-13.
"There's a lot of emotions that go along with Senior Night, but the team handled that well and took care of business on the court," Landerman said. "... It was just a good evening all the way around with all the things going on. It was a great way to acknowledge the seniors, give them an opportunity to shine on the court."
She added that home-court advantage has been really good for Ripon as it brings a lot of energy and excitement to the game. Landerman also said that Waupun has struggled a little bit, but she knew that the Warriors had some decent players and at any time could put everything together and pose problems.
The Tigers neutralized some of those threats early in the first set, when it took control of the match from the start. As a result, they kept Waupun off balance, which allowed them to have their way on the offensive end.
Ripon did struggle a bit to begin the second set, due in part to some missed serves, but rallied for a 25-22 win. It then dominated the third set 25-22 to end the match and give the seniors a win on Senior Night.
"We picked up the pieces and put things together again and did what we needed to," Landerman said of the second set. "From my vantage point, we were without a doubt the better team, but you still have to take care of business and we did. We just started out slow and we put it back together and took care of things."
Team Leaders
Aces: Makarewicz 4, Mills 4, Eva Baker 1, Zimmerman 1, Kovalaske 1; attacks: Kovalaske 11, Mills 10, Bauman 5, Makarewicz 4; blocks: Bauman 2, Makarewicz 1, Mills 1, Baker 1; assists: Zimmerman 27; digs: Brooks 9, Zimmerman 6, Mills 5, Radloff 4.
Up next
Ripon will look to take advantage of more home cooking Thursday, when it opens up regional play.
The No. 1 seed in its 7-team regional bracket, it will host the No. 4 seed Wisconsin Dells at 7 p.m. in a regional semifinal matchup. Wisconsin Dells defeated No. 5 seed North Fond du Lac 25-23, 25-22, 25-9 Tuesday in the regional quarterfinals.
"We're very fortunate to have another game on our home court because we know that our fans bring a lot of energy to our games," Landerman said, adding that having a bye also provides a chance for the Tigers to recoup after coming off a long weekend at the East Central Conference Tournament.
If Ripon can win Thursday, it will host a regional championship match Saturday at 7 p.m.
The teams on the bottom half of the Tigers' bracket which will be vying to have a chance for a regional title are No. 2 seed Berlin and No. 3 seed Wautoma.