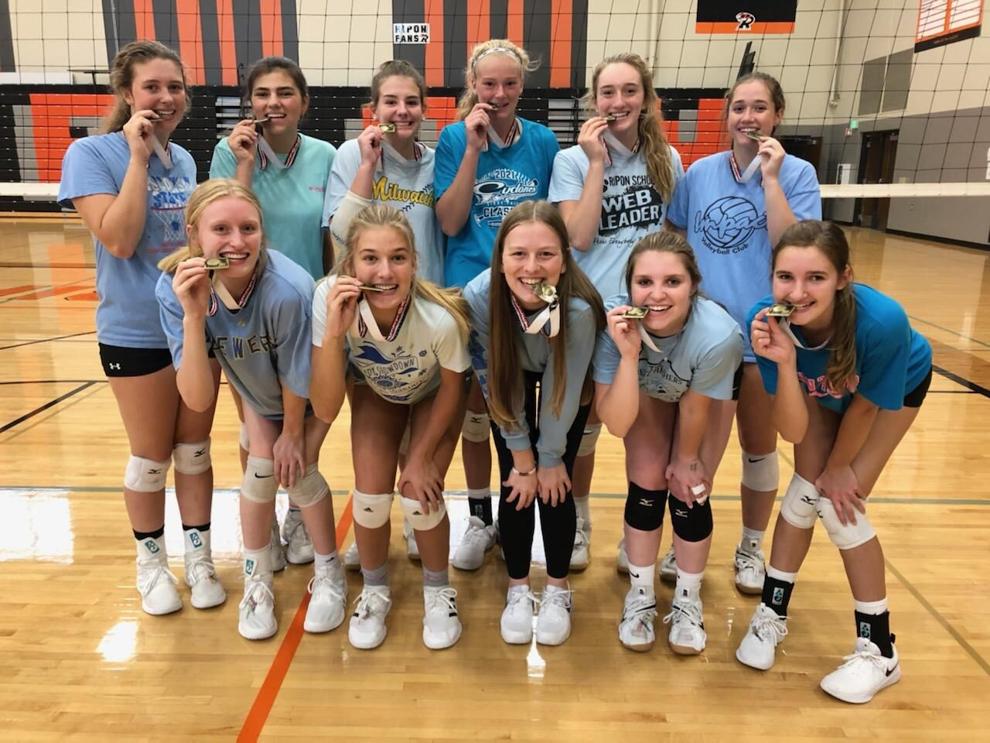 The Ripon High School volleyball team took advantage of home cooking to win the Tiger Invitational last week Saturday.
Ripon finished the day a perfect 5-0 with wins coming against Omro (25-16, 25-6), Green Bay West (25-13, 25-5), Crandon (25-20, 25-16), Wisconsin Dells (25-22, 25-13) and Southern Door (20-25, 25-23, 15-5).
"It's been a while since we've come away with a win at an invitational and to do it on our home court was outstanding," Ripon head coach Tracy Landerman said. "The kids were in positions where they had to come from behind, as well as taking command of games that we played, and we did a great job with that."
She was impressed with how the Tigers came out ready to play early in the morning against Omro, winning convincingly in two sets, and noted that they just kept it going all the way through the competition.
Ripon didn't lose a set until its championship match against Southern Door, when it dropped the first one 20-25.
Ripon High School volleyball at Tiger Invitational — Sept. 11, 2021 (Miya Grunert photos)
"Southern Door jumped out right away and had control of things offensively," Landerman said.
She added the Tigers were able to turn the tables a little bit in the second set and did a better job of forcing Southern Door to scramble to try to make plays, while making plays themselves to win the set 25-23.
Ripon took that momentum and carried it into the third and decisive set as it cruised to a dominating 15-5 win.
"It was like we're not turning back; we're going to control this game from start to finish, and they did," Landerman said of the third set. "They took Southern Door completely out of their game plan. They really were given no opportunity to run any kind of offense and that was an impressive way to finish."
One reason the Tigers were able to control that third set was their ability to pass the ball. That was an area Landerman felt her team did well throughout the tournament, with the exception of a couple of brief lulls.
"We have people that can hit the ball well and make good decisions at the net, but we need to get it to our setter and the passing is key," Landerman said. "We did a good job of that and that allowed us to capitalize offensively."
The Ripon coach also added that her team did a good job of covering the court defensively and excelled in its serve-receive passing game.
Team leaders
Service aces: Sheridan Zimmerman 13, Abby Radloff 9, Erika Mills 7, Ari Brooks 6; kill points: Maleigha Kovalaske 31, Mills 24, Radloff 13, Avary Makarewicz 10; block points: Makarewicz 9, Zimmerman 4, Mills 4, Baker 3; assists: Zimmerman 78.
Ripon downs Plymouth in ECC match
The Tigers also found success on their home court last week Thursday as they swept the Plymouth Panthers in three sets 25-16, 25-20, 26-24 to even their conference record at 1-1.
"That was an impressive match," Landerman said. "The kids weren't going to let up for anything."
She added it was Ripon's first home match in front of a full student section since 2019 and that the student section was "awesome." Fans were limited at home matches last year due to the coronavirus pandemic.