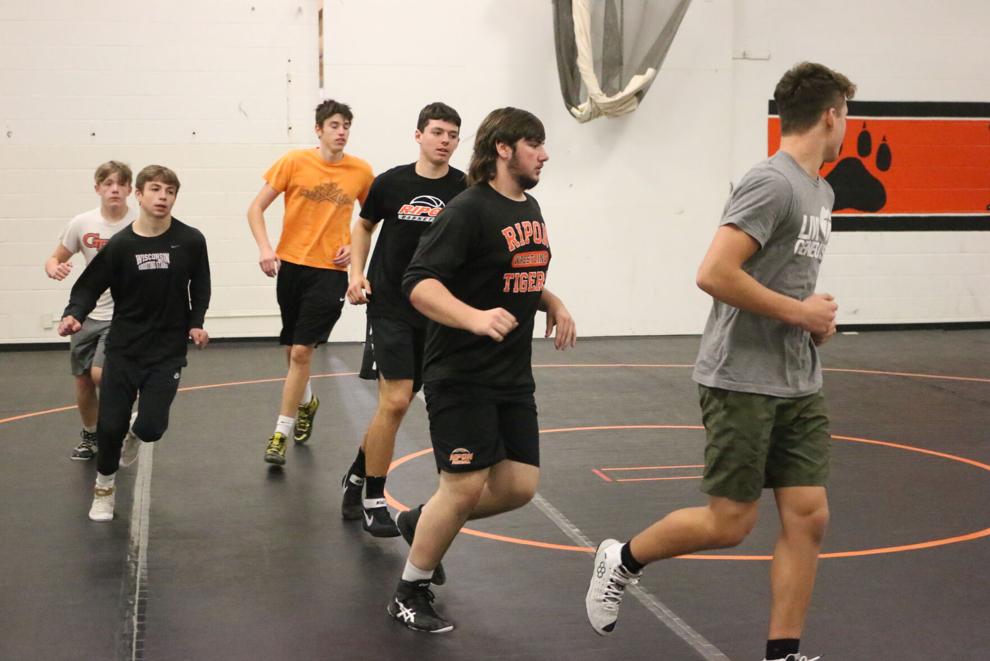 The Ripon High School wrestling team may not win a lot of duals this season.
But it won't be due to a lack of effort.
The Tigers, who have only nine of the 14 weight classes filled entering Saturday's season-opening meet at Lomira, have been working hard in the first couple weeks of practice to prepare.
"They're definitely putting in the effort up in the wrestling room and getting in shape and really refining their wrestling skills," said first-year head coach T.J. Mlodzik, who takes over for Lee Cotton.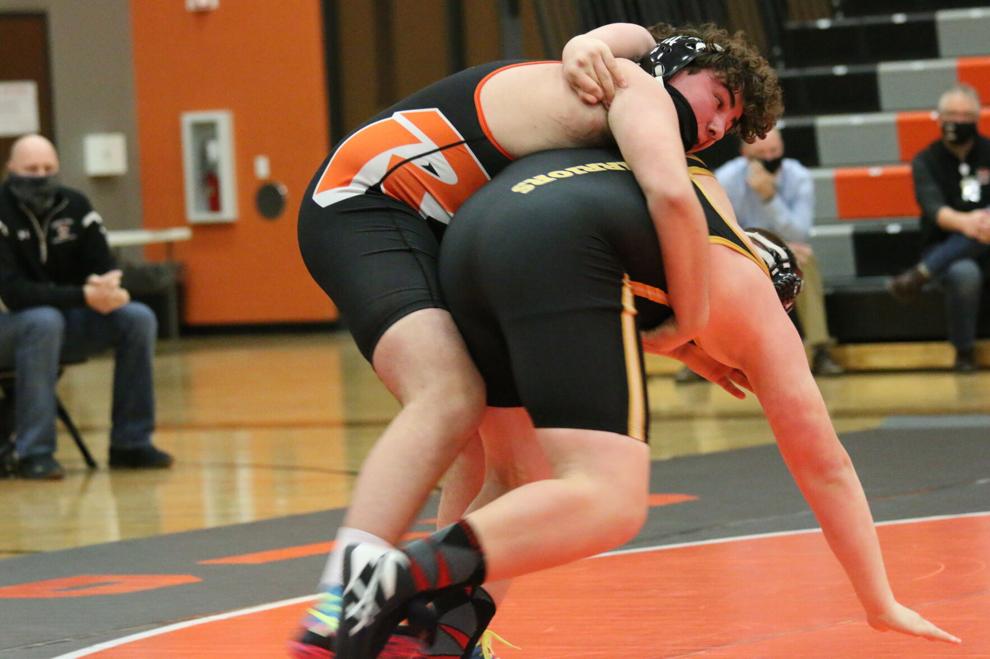 That work he believes will have Ripon ready condition-wise and skill-wise for the opening competition.
The Tigers will need to apply what they have learned as they will be a relatively young and inexperienced team this season. They have just one senior, five sophomores and three freshmen.
The one senior — Corbin Hein — is in his first year wrestling at the high school level. Mlodzik noted that he believes Hein wrestled through the youth program before taking the last few years off.
One of the sophomores — Tyler Bradley — also will be wrestling for the first time in high school after going out for basketball last year. Like Hein, he is no stranger to the sport as he wrestled as a youth. His dad, Ripon High School teacher Mark Bradley, also was a longtime Tiger wrestling coach.
Tyler Bradley will be joined by four sophomores who gained experience last year at the high school level in Joey Williams, Brandyn Beahm, Jack Schoelzel and Caden Kraege. Mlodzik noted that Krage, who qualified for sectionals last year and the other returners have some good leadership qualities.
"They're willing to help out the younger guys and help with technique and get them familiar with how high school wrestling is going to go," he said. "Just bringing that positive attitude to practice every day is what we're looking for."
Among the "younger guys" that the core group of returners have been helping are freshmen Brendan Wachter, Jordan Perkins and Riley Nickels. All three have youth wrestling experience, with Wachter and Perkins going through the Ripon program and Nickels wrestling around the Kaukauna area.
While Ripon may be young this season in terms of high school experience, Mlodzik noted that the youth this year will pay dividends in future seasons, along with being able to get more athletes out for wrestling.
As for this season, the Ripon head coach wants his wrestlers to "go out there and give it their all."
"No matter the outcome, I want us to be a family and to support each other win or lose," he said. "Having that positive attitude will produce wins. If we keep advancing throughout the year, that's what we're looking for."
The Tigers being a family has been a major focus for Mlodzik this year as he's been pushing for the wrestlers to embrace that not only in the wrestling room, but in the classroom and when not on school grounds.
"We're taking it as far as when guys are outside of school, getting together with each other, helping each other out with school," the Ripon head coach said. "I'm pushing the education portion highly because playing sports in high school is an extracurricular activity. You're there to get an education … So just getting these guys to understand that we can use education along with wrestling to grow them into young adults [is important]."
In terms of Saturday's season-opening competition in Lomira, Mlodzik noted he's looking forward to seeing the wrestlers put what they've been working on for the first few weeks of the season into a real-life match.
"We try to drill as much as we can up in the wrestling room, but once you step out on that mat that's a little different atmosphere," he said, adding just putting the wrestlers out there to compete is what he's excited for.
Mlodzik knows there will be some bumps in the road and plans to address those, as well as positives, after the meet prior to getting ready for Ripon's conference opening home dual against Winneconne Thursday, Dec. 9.
Saturday's meet will begin at 9 a.m., while the dual Thursday, Dec. 9 is slated to get underway at 6:30 p.m.