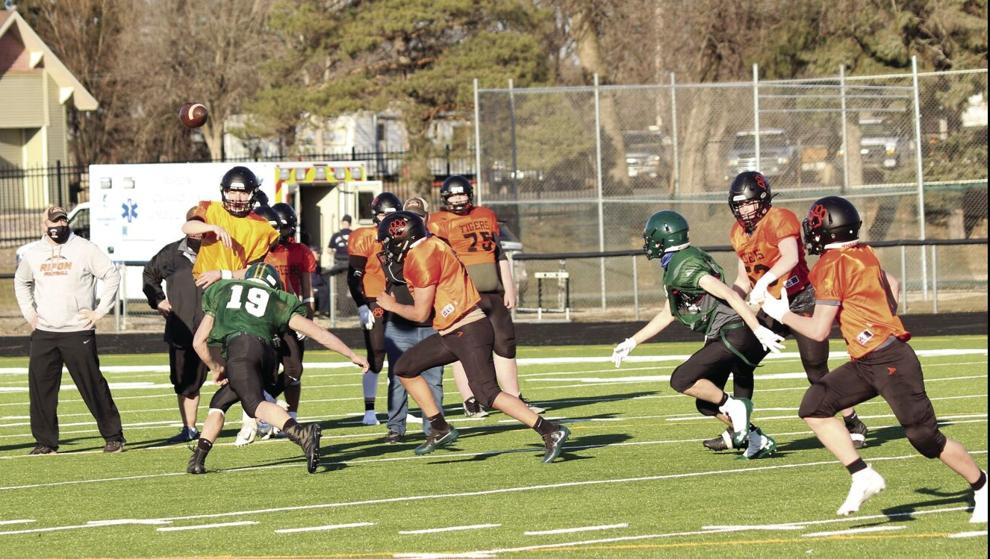 After seeing its traditional fall season pushed to an alternative spring season due to the COVID-19 pandemic, the coaching staff of the Ripon High School football team wasn't sure what to expect when it began practice March 8.
A couple weeks in, however, that uncertainty has largely been answered through the work ethic of the Tigers.
"The kids have been outstanding and they want to play, they want to get going," Ripon head coach Mark Bradley said. They've just been a really great group of kids to work with. Because of that, we're able to have good practices and work with the younger kids and the new guys. Everybody is stepping up and helping each other out and it's really been a fun two weeks so far."
The Tigers, who had a scrimmage last week Friday against Laconia and will open its season Friday at home against North Fond du Lac, will look plenty different from a year ago. They return around six of 11 starters on the offensive side of the ball and only three on the defensive side from their playoff-qualifying team last season.
Ripon High School football scrimmage vs. Laconia
While some may think that means they will be inexperienced this year, Bradley noted that's not entirely the case.
"On the field, we have a bunch of kids that got playing time last year. They're returning and they're kind of the leaders on the team and running the offense and defense; they know what to expect, they know what they're doing," he said. "Having that crew of upperclassmen that have played last year has really helped us on the field."
Part of that has to do with Ripon getting a few starters back who suffered season-ending injuries early last season. Among them are senior offensive linemen Aaron Socha and Garrett Briskie and senior running back Niko Heinz.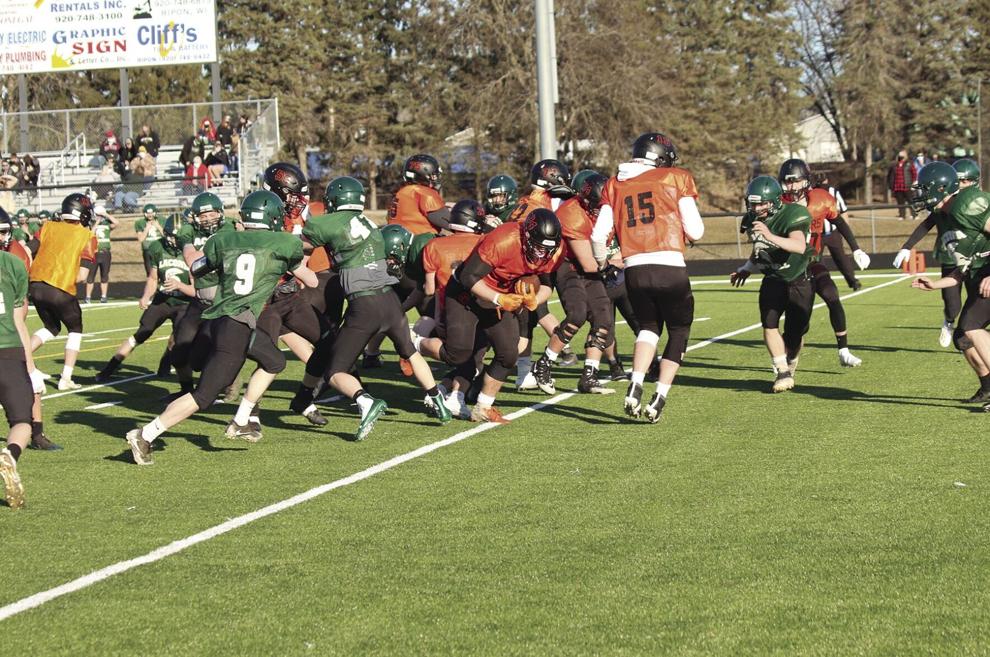 "Having them back is just like having a starter back from last year," Bradley said. "Because those guys were injured, we had to have younger guys fill in. And so a lot of those guys got some valuable experience as well … We have six or so returning starters on offense, but a lot of them have had playing time ... throughout last year. We're definitely missing the seniors from last year that were a big part of the offense, but this year's crew of guys have worked just as hard and continued the tradition that they did last year, so we're looking forward to this year."
While the Tigers have some players returning with experience, they also have some new faces. Among them is quarterback Garrett Jennings, who went out for football this season for the first time since playing youth football.
The senior signal caller will replace Max Huseboe, who graduated last year after helping lead Ripon to the playoffs.
"It's the same offense and we'll run the same things that we did last year with Max," Bradley said. "Garrett's learning every day and getting better … He's just trying to get things figured out ... But he's done a great job of learning and accepting the coaching and working hard to learn the offense and then to be able to run it. It was a good thing and he did very well in the scrimmage [last week] Friday, so we're looking forward to seeing him the rest of the year."
Jennings isn't the only player who didn't play last year or is new to football that is making an impact. Bradley noted that Dwight Koehler and Garrett Wesner are both looking good, while Donovan Huber is playing football for the first time this year and is making "some good improvements." Evan Conlon also is back after not playing last year and is helping out Ripon's depth, according to the Ripon head coach.
"We have a bunch of guys that haven't played before that will be playing some significant time for us this year, which is great to see because the more kids we can play, the more kids that are getting in and having fun and enjoying the game," Bradley said.
Some of those players will be looked upon to fill holes on the defensive side of the ball, where the Tigers return just three starters in seniors Sam Yeomans, Grant Schneider and Jose Rubio and no one in the secondary.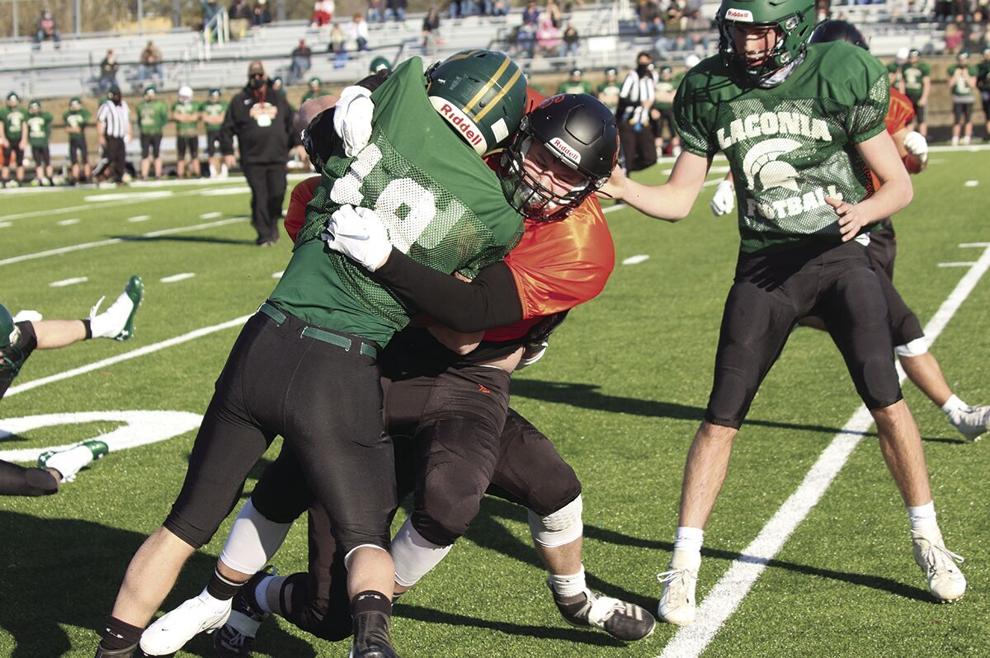 "That's kind of the side that we have a lot of new guys on," Bradley said. "We're looking forward to the challenge of getting those guys ready and they're excited and ready to go."
Another challenge Ripon will be faced with this season is squaring up against unfamiliar teams. It will be a part of the Flyway Conference this year as a result of moving to the alternative season The majority of its normal East Central Conference teams played in the fall, with the exception of Waupun and Campbellsport, which will join it in the Flyway.
Among the teams the Tigers will play in their seven-week season are North Fond du Lac, Lomira, Mayville, Waupun, Campbellsport, St. Mary's Springs and Winnebago Lutheran Academy. While Bradley noted it will be a challenge figuring out how to defend the new teams and how to execute their offense against them, he's ready for the test.
"The nice thing is we'll see different offenses and different types of things," the Ripon head coach said. "For example, at the scrimmage on Friday, we saw the wishbone offense and we hadn't seen that before in our other conference. So it's a unique situation and kind of fun seeing what other teams are doing, how we can adjust and how the kids can adjust to different things that the other teams are doing."
Ripon will get its first look at one of those teams Friday, when it opens its season against North Fond du Lac. The game will kick off at 4:30 p.m. and take place at Ingalls Field. Bradley is looking forward to seeing his team play.
"The kids have been waiting for a long time for football to come back and to be able to play it," he said. Just going out and playing our style and being aggressive on defense and running the ball, moving the ball down the field on offense [are my hopes]. We're just looking forward to getting out there, playing and doing our best."
The Tigers will have a short turnaround after that game as they will travel to Lomira to face the Lions Wednesday, March 31 for a 7:30 p.m. kickoff. It will be their only time this season playing on less than a week's rest.