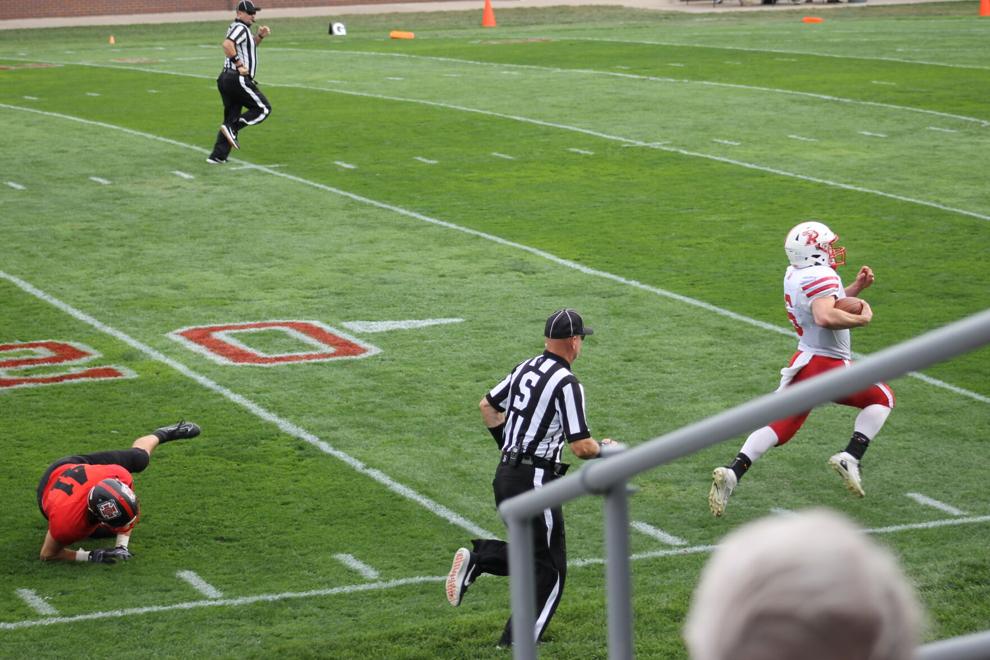 Cormac Madigan may no longer be the Ripon College football team's starting quarterback.
But the Rosendale native isn't letting that stop him from making an impact for the Red Hawks.
The senior, who got injured in the season opener against Augsburg and watched Jarrett Zibert take the position he's held since his freshman year and run with it, recorded three long touchdowns in Ripon's 52-8 road shellacking of the Grinnell Pioneers last week Saturday.
Behind Madigan, the Red Hawks improved to 5-0 (4-0 conference) for the first time since 2010.
"Cormac is an excellent athlete, a very good runner," Ripon head coach Ron Ernst said, noting that the team wants to give him the ball as much as possible as he can pass, run and catch very well. "He's done too many good things to keep him off the field and so certainly it's just another weapon, I think, that we can add offensively that is going to help us tremendously down the road."
Madigan got the scoring started for the Red Hawks about halfway through the first quarter, when he caught a pass from Zibert and took it 63 yards for a touchdown. He added a 79-yard touchdown run in the final minute of the first quarter to help Ripon jump out to a 14-0 lead over Grinnell (2-2 conference, 2-3 overall).
With the Red Hawks leading 38-8 in the fourth quarter, Madigan returned to his quarterback position and took a snap and ran the ball 78 yards for his third long touchdown of the game.
He wasn't the only Ripon player to score on a big play as Connor Ramage broke off a 66-yard run on the Red Hawks' first possession of the second half and Jeremy Timmons capped off the scoring with a 30-yard scamper with a little more than a minute left in the game.
Ripon also scored on a 9-yard pass from Zibert to Masyn Ulrich late in the first half and added a 13-yard touchdown run from Jaylend Brown to cap off a 7-play, 76-yard scoring drive. Ulrich's touchdown was set up following a botched punt by Grinnell deep in its own territory.
"Everybody got into the act," Ernst said. "When you have big runs like that, it all starts up front. The offensive line, I thought, did a very good job. The thing that I think we're doing better this year than we did in the spring is that our running backs are being patient in terms of letting things develop in front of them and then hitting the hole when it presents itself … And we're going to continue to try and run the ball, and pass it when the opportunity presents itself and go from there."
Overall, Ripon's offense racked up 569 yards on just 46 plays to average 12.4 yards per play.
Madigan accounted for 226 of those yards as he rushed for 161 yards on four carries (40.3 ypc) and caught two passes for 65 yards. Ramage added 76 yards rushing on four carries (19 ypc), while Brown rushed for 75 yards on seven carries (10.7) and Timmons rushed for 38 yards on three carries (12.7 ypc).
Tiegan Bothun led Ripon in receiving with three catches for 70 yards, 35 of which came on a pass from fellow wide receiver Kaipo Magsayo. Zibert completed 7 of 15 passes for 117 yards and two touchdowns.
While Ripon's offense thrived on the big plays, the defense prevented Grinnell from having too many as it limited the Pioneers to just 239 yards on 76 plays for an average of 3.2 yards per play.
Seventy five of those yards given up came on one drive in the third quarter, which included a 49-yard touchdown pass from Grayson Woodhouse to Nick Rhinehart for Grinnell's only score.
"I thought our defense played well," Ernst said. "They have probably the most athletic quarterback we've faced all year and he was running around an awful lot and it was hard to get him down. So he created a lot of their yards just by his ability to move and run. Any other quarterback, we probably would have held them to under 100 yards, but he certainly did a good job for them, and allowed them to do some good things ... We adjusted to what he was trying to do and really felt that our guys responded well."
Leading the defense for the Red Hawks was Damean Netzler, who recorded 13 tackles and a half of a sack. Zach Bunders and Seth Lane also recorded a half a sack, while Brad Guell collected one sack and Paxton Walker notched one and a half sacks. The four sacks were part of 11 tackles for losses for Ripon.
Up next
The Red Hawks will try to improve to 6-0 for the first time since 1995 Saturday, when they welcome the Lake Forest Foresters to Ingalls Field.
The Foresters are tied atop the Midwest Conference with Ripon and Monmouth at 4-0 and join Ripon as the only other team in the conference without a loss (Monmouth lost a non-conference game).
Ernst noted that the two teams have played pretty much the same conference schedule, with Lake Forest facing the opponent Ripon just finished defeating a week later the past three games.
"We've pretty much set up their game plan for just about every opponent that we've played before," Ernst said. "... I know their head coach ... and we've kind of joked about that a little bit."
He added that Lake Forest is a good team that is big and physical, much like Ripon, and that it has some good athletes, which includes who he believes is the nation's top return man in A.J. Jackson. He also said the Foresters have a good running back who's running hard and good offensive and defensive lines.
"It's going to be a really good game; I don't think there's going to be any blowouts in this one," Ernst said. "This could be a very tight game. I think it's going to come down to the team that makes the fewest mistakes. I hope that we can have a great week of practice. We're putting together, I think, the best game plan we can — both offensively and defensively. Now it's just going to come down to the kids playing."
Kick off is set for 1 p.m.