Before moving to the Eastern Wisconsin Conference in 2015, the Xavier Hawks were a thorn in the side of the Ripon High School Tiger girls' tennis team.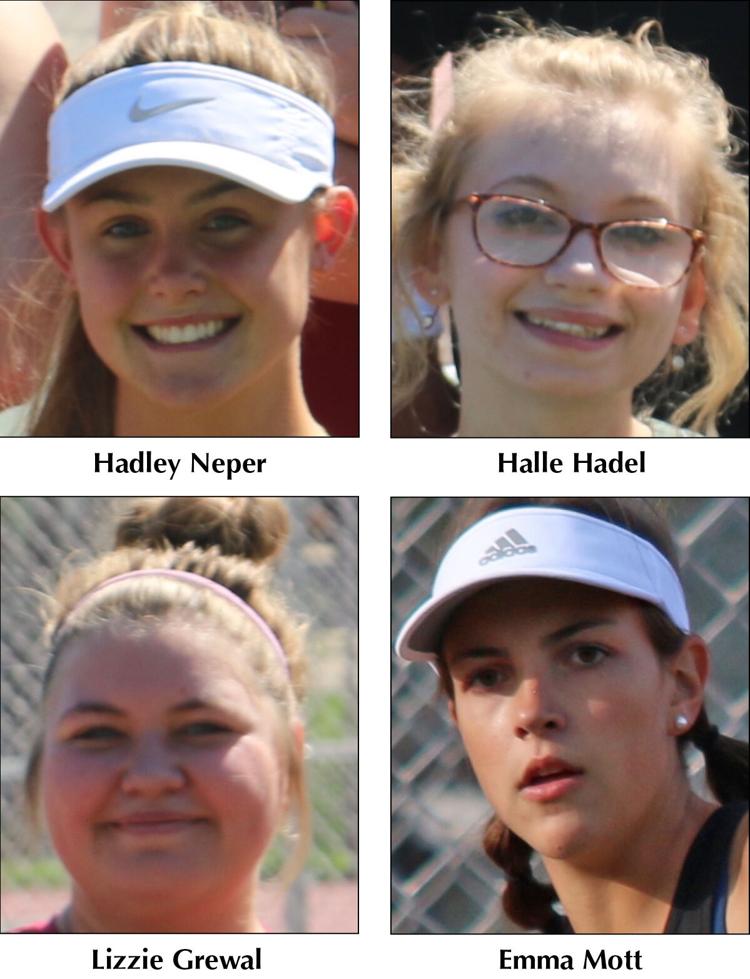 The state powerhouse once again proved to be too much for the Tigers last week Wednesday as it was responsible for ending the season for four players at sectionals.
No. 1 singles player Hadley Neper, No. 3 singles player Halle Hadel and the No. 1 doubles team of Lizzie Grewal and Emma Mott all lost to players from Xavier at the competition.
"Xavier is a team like Kohler; they play year-round and they get lessons just about year-round and so that's what I've been encouraging my players to do," Ripon head coach Breck Speers said. "We have several players now who are beginning to sign up for lessons at Oshkosh YMCA Center and from local people."
Ripon was 1-0 against teams not named "Xavier" at sectionals as Hadel won her first-round match-up against St. Mary Catholic's Eva Schneider 3-6, 6-3, 7-6 (7-2).
"That was an incredible match," Speers said. "She hung in there. The other girl was ahead at several points. I had given up, but somehow as Halle's done before ... Halle came back against all odds with great courage, scraped from the bottom of the barrel and came out victorious. [I'm] very proud of Halle in that match."
The hard-fought win improved the senior's record to 16-1 overall. She ultimately, however, fell to Xavier's Maggie McGinnis 6-0, 6-1 in the championship match at No. 3 singles.
Despite the loss to McGinnis, Speers couldn't be more proud of Hadel, who recorded the first undefeated conference season for Ripon since Maggie Raddatz did so in 2016. Raddatz went 7-0 in the Eastern Wisconsin Conference at No. 1 singles and just missed making it to state.
"It's quite a honor to have Halle on the team and when it really helped was when we played teams like Kohler, we played teams like Waupun that were 1-2 in conference, very formidable this year, very dominant. Nevertheless, Halle, wearing the black and orange, was able to pull a victory at No. 3 singles for Ripon. It helped the whole team and part of the reason she was able to win was because Hadley was playing No. 1 singles, taking the most heat; Lexi [Tebon] at No. 2 singles taking heat."
Neper also finished a decorated high school career, which saw her qualify for sectional three times — twice as a doubles player and this year at No. 1 singles — last week Wednesday. The senior lost to Xavier's Erika Curtain 6-0, 6-0 this year. Curtain went on to win her next two matches to win the sectional and remain undefeated (11-0) on the season at No. 1 singles.
"Coach [Brent] Sanderfoot and I were very surprised that Hadley's first year she was able to make varsity," Speers said. "Along with Elle [Lewis], they had a winning season as I recall at No. 3 doubles. In the second year, they also had a winning season, I believe at No. 2 [doubles] and then had a winning season a winning season at No. 1 doubles with conference honors third season. Hadley made a big jump for the sake of the team to singles this year, having lost her partner, Elle Lewis. And she did a great job in singles for us this year, winning her first round in the subsectionals and she fought her hardest in sectional although she was defeated."
For Grewal and Mott, last week Wednesday marked their first time at sectionals. The No. 1 doubles team lost to Xavier's Kylie McCormick and Bella Taleon 6-1, 6-1. McCormick and Taleon went on to win their next match, but fell in the championship to a team from Kohler.
The loss marked the end of Grewal's career, while Mott will look to learn from this experience next year, when she will be a senior. The two teamed up after the first few competitions of the season after Mott played the first three matches at No. 4 singles and went 2-1.
"The team of Lizzie and Emma was a great doubles team," Speers said. "I think both of them might have preferred to play singles, but they graciously agreed to play doubles. Their sectional's opponent, Xavier, said that they were one of the best teams that they had played. I think they peaked toward the end of the year. It was a fortuitous blessing that they were able to make it through subsectionals with a default. Several matches during the year, including the first one against Luther Prep, they won one of the sets, in fact the first set, looked like they were going to win the match, so there were one more than one match where they had three-set matches.
"A lot of teams would put their two-best players at No. 1 doubles so that they can have a chance to go to state, so we appreciate the hard work that both Lizzie and Emma have done at the No. 1 doubles position. And they both have been a great asset to a team in terms of spreading good will."