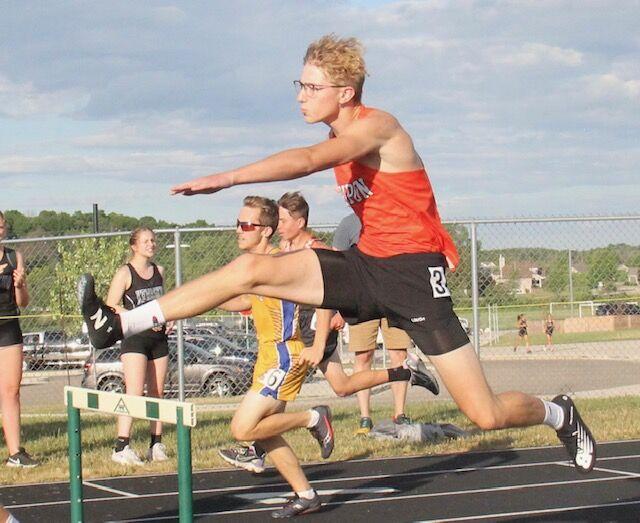 Chris Gatzke always preaches about wanting his athletes to peak somewhere between conference and sectionals.
That's exactly what happened for the Ripon High School track and field team Monday at the Kewaskum Division 2 Regional as it saw 15 personal-record performances, seven of which resulted in an athlete moving on to sectionals.
All together, the Tigers qualified 16 events among 16 athletes for Thursday's Waupun Division 2 Sectional.
"Hopefully, we're still going to peak on Thursday and get some more PRs, but it's always helpful to get PRs and it's exciting," Chris Gatzke said. "It's also the plan to get the PRs at the end of the year. You can start slow and finish strong, and that's exactly what we're hoping to do."
Four of the seven PRs from advancing individuals likely were the difference between moving on and going home as Lillian Schram, Elena Williams, Lucy Beuthin and Landon Shidell all finished in the fourth and final qualifying spot in their events. Schram qualified in the 200-meter dash (28.78 seconds), Williams made it in the 400 dash (1:08.01), Beuthin punched her ticket in the 800 run (2:35.86) and Shidell advanced in the long jump (18 feet, 10.25 inches).
Ripon High School track and field at Kewaskum Regional — June 14, 2021
Ally Bradley and Jasmine Moldenhauer also recorded PR times of 54.18 and 5:58.32 in the 300 hurdles and 1,600 run, respectively, to finish second, while Donovan ran a PR time in the 300 hurdles to finish in third place.
The 1,600 was one of two individual events that Moldenhauer qualified in. The senior also advanced to sectionals in the 3,200 with a third-place time of 13:52.65. Gatzke noted that Ripon will need to look at which event she might have the best chances to qualify for state in and go from there in its approach to the sectional competition.
"We may run the 1,600 as a warm up and push the 3,200. Or we may run really hard in the 1,600 and then just see how things go in the 3,2[00] to see if she can ride the high and go from there," Gatzke said of the possible strategy.
One Tiger who didn't have PR performances Monday, but continued to be her consistent self was Celina Lopez. The junior qualified in both the long and triple jumps as she finished second and first in the events, respectively. The second-place finish in the long jump marked just the second time this year that she didn't finish first in a field event.
"She's coming in as one of the top seeds into sectionals. She has been very consistent in the 34-foot and the 16-foot-plus ranges for both the triple and long jumps and that should be one of the better chances for an individual to qualify out," Gatzke of Lopez. "So we're excited about that and she's done a consistent job."
Lopez didn't just qualify in the two individual events, but also ran the anchor leg for the sectional-qualifying 800 and 1,600 relay teams, which both finished second. She was joined on the 800 team by Schram, Beuthin and Hannah Yoemans to finish in 1:54.78, while partnering with Williams, Yeomas and Beuthin in the 1,600 to finish in 4:40.43.
Ripon also qualified two relays for sectionals on the boys' side as the 800 team of Remington Mueller, Roman Mueller, Huber and Henry Walheim placed third with a time of 3:43.39 and the 1,600 squad of Huber, Kai Agamaite, Shidell and Walheim came across the line in 3:43.29 to finish in fourth place and take the final qualifying spot.
The Tigers also were hopeful to qualify the 400 relay team of Zane Meyer, Garrett Mitchell, Noah Olson and Roman Mueller, but they were disqualified after a runner fell in the first exchange zone causing a collision.
"The inspectors saw things and disqualified us, when in reality we were interfered with and probably should have had a chance to rerun it to see if we can qualify based on time," Gatzke said. "But it's something you can't appeal."
Gatzke was disappointed because the team was made up of primarily underclassmen, similar to the two boys' relay teams that qualified as well as those who qualified in individual events. Including Noah Hanson and Walheim, who qualified for sectionals with fourth-place finishes in the shot put and pole vault, respectively, everyone but Remington Mueller — who graduated at the end of May — will be eligible to return next season.
While for many of those athletes the sectional meet will be about gaining experience, Gatzke wasn't about to rule out the chance that any of them, or the qualifiers on the girls' side could punch their ticket to the state meet.
"I think there's a couple of events that have an outside chance," Gatzke said. "I wouldn't say they're shoe-ins, but none of the entries are shoe-ins ... There's a couple of the events that, depending on how things go, could be a surprise and could make it out and we'd like to see a couple make it out. We'll have to see how things come up."
Ripon also had several athletes Monday come one spot away from qualifying for sectionals. Finishing in fifth place were Remington Mueller in the 200 dash (PR 24.69), Agamaite in the 400 dash (55.21), Noah Olson in the triple jump (34-5) and Schram in the 100 dash (14.09),