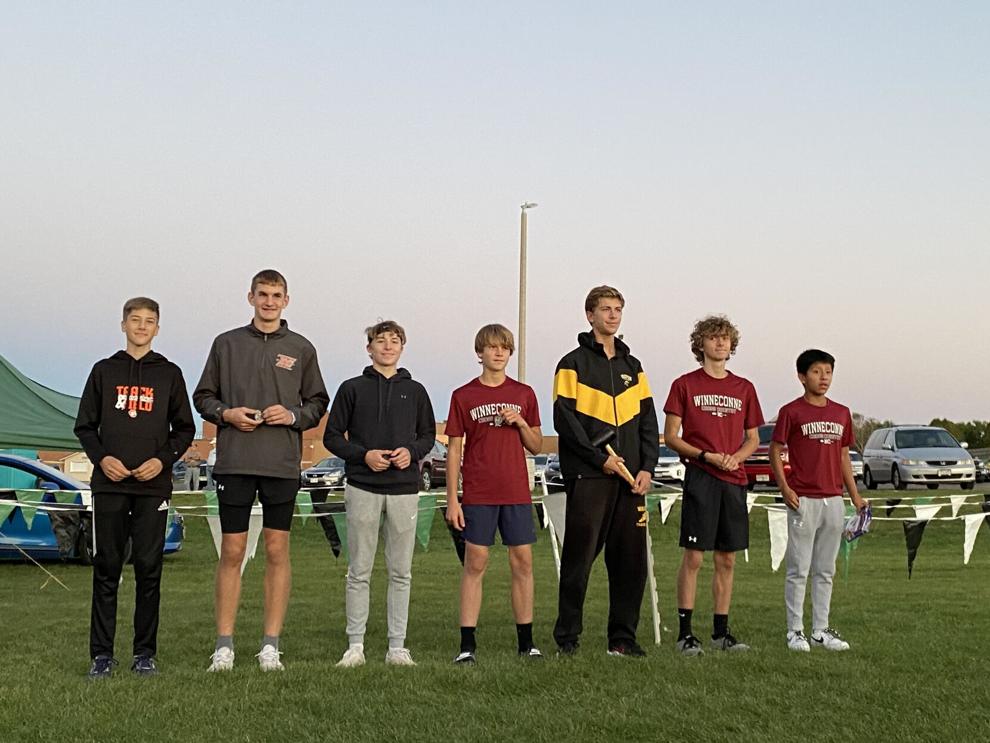 The Ripon High School cross country teams came away with two all-conference finishes at the East Central Conference meet, which was hosted by Kettle Moraine Lutheran last week Thursday.
Dayton Baird earned second-team all-conference honors with a 12th-place time of 18 minutes, 46 seconds, while Lucy Beuthin received honorable mention recognition with a 15th-place time of 22:27.
As a team, the Tiger girls finished fifth out of seven schools, while the boys placed seventh of seven.
Plymouth took home the team championship on the girls' side, while Winneconne won the boys' race.
Ripon head coach Chris Gatzke noted that the conference was stacked on the girls' side with Plymouth, Winneconne and Kewaskum and that on the boys' side Winneconne was dominant and there were a number of other strong individuals scattered in. For that reason, he was pleased with the all-conference finishes.
Baird accomplished the feat despite not having the runner to push him in practice as he did last year with J.P. Stanfield. Chris Gatzke noted that the senior was able to push himself and take some of what he learned at previous meets this season and apply it to the conference meet to be able to finish as high as he did.
Beuthin, meanwhile, continued her breakout senior season en route to the honorable mention finish. She was just three seconds out of the 14th and final second-team all-conference spot for the girls' race.
​​"Lucy just ran strong and determined all year," Chris Gatzke said. "She was an entirely different runner than what she was last year. If you look at her average time from last year to this year, she's minutes ahead of where she was. Just the dedication, the leadership and everything that she put forward is what really made the difference there."
The Ripon coach also was pleased with how the Tiger boys' and girls' teams fared at the meet, despite the finishing positions maybe not being where he had hoped going into the meet. He was hopeful that the boys would not finish in the cellar, which they did, and that the girls would place in the top half, which they fell just short of doing.
Ripon High School at ECC Meet — Oct. 14, 2021
He noted both teams are fairly young with just two seniors on each and the rest being freshmen or sophomores.
The boys' side is composed of two seniors, four freshmen and two sophomores, with the sophomores experiencing a shortened season last year as a result of COVID-19 and the lack of competitions with more than four schools.
"When you're underclassmen like that, running with varsity teams that have three, four years experience, it becomes a little bit more difficult and somewhat intimidating, and I'm glad that they didn't let that get to them," Chris Gatzke said, noting his young runners have a don't-give-up attitude, continue to push each other along.
He's also excited about what that group has to offer in the upcoming season as it gains more experience.
Miles Fisch, Ripon's other senior on the boys' side, finished 32nd with a time of 20:49 and was followed by freshman Aidan Ruedinger (38th, 21:37), sophomore Henry Beuthin (41st, 22:01), freshman Cyan Volkmann (42nd, 22:14), sophomore Jayden Trochinski (10th, 23:07) and freshman Riley Kuzelka (46th, 25:19).
The girls' team also is relatively young with two seniors, one sophomore and four freshmen. Not only that, but it has battled injuries and illness for much of the season, making its efforts at the conference meet more impressive.
"For the adversity that the girls' team went through, I thought they ran remarkably well," Chris Gatzke said. "Yes, we didn't finish in the top half like we were hoping to, but one of the athletes came back to practice after being gone since Kewaskum just to run the conference meet. So to place as well as they did with that adversity, it's huge."
He added there will always be a question of what the girls' team could have done if there hadn't been the injuries and illness as its top runners didn't run together after winning the Oshkosh Valley Christian Invite to begin the year.
Finishing after Beuthin at the conference meet for the Tiger girls were freshman Libby Gatzke (28th, 24:01), freshman Leah Page (30th, 24:33), senior Hannah Yeomans (33rd, 24:58), sophomore Grace Schoelzel (35th, 25:19), freshman Ava Osheim (39th, 26:06) and freshman Adalin Nodolf (41st, 26:27).
Up next
Ripon now will turn its attention to Saturday's sectional meet, which will be hosted by Portage High School.
The top two teams on both the boys' and the girls' sides will qualify for state, as well as the top-five individuals not on qualifying teams.
Chris Gatzke is hopeful that Baird or Lucy Beuthin might be able to have a chance at moving on, but noted it is going to be a challenge as there will be some tough teams at the competition.
Among the schools that will attend are Berlin, Campbellsport, Columbus, Grafton, Kettle Moraine Lutheran, Kewaskum, Lomira, Mayville, North Fond du Lac/Oakfield, Portage, Ripon, Waupun, Wautoma/Wild Rose, Winneconne and Xavier.
The meet is slated to begin at 10 a.m. at Wyona Park in Portage.