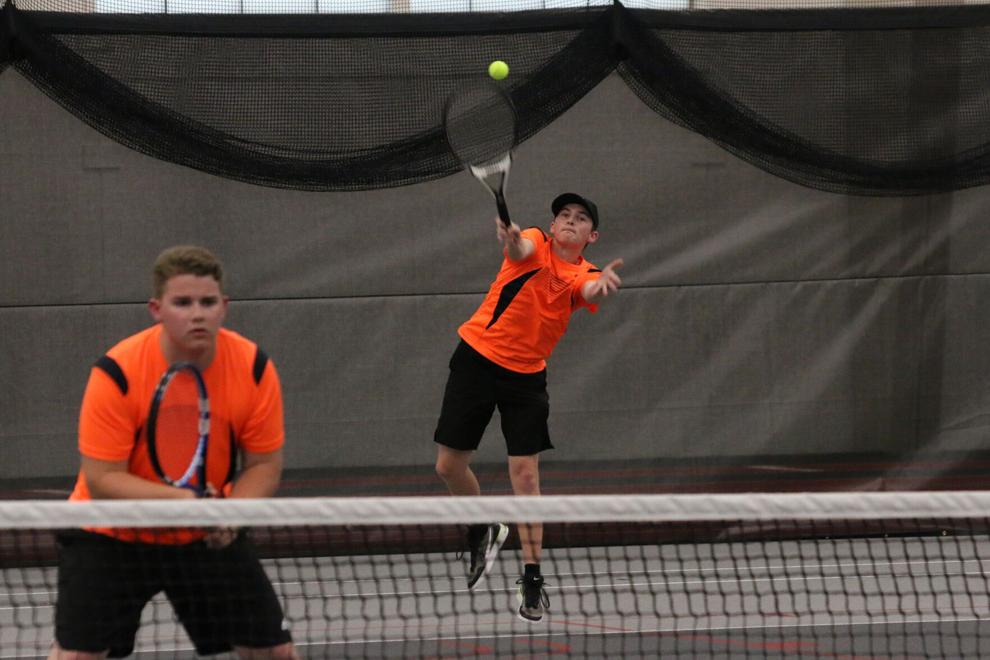 The Ripon High School Tiger boys' tennis team may have lost to the Sheboygan Falls Falcons 6-1 last week Thursday inside Ripon College's Willmore Center, but head coach Brent Sanderfoot was pleased with the effort.
"Sheboygan Falls is an extremely good team and I was proud of the way we played today," he said. "They guys fought hard. We are coming off a stretch of six matches in the last eight days."
Ripon's lone winner was the No. 1 doubles team of Dan Zimmerman and Micah Schoff. It won its match 6-3, 6-2
"They played extremely well against a very talented team," Sanderfoot said of the duo. "Dan and Micah compliment each other so well out there. They play so poised and remain focused from the first point to the last."
RIpon High School boys' tennis vs. Sheboygan Falls — May 27, 2021
Nearly joining the No. 1 doubles team in securing a victory was Ardilles Engelschenschilt. The No. 2 singles player lost a nail biter to Brady Mullikin 5-7, 7-5. 10-7 in what Sanderfoot described as "some of the best tennis all year."
"Ardilles is really coming along and hitting his stride," the Ripon head coach said. "He had a slow start due to injury so missed all the contact days. He played some excellent tennis today. He kept his opponent deep and kept him moving from side to side. Ardilles played a very smart match. Unfortunately at the end of the day, his opponent just managed to hit a few better shots to take the match in a third set tie break."
Also winning a set for Ripon in the dual against Sheboygan Falls was the No. 2 doubles team of Brevin Schmuhl and Oliver Roeper. The duo bounced back from a slow start and an 0-6 first-set loss to win the second set 6-3 and force a third set. It marked the first set that its Sheboygan Falls counterparts had lost all season. Unfortunately for the Tigers, Schmuhl and Roeper didn't have enough in them to pull off the upset as they dropped the third set 3-6.
"Brevin and Oliver worked their tails off," Sanderfoot said. "They were pretty disappointed following the first set … They used that first set as motivation. I was really proud of the effort today. A lot of teams would have thrown in the towel after losing 6-0 the first set. They didn't. They regrouped and changed strategies and gave Sheboygan Falls a real run for their money."
Other losses for Ripon were suffered by Isaac Whitrock at No. 1 singles (0-6, 0-4), Jonathan Muenchow at No. 3 singles (2-6, 2-6), Christian Camarena (0-6, 0-6) and the No. 3 doubles team of Brock Stollfuss and Justin Mildebrandt (1-6. 0-6).
Despite the loss, Sanderfoot noted that assistant coach Breck Speers and him are "very impressed with the growth this team has made" and that the players "come to work each day leave better players than when they arrived."
Up next
Ripon will look to continue to improve this week, when it travels Tuesday to Plymouth and Thursday to Kohler to close out its regular season. Both duals are slated to get underway at 4 p.m.
It then will take part in subsectionals Monday, June 7 at St. Mary Catholic. Other teams at the meet include Fox Valley Lutheran, Roncalli, St. Mary Catholic, Shawano, Two Rivers, Valley Christian/Oshkosh Lourdes and Xavier.
Players at No. 1 singles and doubles will need to win just one match to advance to sectionals, while players at other positions must win two matches to move on. Sectionals will take place Wednesday, June 9 at Kohler.