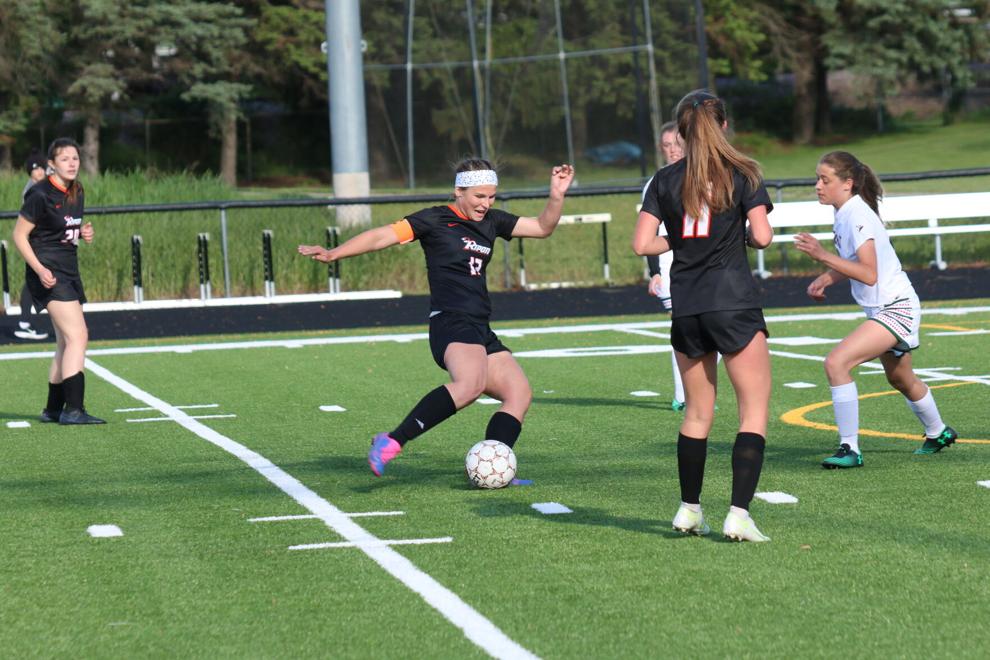 On a day in which the Ripon High School Tiger girls' soccer team celebrated senior night, it was only fitting that McKenzie Nodolf stole the show.
The captain, who is one of three seniors on this year's team, played a role in all three of the Tigers goals as they blanked the rival Berlin Indians 3-0 last week Friday afternoon at Ingalls Field.
Ripon head coach Steve Nankervis noted not only was it nice to get the victory on senior night, but that it the game was a must-win for the Tigers as well within the conference to get in the win column.
"It was a good night," he said. "All the seniors played the whole entire game; I didn't sub them one time, so they got their full 90 minutes in as their senior night gift … Underclassmen stepped up and picked them up, too; we had a really nice ceremony there for them at halftime as well."
Nodolf set up the Tigers' first goal just before the 13th minute as she took a corner kick and bent it toward the goal, where a Berlin player attempted to clear it and instead deflected the ball into the goal.
While Nodolf didn't get credit for that score as it went down as an "own goal" by the Indians due to one of their players knocking the ball in, she was responsible for both of the second-half goals. The first came in the opening minute of the second half (46th minute) when she took advantage of a miss clearance from a shot attempt and buried the ball in the back of the net. She also took a pass from Summer Anadell in the 67th minute, took a couple dribbles and shot it into the right side of the net.
Ripon High School girls' soccer vs. Berlin — May 28, 2021
Ripon had a lot of other opportunities to score in the game, especially in the first half, but could not capitalize on them. It was going against a strong wind in the first half, which Nankervis noted made it "somewhat difficult." It did dominate the first half, rarely allowing the ball out of Berlin's half of the field.
Nodolf wasn't the only senior who had a chance to score in the game as Nankervis moved Emma Pinnow up from her defensive position and Sage Julian was heavily involved in the offense as well.
Nankervis noted that Julian had a really nice shot that Berlin's goalkeeper made "a great save on."
The seniors were not the only ones that received an opportunity in the game as several younger players got lots of minutes as well just to give then some more experience.
"It was a nice team effort and everyone got to contribute a little bit, so that's good," Nankervis said.
Ripon finished the game with 10 shots on goal, compared to three for Berlin — none of which the Ripon head coach described as too tough for Tiger goalkeeper Hailee Scheier to record the save on.
"The ball didn't leave their half very much at all during the game, first or second half," Nankervis said, noting Berlin's opportunities came as a result of a couple bad passes the Tigers made in the game.
He was pleased with how Ripon strung some passes together, noting it's been an area of focus.
"We've been working on getting them to get at least three or more passes together before a turnover or a shot …," Nankervis said. "So the girls did a really good job of working on that yesterday because that's the type of team we can practice that type of stuff on. We're making steps there."
Ripon falls to Waupun 3-0
A 10-minute stretch was the difference last week Tuesday as Ripon fell to the Waupun Warriors 3-0 at home.
The Tigers allowed all three goals between the 22nd and 32nd minutes of the first half. It marks the second time this season against Waupun that they were hurt by a flurry of three goals as they gave up a trio of scores within a short time span in the second half of the first meeting en route to a 6-2 loss to their rivals.
"It was just an odd game.," Nankervis said. "The girls didn't play bad; it was just we had a couple of missteps there in that first half and three goals in 10 minutes. That's kind of been our thing; we give up a lot of goals in a short amount of time and then we're able to kind of settle down and play pretty decent soccer."
He added that it was "just a very flat game" and that Ripon wasn't "really generating a whole lot of offense."
Defensively, he believed the Tigers were pretty strong outside of a couple misreads on some high balls by Scheier. Nankervis didn't put all the blame on the goalkeeper as he noted the defense could have stepped to some of those balls before the shot was even taken.
"She was just a little bit off her line on the first goal right around that 22nd minute and on their third goal at the 32nd minute," the Ripon head coach said. "Very coachable things for Hailee that we can work on and our defense to make sure that teams don't try to take advantage of her that way."
He noted the second goal Waupun scored was a pretty good play as the Warriors worked the ball across the top of the box and found a girl waiting around the penalty kick spot for a back pass and she was able to beat Scheier to the far post for the score.
After allowing those three goals in a 10-minute stretch in the first half and being out-possessed probably by a 70 to 30% split, Ripon evened it out a bit in the second half and made it more of a 55 to 45% split.
The Tigers finished with three shots on goal, while Waupun had nine shots on target in the contest.
Nankervis noted he was disappointed that Ripon wasn't able to show a little better against Waupun since this meeting counted as a conference game, but thought the girls played pretty well except for those 10 minutes.
Up next
Ripon will close out the regular season this week, when it hosts Plymouth Tuesday, Campbellsport Wednesday and travels to Kettle Moraine Lutheran Friday.
According to Nankervis, Plymouth is the class and is ranked No. 2 in the state for Division 3. He noted the Tigers will have to play their best game just to compete and stay in the game with the Panthers for 90 minutes. Ripon dropped the first game of the season between the teams 10-0 via the mercy rule.
"If we can generate something on them, good for us, we'll kind of have to see," he said. "I think Plymouth is going to go deep this year in the state tournament, but I have yet to see them play because the first time we played them I was not at that game; I was at the boys game. I'm glad it's home and on our turf so we can actually get a good camera on them and see what exactly it is they're doing that maybe we can emulate down the road here once my players get a little bit more experience."
He believes Wednesday's game against Campbellsport will be against a more comparable team and is a "very winnable" contest. A win would make Ripon two games clear from the bottom spot of both Berlin and Campbellsport and have the Tigers finish a little bit higher than what they had the last few years.
The Kettle Moraine Lutheran game is a rematch from a contest it lost 6-0 earlier this year, but Nankervis noted that Ripon "did not play good soccer that day" and "did a lot of ball watching." He is hopeful that his girls have learned from that last game and can compete better with the Chargers the second time around.
All three games will begin at 4:45 p.m.