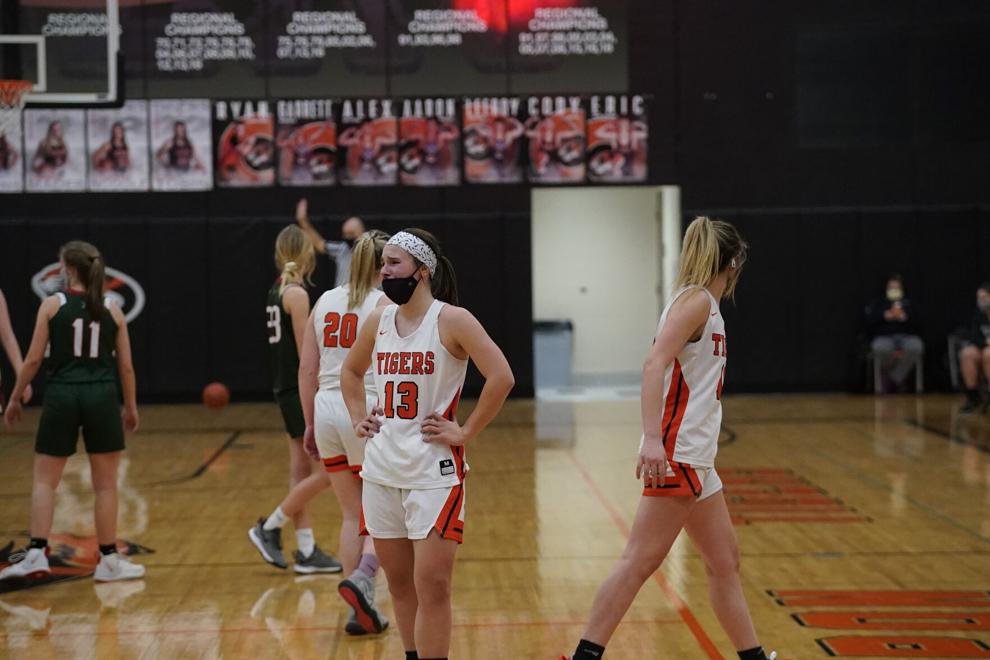 The Ripon High School girls' basketball team picked a bad time for a cold spell Tuesday night.
It went scoreless for more than five minutes late in the game and that cost it a chance at its first postseason victory since 2015 as it fell to the Berlin Indians 53-46 at home.
The Tigers led 42-39 following an Ally Bradley 3-pointer with around six minutes left and didn't score again until making another long-range shot with 32 seconds left with them trailing 49-42.
"We just need more consistency," Ripon head coach Jesse Nodolf said. "From start to finish in the game last night, we weren't nearly as aggressive as we needed to be. And when we were aggressive, we got called for violations, which is unfortunate. Without that offense in those couple stages and a lack of that aggressiveness, the result usually isn't what you want."
During that stretch in the second half, the Tigers struggled to finish shots and also committed some careless turnovers, which included a couple of erratic passes that weren't close.
Ripon High School girls' basketball vs. Berlin — Feb. 9, 2021
The Ripon High School girls' basketball team hosted Berlin in a regional quarterfinal game Tuesday, Feb. 9. Ripon ended up losing 53-46. Photos were taken by Ric Damm.
Jesse Nodolf attributed that in part to Ripon trying to be aggressive, but also noted that frustration began getting the best of his players. Part of those frustrations came from a discrepancy in fouls being called as Ripon was whistled for 23 fouls in the game, compared to just 11 for Berlin. That included an 11-2 difference in the second half with four minutes left. An official also asked for a parent to be escorted out of the gymnasium around that time for something said as the Ripon crowd began to get more and more frustrated with the officiating.
For the game, Berlin shot 32 free throws, making 21 of them, compared to just two attempts for Ripon.
"That definitely does affect the performance of the athletes at that point in time," Jesse Nodolf said of the parent being walked out. "The frustration of the fans last night, because we had more fans than we've had all season, I could sense it in my athletes, too."
He added that the Tigers tried to stay the course and control the controllables and not worry about factors out of their control, even taking a timeout to talk about that, but that those uncontrollables, unfortunately, caused them to get a little tight and make some careless mistakes.
That cold spell late in the game wasn't the only one one for Ripon in the contest. It also went around six minutes without scoring in the first half after jumping out to a quick 12-3 lead. As a result of that stretch, Berlin came back to take a 13-12 lead and wound up leading at halftime 23-17.
"Again, it was a lack of aggressiveness," Jesse Nodolf said of what led to the cold spell in the first half. "I took a timeout, tried to address it offensively, [and] we came back and we scored a few more points. But that first half, that six minutes, really hit us pretty hard."
The Tigers came out much more aggressive on both sides of the ball to begin the second half as they rattled off a 9-0 run in the first couple minutes. Bradley got it started with a steal and a layup and added a 3-pointer on the next trip down the court. Celina Lopez then picked up a loose ball right after for an easy layup, prompting a Berlin timeout a minute into the second half. Karsyn Bauman capped off the 9-0 run two and a half minutes into the second half with a jumper.
"We were talking about just staying level-headed, staying emotionally at the same point, good or bad, we're just going to work at what we do," Jesse Nodolf said. "We changed some things defensively in the second half to provide potential for offensive opportunities."
Ripon also had a 6-0 run after the Indians closed to within 26-25. Bradley scored four of the points, while Bella Miller also made a basket. Berlin, however, fought back to tie the game at 34 and took a 36-34 lead with around 10 minutes left. McKenzie Nodolf answered with a 3-pointer to put the Tigers back out in front and added another basket after a Berlin three-point play to tie the game at 39.
Bradley then hit the 3-pointer to make it 42-39 with six minutes left, which ended up being the Tigers' last field goal until there were 32 seconds remaining. Berlin scored half of its 10 points during that stretch from the free-throw line, while also scoring a basket off of an offensive rebound following a missed free throw. Its other basket was a big 3-pointer with a minute left to make it 48-42.
While Ripon lost the game, Bradley was a bright spot as the sophomore scored a game- and career-high 18 points. Her previous high was 15 points in the season opener against Winneconne.
"Ally will be the first one to admit to you over the last, probably six, seven games, she struggled offensively," Jesse Nodolf said, noting "... she's stuck around at practice offensively to work on some things, try to gain some confidence back and it was critical for us last night to put points on the board.
"It was exciting to kind of see her just get out of what we'll call a 'mini slump.'"
The Ripon head coach added that Bradley and himself have had conversations about her being a sophomore and playing varsity and how big of a jump that is from when she was a freshman.
"I think she battled through that fairly well and had a nice night last night for her and our team," he said.
McKenzie Nodolf and Lucy Beuthin added seven points each for Ripon, while Bauman and Lopez chipped in with five and four points, respectively, in the losing effort.
Reflecting on the season and the future
While the game did not end how Jesse Nodolf or his Ripon team wanted it to, the Ripon head coach was proud of the progress that the Tigers made this season and is optimistic about the future.
Ripon won its most games (seven) since the 2014-15 season, when it picked up eight victories. That season also marked the last time it hosted a regional tournament game. The Tigers had won a total of just six games in the last two seasons, which included no conference victories last year. They had three conference wins this year.
"We talked about where we've come and [what we] accomplished this season as a program, [and] where we want to be," Jesse Nodolf said of what he told his players after the game. "We don't want to be content with what we've done this season; we want to build off of it. It was a big deal to get accomplished what we had accomplished and with a little bit of work in the offseason, and not being content with where we're at, we keep moving forward."
The future is bright as well as the Tigers are slated to bring back all but one starter and have a number of athletes that gained some valuable playing experience at the varsity level this past season. He noted the coaching staff is going to do exit interviews next week with every athlete to provide them with what opportunities they're going to be able to take advantage of in the offseason as it talked about how much work is needed to take the next step.
"With our youth, it definitely looks promising," Jesse Nodolf said. "There's a lot of excitement and a lot of good support from parents, families, Ripon residents, teachers, administration, and I think everybody's looking forward to next season already even though our season just came to a conclusion."
While excited for the future, the Ripon head coach noted that the program will miss the five seniors, who contributed a lot throughout their year. Among the seniors are Cassidy Mader, McKenzie Nodolf, Grace Tobin, Avery Downs and Haley Krumenauer.
"Regardless of minutes played this season, regardless of points scored, rebounds, steals, all the statistics, the five seniors that have finished their basketball careers … meant a lot to the program," Jesse Nodolf said. I talked about how respectful they are to the coaching staff, to their teammates, to the administration, to the community, the fans, they've been a real solid group for the program. The coaching staff is definitely proud of what they've accomplished and what they provided … They're going to be missed. It was a fun season. It didn't like any of us expected it to, but every season comes to an end sooner or later and very few end the way they want them to."