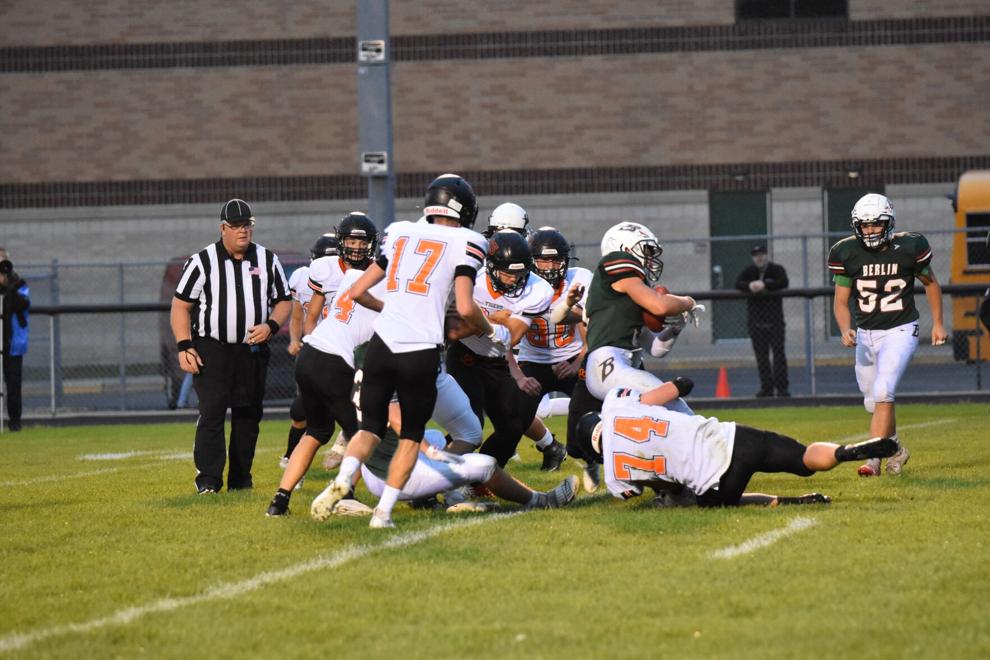 The Ripon High School Tiger football team continued to struggle with consistency last week Friday night as it was shut out by the rival Berlin Indians 26-0 on the road in its East Central Conference opener.
With the loss, the Tigers drop to 0-3 on the season and have dropped their last 10 games against Berlin.
"We did some good things and there's still things that we need to do better on and improve," Ripon head coach Mark Bradley said. "... We'd get a good couple plays on offense or we'd get a couple of stops on defense and then we just couldn't make that next play and they took advantage of it."
Berlin scored all four of its touchdowns on the ground, with three of them coming from two yards out and the other being a 16-yard run. According to Bradley, all four of the scoring drives were fairly long drives where the Indians kept driving the ball on Ripon and Ripon was unable to come up with the stop.
Many of the other drives he noted that Berlin maybe got 10 or 15 yards and the Tigers stopped them.
The Indians finished the game with 295 yards on 62 carries, which is good for 4.8 yards per carry. They also added 95 yards through the air on 8-of-14 passing between two different quarterbacks.
Ripon High School football at Berlin — Sept. 3, 2021 (Miya Grunert photos)
Defensively, Bradley noted that his student-athletes are playing hard and the coaching staff is trying to get guys in the right places and scheme the different offenses they are facing, but sometimes you have to give credit to the other team for being able to block them and executing its own offense.
"We're starting to get a little more comfortable with things, we're starting to see things and guys that are now getting a little more comfortable, they're not thinking as much," Bradley said. "That will help us react a lot quicker. The defense has been doing better each week and we hope that continues."
Quintin Stephens was a bright spot for Ripon's defense as the senior recorded 16 tackles and one sack. Ethan Struble and Gannon Stellmacher also recorded double-digit tackles as they each finished with 10, while Donovan Huber, Max Huber and Brayden Parmelee chipped in with six apiece.
Offensively, Ripon struggled to move the ball against Berlin as it managed just 15 yards through the air on 5-of-13 passing and 68 yard rushing on 25 carries. The Tigers got in scoring position a couple of times, but were unable to convert either time, throwing an interception at the 2-yard line on one of them. Ripon threw two interceptions in the game.
Bradley noted that the offense was able to make some adjustments throughout the game, some that it planned and worked on during the week and others on the fly based on what Berlin was doing.
"The kids were able to respond and adjust very quickly with that, so that was good that we're able to do that," Bradley said of adjusting on the fly. "But then it just kept going back to we'd make a mistake, we'd have a penalty or false start or we'd miss a guy and it caused us to get behind the chain."
Cameron Hahn led Ripon in rushing with 21 yards on nine carries, while Struble added 12 yards on three attempts. Parker Stellmacher and Jordan Perkins rushed for 11 and nine yards, respectively, on their lone carry in the game, while Noah Olson rushed for 10 yards on six carries. Kai Agamaite caught a team-high three passes for 12 yards.
Up next
Ripon will search for more consistency Friday, when it hosts the Kettle Moraine Lutheran Chargers at 7 p.m.