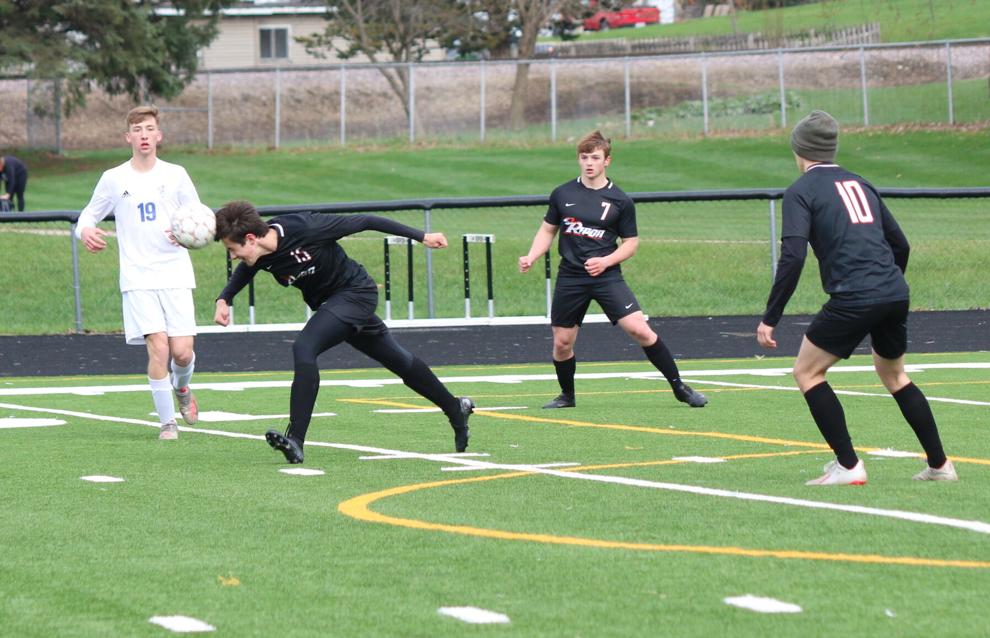 One well executed corner kick was the difference in the Ripon High School Tiger boys' soccer team's 1-0 home loss to the Winnebago Lutheran Academy Vikings Wednesday.
The Vikings scored the lone goal in the 39th minute, when they played a corner kick across the goal mouth and a player headed it back the other way to a teammate who found the back of the net. Ripon's defense was caught moving the direction of the kick.
The Tigers fall to 0-3-2 on the season with the loss, while WLA improves to 4-0-1.
"The boys played really well; they communicated well, they covered for each other really well, so there were a lot of positives there," Ripon head coach Steve Nankervis said. "My backline did phenomenal. It's just that one set piece that you've got to kind of give it to them. It was a great piece and they capitalized and that was the difference."
Ripon High School boys' soccer vs. Winnebago Lutheran Academy — April 14, 2021
He added that the Tigers had their offensive opportunities and had almost just as many offensive transitions as WLA did, but that the Vikings are a "much more quality team."
Ripon finished with four shots, three of which were on goal. According to Nankervis, the three shots on goal unfortunately were outside the 20 and "that's not a real big threat."
The Tigers were pushing the ball down the field in the final minutes of the game as they attempted to score the equalizing goal, but could never really get a good shot off.
WLA finished the game with 15 shots, but only six of them were on frame. It also held an advantage on corner kicks. Tiger goalkeeper Liam Gilfillan finished the game with five saves.
"They did out-possess us, but most of their possession was midfield and back," Nankervis said of the Vikings. "They were knocking the ball a lot around from the midfield back in their third of the field. I'm not going to send my guys there to chase them because if they do that all day it doesn't matter; I don't care what team you are, but that's not a threat to us."
Up next
Ripon will try again for its first win of the season tomorrow (Saturday), when it hosts Green Bay East at 1:30 p.m. at Ingalls Field.
Nankervis is excited to see what the Tigers can do after a challenging start to the season.
"The teeth of our schedule is behind us; we do have Waupun one more time," the Ripon coach said. "All the other teams we're playing are very comparable to us now skill level-wise. I've never seen Green Bay East, they're a bigger school, they were .500 last year. I think they've lost a couple 1-1 games so far this season, so I think it should be a good game tomorrow."
He added Ripon has been working on finishing drills so that it can try to shoot inside the box and get goals, noting that's really the difference it's at right now between wins, ties and losses.
"Defensively, we're sound," Nankervis said. "We're only giving up around one goal a game; I can't ask for more out of my defense. It's just now my offense has to figure it out."