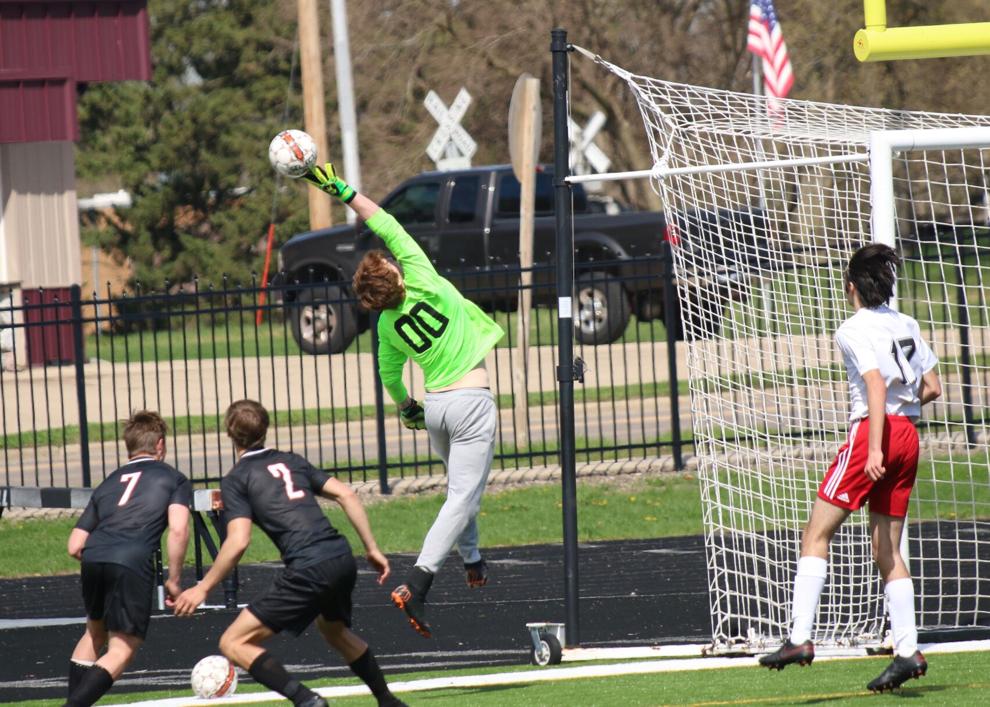 Another game, same story for the Ripon High School Tiger boys' soccer team.
For the second-straight game and fifth time in six outings, Ripon allowed just one goal but was unable to come away with a victory as it lost to Green Bay East 1-0 last week Saturday at home.
Through six games this season, Ripon has scored just two goals and given up just seven goals.
"We just cannot seem to get into any kind of offensive rhythm and really present a formidable attack," Ripon head coach Steve Nankervis said. "The finishing drills we've been doing just haven't been clicking, so we've got to try something else this week in practice.
Ripon High School boys' soccer vs. Green Bay East — April 17, 2021
"We've got to score goals. We're doing everything right, for the most part, with the one mental lapse of not clearing the ball off our line, but besides that we've got to get some penetration and some good transitions on attacks to, hopefully, have opportunities on goal."
The one "mental lapse" that Nankervis was referring to came around the second minute of the second half — 46th minute overall — when the Tigers had three or four opportunities to clear the ball out of their box, but could not do it. The ball eventually fell to one of the Green Bay East players and he was able to toe poke it into the back of the net from about two yards out.
"Just real sloppy on defense; we just for some reason couldn't clear," Nankervis said.
Outside of that goal, the Ripon head coach noted that Green Bay East had only four other shots on goal and that none of them were tough for goalkeeper Liam Gilfillan to come up with the save.
The Tigers also struggled to challenge the Green Bay East goalkeeper as they also finished with just five shots on goal despite having more possession in the attacking third of the field.
"We just need to get better at stringing more passes together in our offensive attack," Nankervis said. "I think we averaged three to four passes as far as our pass strings. So if we can just figure out how to get maybe up to six or seven passes in those pass strings we can get a little bit better penetration."
Another area Ripon could improve is its corner kicks as it held a 7-2 advantage in the game, but could not score off any of the set pieces. That included back-to-back opportunities in the final 10 minutes.
Nankervis noted that Green Bay East was a team "we definitely should have beat" and that it's very frustrating he doesn't have players with the attacking mentality that want to go get the ball and score.
"We're still looking for those people that just can try to take a game over," he said. "I have Adam Bannerjee who takes the majority of our shots, but he's my center midfielder who needs to run the whole office from the central midfield. He can't always be up top and taking all those shots; we need other guys to step up there. To go from where we were last year to where we are this year six games in, it's a head scratcher to me because we do have athletes, we do have some people that can get down there. It's just a matter of them digging deep down themselves and finding and finishing it."
Up next
Ripon will try to score for the first time in more than 300 minutes of game action Wednesday, when it hosts North Fond du Lac/Laconia/Oakfield/St. Mary's Spring's co-op at 4:30 p.m. at Ingalls Field.
It will be the first of five games in eight days for the Tigers as they will travel to Columbus Thursday, host Waupun Saturday and Lomira Monday, and travel to Mayville Wednesday, April 28. Weekday games will begin at 4:30 p.m., while Saturday's contest is set for 1 p.m.
"The games on Wednesday and Thursday are must wins if we want to try to salvage a somewhat respectable season," Nankervis said, noting both the North Fond du Lac co-op and Columbus are comparable teams, as are the rest with the exception of Waupun, which might hold a slight edge.